YG Reveals Why He Wore Toms to Tyler, The Creator's Fashion Show
"I was like, 'I'm about to go stunt.'"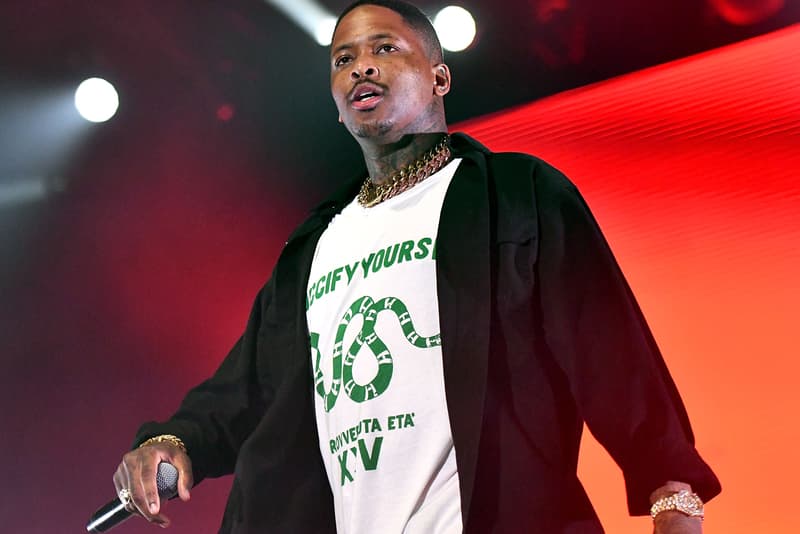 YG has always been open about his taste for West Coast streetwear, and in a new interview with Complex, the rapper went in-depth about his desire to experiment and set trends with his fashion. When pressed on his affinity for footwear, YG explained why he chose to wear Toms and a bulletproof vest to Tyler, The Creator's Golf Wang Fashion Show:
You wore a pair of Toms, how did that come about?

I just seen them one day. You know me, I'm always trying to do some different shit: create shit, start trends. So I seen the Toms and they looked like the shoes I used to wear in the county jail. But I was like, "These are kind of fly," so I grabbed a couple pair and started wearing them. Tyler, The Creator had his Golf Wang fashion show, and I was like, "I'm about to go stunt." So I put the Toms on with the vest and that shit went viral.
The Compton-bred hip hop heavyweight also shared his thoughts on rappers signing up for their own footwear, revealing exactly why he rejected a major sneaker deal himself:
Have brands ever talked to you about getting your own sneaker?
Yeah, I had a brand holler at me about getting my own sneaker, but I wasn't really feeling the sneakers.

You see Drake getting his own Air Jordans and Future just signed with Reebok, do you think that's a good lane for rappers to get into?
We're like walking billboards. We let motherfuckers know what's going on. We have a lot of influence. The brands are giving rappers the shoes because of those reasons, ya feel me? They gonna help the fucking brand make a lot more money. It will make the brand cool and make it look like they know what's going on out here in the rap world and the streets. They're buying their cred.

Complex also asked for YG's thoughts on Kendrick Lamar's recent collaboration with Reebok:
What did you think about Kendrick's shoe?

That was lit. That's what he preach, so that's what's up right there. He preach that up in his records, so he's going to do what he keeps doing and bring it to life. I respect that.

You said you still love the Cortez, I'm sure you feel the same way about the Converse Chuck Taylor?

Chucks, Cortez and Vans, that's all I wear and I collect Jordans.

What's your favorite?

The 1s, the V, VIIs, VIIIs, the IIs a little bit. The IVs, too.
Check out the full interview with Complex here.