Tyler, The Creator on Odd Future's Legacy & His Career in New Interview
With portraits shot by architectural photographer Matthieu Venot.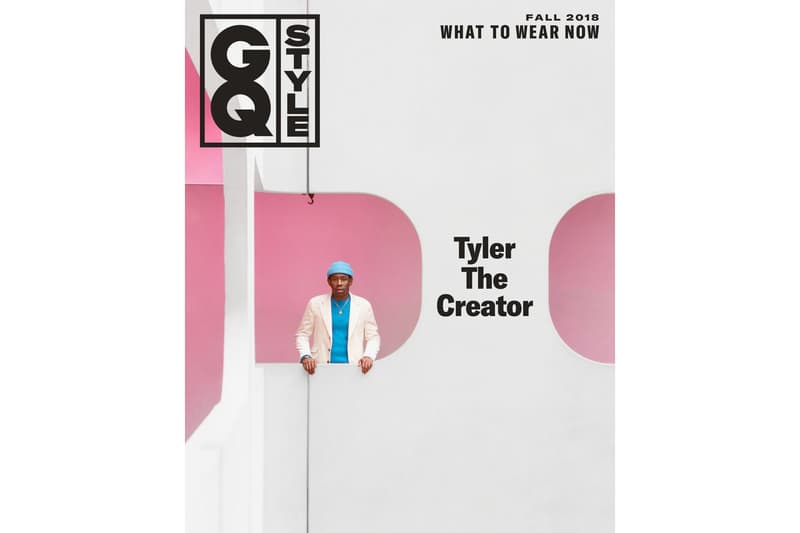 Fresh from revealing never-before-seen GOLF le FLEUR* sneakers, Tyler, The Creator has been unveiled as the cover for GQ Style's Fall 2018 issue. Tyler also chose the photographer for the Paris-based shoot, going for French architectural photographer Matthieu Venot.
The accompanying feature interview sees Tyler discuss everything from his relationships to how he's changed as an artist since his Odd Future days. Tyler also touches on his own fashion output, discussing the possibility of ever designing something other than his own line: "If Céline was like, "Hey! You want to do something small?" Fuck yeah." Check out some key quotes from the interview below, and head over to the GQ Style site to read Tyler, The Creator's full conversation.
On his biggest frustration so far:
I think everything that has happened thus far was supposed to happen. And everything is a learning experience for me. I mean, I've been trying to get on the radio. I haven't been super successful with that, but that time will come. If it's not the next album, then it's the three after that.

I grew up listening to it. Although it's not the most important thing, there's still a percentage of me that wants to listen to the radio one day and say, "Oh, that's my song!" A lot of my favorite artists I heard for the first time because of the radio. I first heard "Maureen" by Sade on the radio. Maxwell's Urban Hang Suite, his first album, co-written by Leon Ware. I first heard that on the radio. I first heard "Tape You" by N.E.R.D., my favorite band in the world, one of my favorite songs ever, on the radio. And that's how I got introduced to that, and that shaped everything for me, so. It's still a piece of me that not only wants to be on the radio, but it's probably some 11-year-old in the middle of fucking nowhere who might hear a song, look me up, get introduced to a whole world—and that could change everything he's into for the rest of his life.
On how he's changed:
A lot of people think I'm still the 19-year-old that they see on the crazy compilation videos on YouTube. I was 19, 20, 21, during a lot of those videos. They think I'm still like that, and I'm not. Don't get me wrong: When I'm with my friends, I say crazy shit, but I'm not super wild and crazy like I was. People will run up and say, "You look like my mom!" What? Nah, dude. I'm chill. Just leave me alone. Yeah, it's annoying. It sucks. I hope I can continue to make that not be the case.
On Odd Future's legacy:
When I made Odd Future, I was onto something. Just the energy that it brought in and the people that came around. We have our Internets now, we have our Earls, we have our Franks, we have our me's, and I just think that's really cool. I was just thinking about that the other day. I was listening to some old stuff and I was like: That's cool.
In other fashion news, take a look at every piece from Palace's Autumn 2018 collection.