Tyler, The Creator & Earl Sweatshirt's Odd Future Reunion at Final Low End Theory
A$AP Rocky also joined in on the action.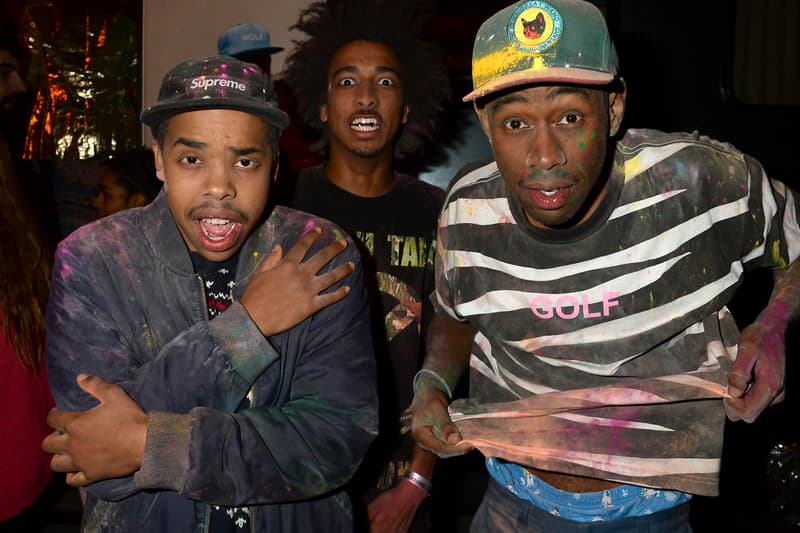 Earl Sweatshirt, Tyler, The Creator, Hodgy Beats, Syd and other members of Odd Future reunited at The Airliner Nightclub for Low End Theory's final event last night (Aug. 8). The collective took the stage to perform their past hits such as "Rella" and "Orange Juice." A$AP Rocky also joined in on the action. The Airliner Nightclub was where Odd Future performed their first-ever show together.
"The first Odd Future show ever was in this motherfuckin' room," Tyler said to the crowd. "It was me, Mike G, Syd, Left Brain, and Hodgy Motherfuckin' Beats, and I'll never forget that night because we had been so hyped that people even showed up."
Tyler recalled that the group was paid $500 for their performance. "We split that bitch in the bathroom of a Denny's off Crenshaw," he said. "That was the most money we had ever made in our motherfuckin' lives, but years later, a lot of success after, and I'll never forget that this is where all that shit started."
In June, it was announced that Low End Theory would be coming to an end. Founded by Daddy Kev, DJ Nobody and D Styles, the beat-driven night was a weekly Wednesday event since its inception in 2006.
Tyler and Earl doing "Orange Juice" like a nihilistic spiritual pic.twitter.com/KRhT0EXdta

— Otto Von Biz Markie (@Passionweiss) August 9, 2018
odd future reunion at low end theory's last show tonight, where they did some of their first shows ever ? pic.twitter.com/migPl76Cbh

— sk (@bringdaruck) August 9, 2018
There was a mini Odd future reunion tonight including Earl, Tyler the Creator, Hodgy beats and Syd. This is a big deal for those who have been following them since 2011 pic.twitter.com/7JSPM1Gi2O

— are you dumb? (@yadaddybenny) August 9, 2018