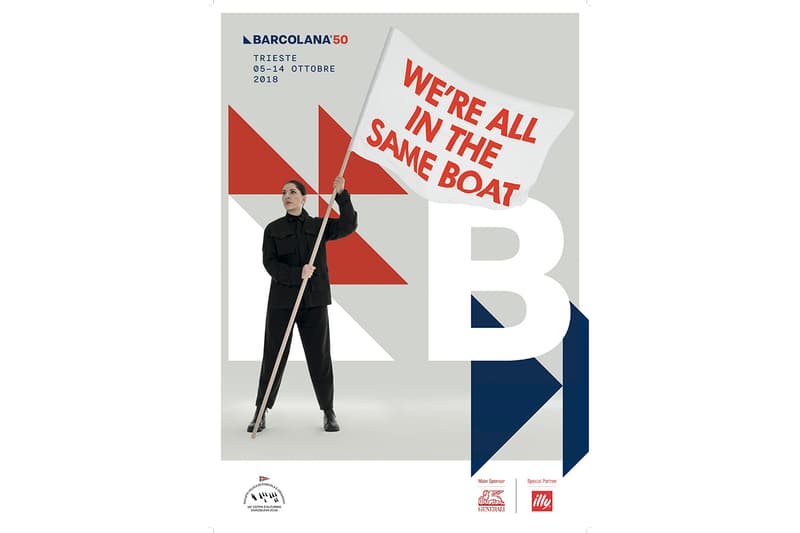 Marina Abramović Has Come Under Fire for a Controversial Regatta Poster Design
Billed as political propaganda.
---
Marina Abramović has recently come under fire for creating a poster highlighting one of the world's largest and most noted sailing events. Italy's Barcolana regatta is an annual affair that takes place off the coast of Trieste with its organizers commissioning the performance artist to design the event's special 50th-edition poster. The piece was composed in tandem alongside Illycaffè creative director Carlo Bach, featuring Abramović wielding a white flag with the slogan "We're All In The Same Boat," which as Barcolana puts it, is meant to "stress a simple but crucial aspect: even on different boats, when we compete for the best result, we sail on the same planet, which needs to be guarded and protected daily."
However, Paolo Polidori, Trieste's deputy mayor and member of the far-right Lega party holds a conflicting point of view — one that revolves around political strife, comparing the project with pro-immigrant Communist imagery of China's Chairman Mao. It is believed that Polidori views the work as counterintuitive to his party's recent decision to close Italian ports, creating a blockade against migrant rescue ships, stating in a Facebook post, "[It is ] unacceptable, in bad taste, immoral to make political propaganda out of an event, the Barcolana, that belongs to the entire city," as was reported by Art Newspaper. With that said, Polidori is looking to have the poster removed from all promotional materials relating to the regatta and has threatened to withdraw the city council's €30,000 EUR (approximately $34,230 USD) donation if demands go unmet.
In case you missed it, this week's best art drops feature a MADSAKI x Takashi Murakami print, DAIN paintings & more.