EXCLUSIVE: FKi's Saucelord Rich Introduces His Solo Debut 'Know Me: King Wolf' & Drops its Lead Single, "Too Late"
He's only featuring two other major artists on his debut solo project.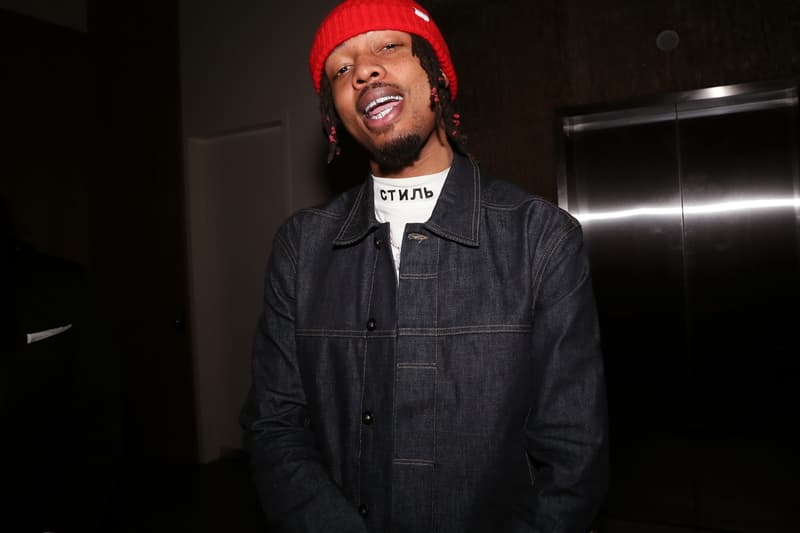 In recent year, the production duo of FKi has rose to prominence in a scene that has come to dominate modern hip-hop's emerging trends and standards. Alongside equally-talented beatsmiths such as Metro Boomin and Southside, the names of FKi 1st and Saucelord Rich have become synonymous with the sort of hits that launch careers. From artists such as Iggy Azalea and Post Malone to 2 Chainz and Rich Homie Quan, the pair have cooked up beats that allowed artists to move a foot one rung higher up the game's ladder.
Though collective success as a duo is still a top priority, the two halves that make up FKi have showed signs of solo movements in recent months. Though staunchly holding onto their FKi family, both 1st and Saucelord Rich have strategized for success as solo acts as well. Back in May, 1st dropped his debut solo project First Time For Everything; for his part, Saucelord Rich has revealed plans to drop a debut solo project known as Know Me: King Wolf.
To introduce Know Me: King Wolf, we have linked up with Saucelord Rich to debut the project's lead single, "Too Late." The record is a completely in-house effort from Saucelord's crew, with the song's rock-inflected guitar licks coming from a guitarist the FKi team recruited and trusts. He has a new body of work to share as as a solo artist, but thoughts of going solo are nowhere near Saucelord Rich's mind. FKi is its own musical movement, and Saucelord Rich is just showing us another side of it.
Saucelord opened up to us about his new solo career, the collaborators he's bringing with him, what to expect from his next round of music, today's release and more. You can listen to his new single "Too Late" and read up on what Saucelord Rich has planned below. Know Me: King Wolf will officially arrive on September 9.
You've been producing Fki for a while now. What made you want to branch out on your own right now?
When it comes to FKi, we've tried it all. We've made beats, we've engineered, we've been EDM Artists, we basically did our rounds. The only things we haven't done is drop individual projects, so I feel like it's time to show our individuality a bit and show the difference between us.. There's only two of us… I think it's time.
Stylistically, what do you think separates you from your partner in FKi?
My partner is more mellowed out, even though he's more in the EDM scene. He's more of a mellow guy, he's more into the laidback, softer-voice kind of thing. Not to say he's soft, he's just more of a singer than me even though I can sing. Mine is more in your face, more attitude, more aggression. I'm originally from Harlem, so Harlem and Rap is just a different thing. His is just more mellow and fun, mine is just more aggressive and fun. I'm more geared towards rap. I make beats and I'm a producer, and I'm just more geared toward rap.
Coming up from Harlem, how did Dipset and all that have an impact on you?

At the end of the day, it had a big influence on my style and how I think, how I rap, how I wanted to be perceived by people. Cam'ron is one of the coolest people; not just in rap, just the person he is is pretty cool. It helps a lot, coming from where I come from.
Could you see yourself doing a collaboration with Cam'ron or someone from Dipset down the line?

Of course, anybody from Dipset. I respect my elders, so at the end of the day, I really appreciate their music and what they've done. It's not just them, it's the older generation in general. I would love to work with them and makes beats with Cam'ron today — Dipset today (laughs).
With your new single "Too Late," could you break down the backstory behind that track?

I've been done music for a long time, but I never really put things out on my own, and sometimes people say, "you wait too long" or it's "too late for your to do thing," but to me it's never really too late. You just push towards that fight with that burning desire in your body, and you push forth for what you want. So "Too Late" is just me talking about how I feel about those topics, from me on the inside basically.
For the new solo project, what are you hoping to give listeners?

I'm hoping to give listeners something new. My music is refreshing, I don't think I sound like anyone or anything that's out. I just want to give them something new that they can listen to and appreciate.
As far as collaborations go, who did you work with on this project?

My only features are Post Malone and Tommy Swisher. All the beats were done by me, FKi 1st, R.E. and my engineer Mike — we had guitar players come through, Landon Jordan. Everything was done in-house, no writers or anything; everything is me, my music and coming from my team.
After this project, what can we expect from you? What's next?

I'm always going to be making beats and focusing on FKi; I'm never not FKi. I'm probably going to drop more songs and other tapes, but the next thing is probably working on the next FKi tape together. I'm still going to be doing my solo thing too — just balancing both. That's all I want to do.