Activists Create "Hidden" Rainbow Flag to Protest Anti-LGBTQ Laws in Russia During World Cup
With colorful football kits.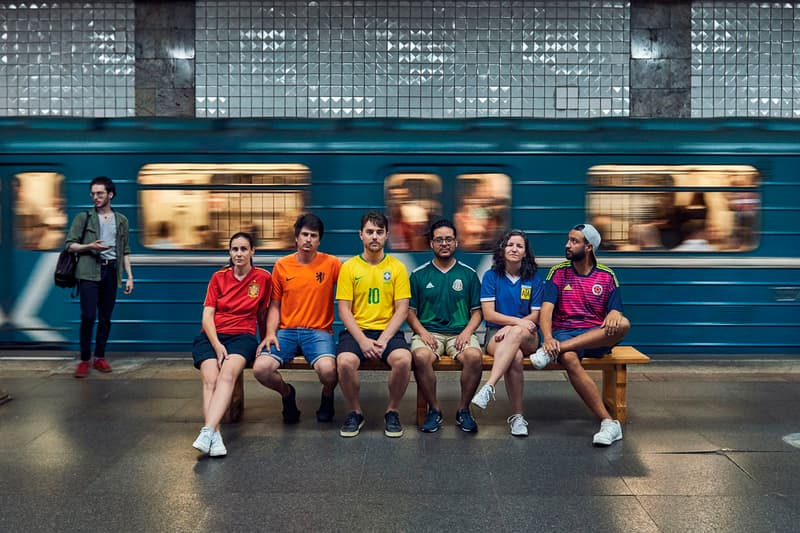 The 2018 FIFA World Cup is currently being hosted in Russia, a nation who has had an unwelcoming track record when it comes to the rights of the LGBTQ community.
Though Russian federal laws prohibit public demonstrations of LGBTQ rights, including the showcasing of the rainbow Pride Flag, six activists from six different countries have gathered together to send a political message to the country and the rest of the world.
Created by Spanish digital agency LOLA Mullenlowe and Spanish LGBTQ organisation FELGTB (National Federation of Lesbians, Gays, Transsexuals and Bisexuals), The Hidden Flag saw each of its six members concealing the Pride Flag by wearing the football kit of their native country, Spain (red), Netherlands (orange), Brazil (yellow), Mexico (green), Argentina (blue), and Colombia (purple), who then lined up in the same color formation of the LGBTQ symbol. In a statement posted to The Hidden Flag's website, the activists "wanted to take advantage of the World Cup to denounce the situation in Russia and take the flag to the streets." To do so, the six of them walked around in this formation in various public places in Moscow to unbeknownst authorities.
The response to The Hidden Flag's project has been largely positive, even creating the viral #TheHiddenFlag hashtag. Take a look at some of the responses on social media below. For more on LGBTQ rights, Daniel Quasar redesigned the Pride Flag to be more inclusive.
Also be sure to keep up with our 2018 FIFA World Cup coverage here.
Courageous & beautiful ?️‍?: https://t.co/QN1grwe8iK

— Chelsea Clinton (@ChelseaClinton) July 10, 2018
in russia, the act of displaying the LGBT flag in public can get you arrested. so these 6 activists from latin america resorted to creativity: wearing uniforms from their countries' football teams, they turned themselves into the flag and walked around moscow with pride. ?️‍? pic.twitter.com/7Q2HgLemzh

— gabi (@harleivy) July 8, 2018
In Russia it's illegal to display the LGBT pride flag. So during the #WorldCup these 6 football fans have formed a hidden rainbow flag with their soccer jerseys, to protest Russia's discriminatory laws in plain sight. #HiddenFlag ✊?️‍? pic.twitter.com/I6uvYztGlR

— Jason Ball (@jasonballau) July 9, 2018
OMG! I love this so much! ❤️ People went to Russia during the World Cup and dressed in different colored jerseys to form the rainbow flag when they stood next to each other! FABULOUS! ? #HiddenFlag https://t.co/7LbIiHPlJX

— Eric Rosswood (@LGBT_Activist) July 10, 2018