Amazon Patent Aims for Hijack-Proof Delivery Drones
Protecting against "nefarious individuals."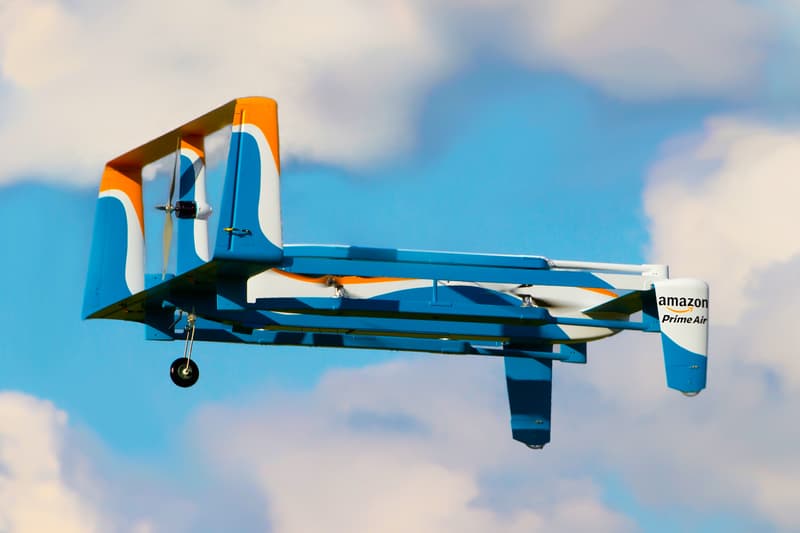 Amazon's efforts for drone deliveries have been well-documented throughout the years, and last week it gained a patent for a hi-jack proof tech to make sure goods arrive at their destinations safely. Amazon Prime Air was introduced in 2013 as a 30-minute minimum delivery service by way of an autonomous aircraft, which CEO Jeff Bezos says could rollout in four to five years from now.
Currently, Amazon's private trials have encouraged the company to collect patents for new features to keep it, and packagers, safe from "nefarious individuals." Amazon explains, "nefarious individuals and/or systems may be able to obtain control of the UAVs by hacking the communication signals being sent to the UAVs from a controller and/or being sent by the UAV to the controller," and those "attacks could cause the UAVs to operate unsafely and could also result in considerable financial loss for their operators."
Amazon's patent looks to include a "heartbeat" feature that will transmit a signal to the drone's controller every second. If the signal dies, the drone would go from "mission" mode to "safety" mode and begin precautions to regain control or to land safely.
In related news, Airbus sent the first "Flying Brain" AI assistant into space.