Virgil Abloh Reveals What to Expect From His First Louis Vuitton Collection in New Interviews
As well as discussing the infamous picture of himself, Kanye and others from 2009.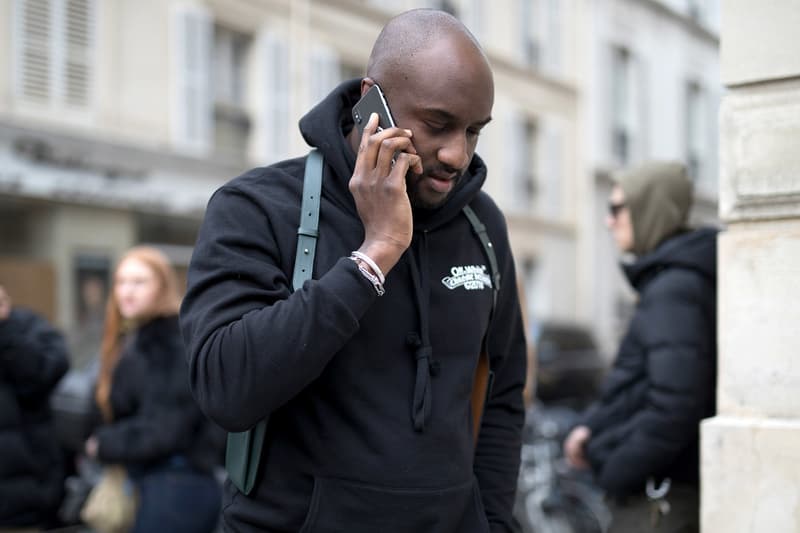 With Virgil Abloh's first collection for Louis Vuitton set to be unveiled at Paris Fashion Week tomorrow, the designer has been teasing details of what will be debuted at the show. The first reveal was his Met Gala outfit, before he released sneaker and apparel sketches and, most recently, a monogram-less trunk.
On the eve of the show, Abloh sat down with Financial Times and WWD to discuss what to expect from the collection. The various interviews cover his design ethos, how he came to get the job, and the pressures of his high-profile position. You can read some of the key points from Abloh's Financial Times interview below:
On the reaction to his appointment:
"In America it felt like something had happened. Like, 'you're going to be head of a French house? You don't look like every designer that's come before.' I'm a kid from Chicago, I know what it was like to see Obama become president. We felt the tectonic plates of the world shift."
On his intentions for the collection:
"I've talked myself around to stopping and thinking in the turbulence. The most important message is to let me just focus on making the most beautiful norm core clothes, but as luxurious as possible. … "The very first thing I made here was a T-shirt. What's the perfect weight? Why are fashion T-shirts usually so tiny? For me, there's a subtlety in focusing on the right shape of T-shirt and pant. I recognise that it's boring, but the idea is to catch people off-guard and reward in some valuable way."
On the collection's accessories:
"The joke in the studio is the word 'accessormorphosis.' When does an accessory morph into a garment? We've all been carrying these cross-body bags. It's a modern way of dressing. From day one, I was like, let's own this space. It's the type of garment that can be distinctly Vuitton."
Abloh covered some of the same topics when talking to WWD, as well as discussing the now-infamous picture of Kanye West, himself and others from back in 2009:
"I had red glasses on, yellow shoes, a marble-patterned shirt and a blue Moncler vest. It was a kind of a laughing-stock-type photo, because my friend had leopard leggings on and cowboy boots, but that pea cocking, that's us: unabashed unjaded, confident. Here in the fashion industry a little too early, but obviously we've stuck around, and now everyone's super influential. And I knew that when the photo came out. I was like, 'finally, we will write ourselves into history.'"
To read the full interviews in anticipation of tomorrow's Louis Vuitton show, head over to the Financial Times and WWD sites. If you want to learn more about Abloh's creative process, the designer has just announced a new "CUTTING ROOM FLOOR" exhibition at SSENSE's Montreal flagship.