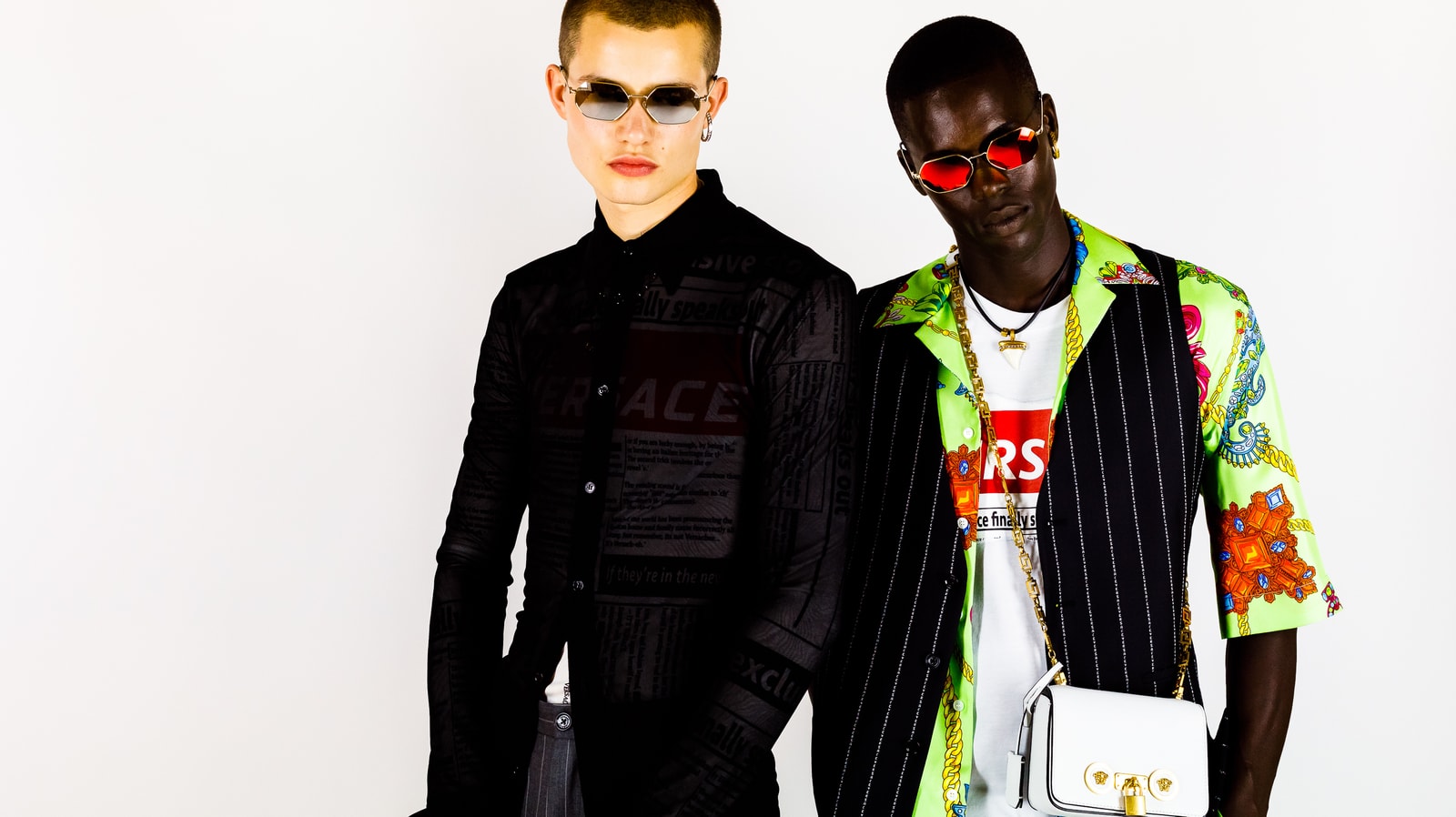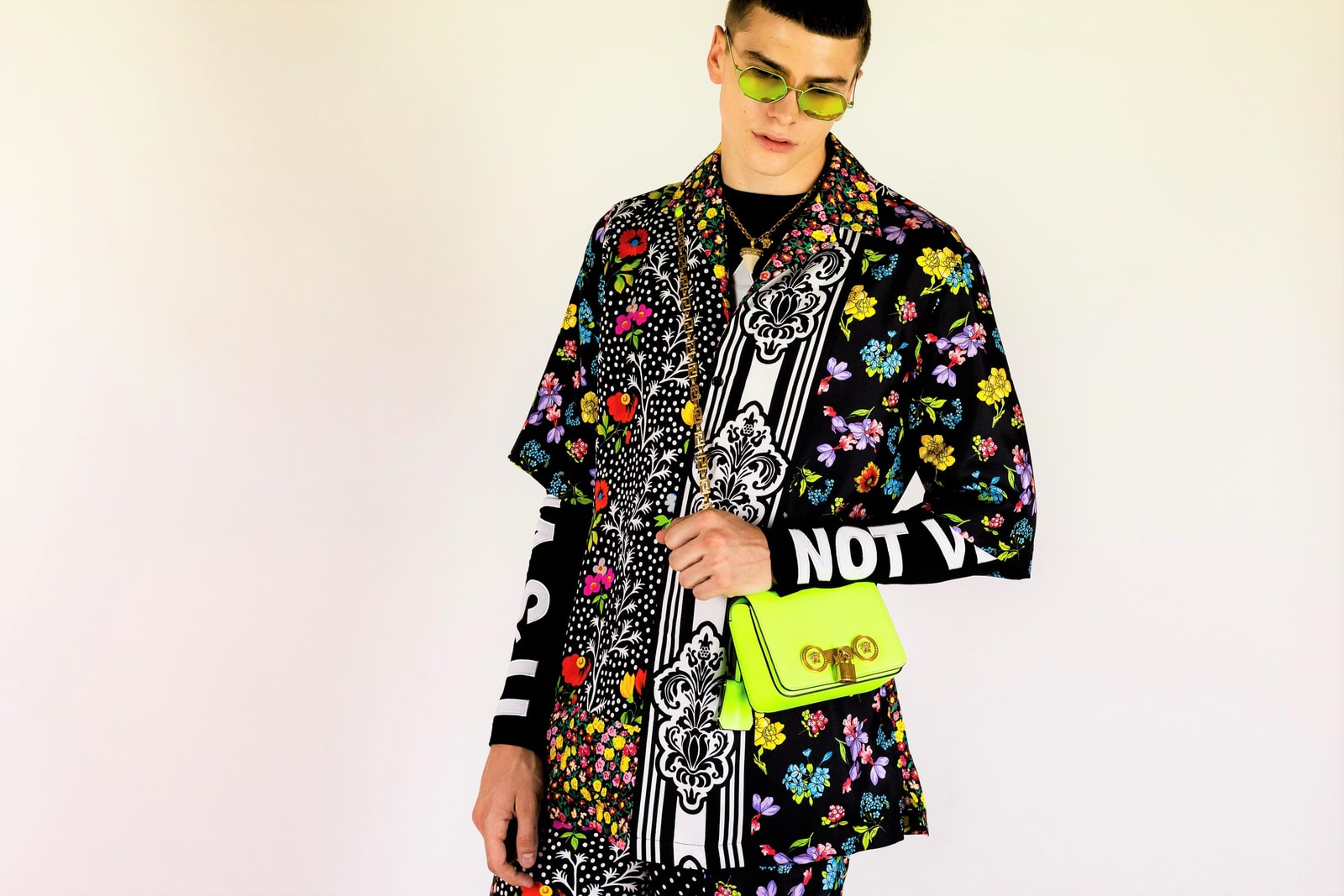 As Streetwear and Tradition Collide, Italian Legacy in Flux
Brands grasp for footing in Florence and Milan.
As pressure to tap into the growing streetwear market heightens, Pitti Uomo and Milan Fashion Week presented a sound-off of Italian fashion institutions making a choice: embrace streetwear or not. For some, like Pitti Uomo and Versace, joining the movement has come naturally. For others, like Dolce & Gabbana, attempts proved fatal, disrupting design integrity and brand DNA. Elsewhere, players stayed true to their heritage and wisely excused themselves from this narrative altogether, while streetwear brands like Palm Angels were faced with an entirely different task.
Beginning the week in Florence, Pitti Immagine Uomo offered a clear stage for a case study on the recent pique of interest in menswear. A powerhouse since the 1970s, the Italian trade fair has continuously reinvented itself, playing an important role in pumping the #menswear frenzy of Instagram generations past. Now, the same playground that bred the Pitti Peacock has as swiftly welcomed a new wave of streetwear goers.
At first glance, the flocks of men in loosely coordinated suits posing for hours on end seem to be the remnants of a dying species, particularly against a growing streetwear presence. But, the Pitti arena has managed to create a place of harmony that welcomes both #menswear yielders and #hypebeast addicts. True, the former seems to be the antithesis of hypebeast culture. But, when pasted together, a hyped sneaker seems to be the same vehicle of a different mode as a tailored suit.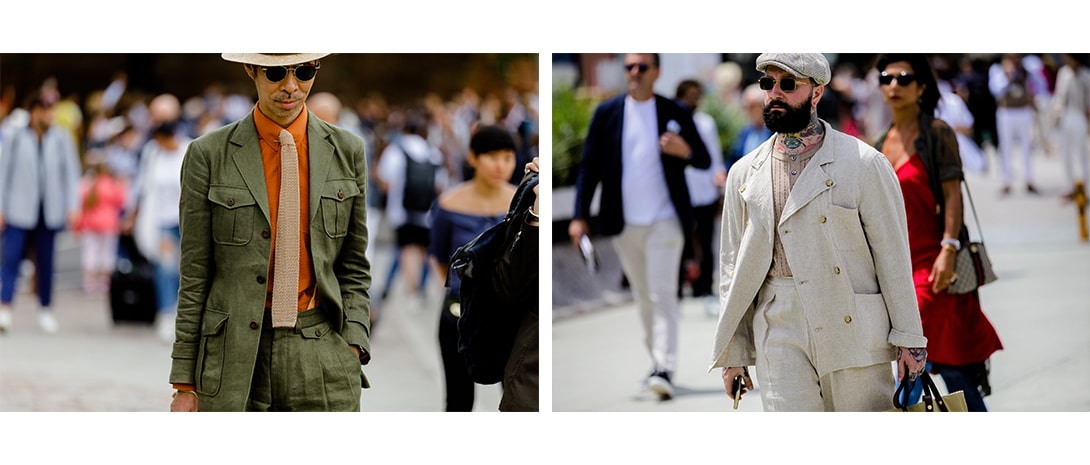 "It's not true that everything is going only in the direction of streetwear. It's both. The freedom of choosing is the real breaking rule of menswear," says Pitti Immagine Srl. chief executive Raffaello Napoleone. This freedom is clear in Florence, where Pitti is welcoming both a wide range of menswear dressers and waves of contemporary designers of different makings, in the past hosting names like Hood By Air, Off-White, Undercover and The Soloist. This season, the line-up of guest designers included Band of Outsiders, Roberto Cavalli, Bed J.W. Ford, and Craig Green among others. Pitti's adaptability, embracing recent changes and inviting guest designers has allowed the fair to maintain its relevance, being the only trade show with a clear space carved out within the menswear circuit.
Multi-brand boutique Guya too reflects the same adaptability as Pitti. Originating from a family of traditional Italian tailoring, the store now stocks brands like Off-White™, Gosha Rubchinskiy, Yang Li and Helmut Lang meanwhile championing emerging local designers like Magliano and Nicola Indelicato, bringing together a buying selection stronger than most boutiques in major cities like New York and London. "I grew up in stores since I was baby, as both my parents are tailors. Being able to "smell" what's going to be fashionable in upcoming seasons comes naturally to me: it's in my blood," says Nigi.
In one generation, the Nigi family's skill to tailor evolved into the skill to champion and love streetwear, serving as a reminder that there is a unifying thread between traditional tailoring and contemporary streetwear. Streetwear's progression is in line with a newfound democracy established in fashion, largely credited to hip-hop culture's role as an all-encompassing and massive influence on mainstream society. Even in Florence, this cultural shift is present and keeping in line with these shifts is necessary to maintain relevance in the industry.
"Young designers have a role to try and delete the gap between tailoring and street style."
Indeed, in addition to maintaining its roots in traditional suiting, Florence is producing new designers like Nicola Indelicato who understand the relationship between tailoring and street style. "Young designers have a role to try and delete the gap between tailoring and street style. They must create a world where both of them live together," Indelicato tells us. Like Nigi, Indelicato has been attracted to tailoring and the traditional masculine wardrobe since childhood. Also like Nigi [and Pitti], Indelicato has adopted a contemporary interpretation of suiting and embraced street style.
But even with more progressive institutions like Pitti and on-the-ground champions like Nigi to bolster new trends and talents, the weight of Italian conservatism remains present, posing a challenge for young designers who have to not only mend the gap between tailoring and streetwear but also between conservatism and progressivism.
Indelicato's work oftens adopts a lens that explores and champions sexuality, featuring a T-shirt reading "pervert but in a romantic way" and as much underwear as outerwear in his selections. "I believe in what I'm doing, even more so because I do everything in Italy, which is a Catholic and conservative country. I'm just describing what's going on around us without filter, as sexuality has changed. I want to show that even in a small city like Florence, prejudice can make way for understanding," says Indelicato.
For young designers, this motivation comes naturally, reads naturally and plays an important role in attracting young consumers. At first conveyed through slogans and T-shirts, this authenticity in intent is at the core of streetwear and is a driving factor in its growth beyond its original circles. For larger brands, with decades of history, tapping into this mode of messaging proves difficult and often falls flat.
Later in Milan, the tension between streetwear and tradition became even more apparent and in absence of Florentine romance, optimism was lost. Quite literally, Dolce & Gabbana launched the weekend with an exploration of the conflicting forces at play. The show began with an introductory video pedaling the brand's "DNA Evolution" with a series of images pairing words like: "erotico" (erotic) and "cattolico" (catholic); "king" and "people", "Arabs" and "Normans", "iconic model" and "social media star"
Throughout the show, forced streetwear looks proceeded to interrupt an otherwise classically bedazzled glitterati display. The self-championed power and beauty of Italian heritage was as always present, but unfortunately overshadowed by the questionable introduction of street-inspired looks. And while the brand's advancements for inclusivity are noted – sending men hand-in-hand, women hand-in-hand, models and families of all ages and races down the runway — the execution ultimately fell short.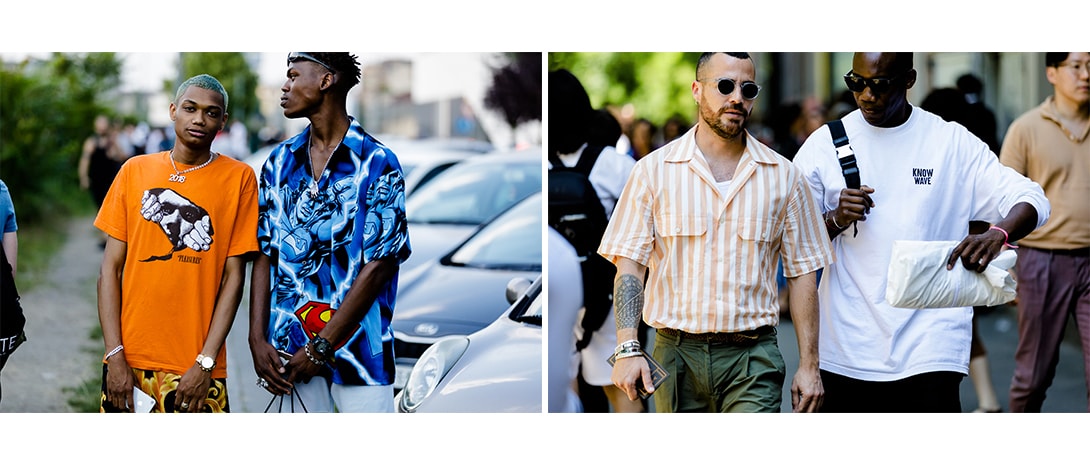 "Streetwear was a subculture as much as rap was in the '90s. Today, it is the dominant culture."
Indeed, there's a very clear line between catering to different cultures and appropriation for the sake of boosting sales. The incorporation of fancified surgical masks was particularly confusing; more concerning is that three out of four of the masks in the show were styled on asian models. Meanwhile, crowns — also an accessory centerpoint — were placed on seven white models, two asian models and no black models.
Regrettably, the so called brand evolution embracing duality, instead came across as a cheap attempt to tap into emerging trends and emerging markets. In the end, taking a slice of the streetwear market requires more than introducing a new chunky sneaker.
At Versace, though, Donatella set the example for how a luxury Italian fashion brand
can
be involved with streetwear, long acting as a key influence in merging hip-hop culture with high fashion, embracing rappers and celebrities long before any other house did. Like Guya Nigi, Donatella proves the fashion instinct of an Italian doyenne is unrivaled. "Streetwear was a subculture as much as rap was in the '90s. Today, it is the dominant culture. This is how I view it and this is how I treat it when I'm creating my Collections." Donatella tells HYPEBEAST post-show. "They are as much part of the Versace world as the silk shirt."
The Spring/Summer 2019 menswear collection dealt with sensuality in masculinity, taking inspiration from different male archetypes ranging from the street-style star to boardroom, resulting in a collection that was both classically Versace and hype-worthy. Highlighter neon suiting, baggy combat pants, holographic pieces, bucket hats and tinted sunglasses, signature Versace print, gossip tabloid shirts, the Chain Reaction chunky sneaker, and even womenswear looks all made their way into one collection.
"No one can help but notice the tremendous impact that streetwear is having on the way everybody dresses. This is an additional challenge for designers because, especially thinking of the younger generations, they won't be happy with just another hoodie," Donatella explains on her approach to incorporating streetwear. "Today, streetwear pieces are as important as a little black dress. Sometimes even more important!" adds Donatella.
Later in the weekend, designer Francesco Ragazzi presented
Palm Angels Spring/Summer 2019
. Ragazzi himself is no stranger to skillfully and successfully injecting a touch of youth energy into a legacy company, serving as creative director at Moncler. "I think streetwear in general, for older brands, is difficult to put together. Streetwear comes from something that's really authentic. For big brands, it's difficult to do that switch," Ragazzi explains.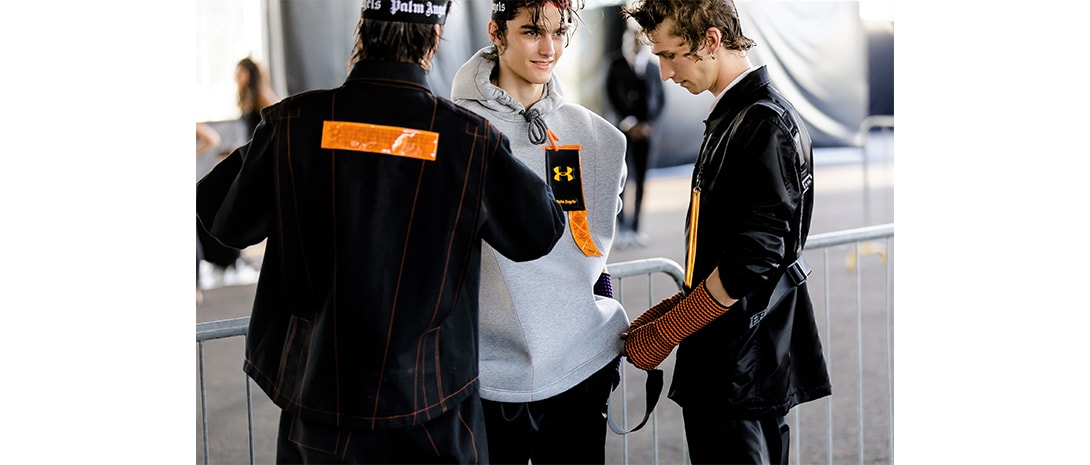 At Palm Angels, though, Ragazzi was faced with a different task of the same nature: growing a streetwear label into a sustainable business. "You have to have that switch where you go from a brand to a company. Other categories, shoes, bags, everything needs to evolve. So that's what I'm trying to do," says Ragazzi. Surely enough, the Palm Angels Spring/Summer 2019 continued its exploration of American cultural tropes, while incorporating hyper technical fabrics, neoprenes and nylons with an increased emphasis on shoes and bags.
While Palm Angels and streetwear brands like MSGM and Marcelo Burlon, County of Milan remained on an upwards trajectory, other brands like Marni,
Prada
and Fendi wisely steered clear from sliding too far down the streetwear slope, but failed to make a notable impression. Meanwhile with Gucci gone to Paris, the city was left in further flux. By the end of the week, Pitti felt stable, embracing the rise of streetwear and retaining respect for the role of traditional menswear. Milan, though was disrupted, leaving in question whether anyone but the Italian matriarchy will be able to pull Italian fashion through.