Here's Who Got Picked in the NBA Draft
On a night packed with trades and surprises.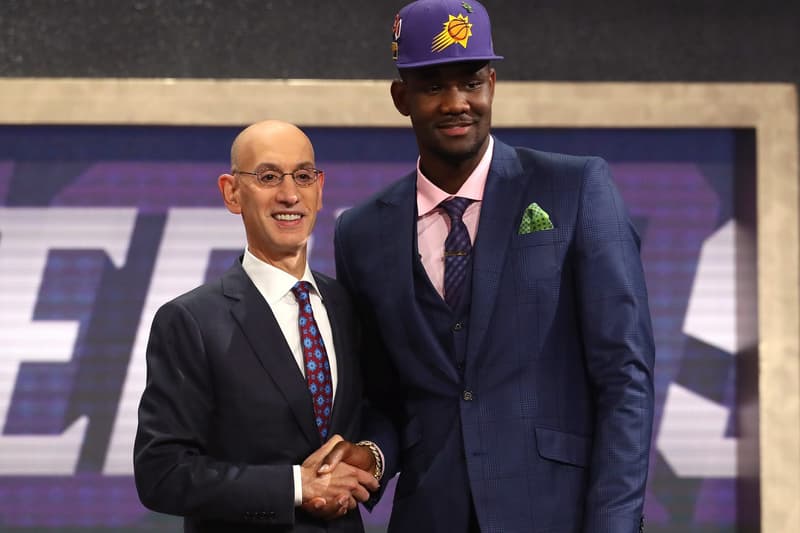 The NBA Draft of 2018 happened on June 21 and now we have the full list of who was picked by now. There were a few surprises but things mostly went to plan. The biggest fall in the draft was Michael Porter Jr., who nearly fell out of the lottery stages, while Atlanta and Dallas traded their respective top 5 picks on the night.
In related news, the NY Knicks pick Kevin Knox made quite the Fortnite statement with his draft suit.
The full list of the 30 picked in the first round is below:
1: Phoenix Suns – Deandre Ayton, C, Arizona
2: Sacramento Kings – Marvin Bagley III, PF, Duke
3: Dallas Mavericks – Luka Doncic, SG, Slovenia
4: Memphis Grizzlies – Jaren Jackson Jr, PF, Michigan State
5: Atlanta Hawks – Trae Young, PG, Oklahoma
6: Orlando Magic – Mohamed Bamba, C, Texas
7: Chicago Bulls – Wendell Carter Jr., C, Duke
8: Cleveland Cavaliers – Colin Sexton, PG, Alabama
9: New York Knicks – Kevin Knox, SF, Kentucky
10: Phoenix Suns – Mikal Bridges, SF, Villanova
11: L.A. Clippers – Shai Gilgeous-Alexander, PG, Kentucky
12: Charlotte Hornets – Miles Bridges, SF, Michigan State
13: L.A. Clippers – Jerome Robinson, SG, Boston College
14: Denver Nuggets – Michael Porter Jr., SF, Missouri
15: Washington Wizards – Troy Brown Jr., SG, Oregon
16: Phoenix Suns – Zhaire Smith, SF, Texas Tech
17: Milwaukee Bucks – Donte DiVincenzo, SG, Villanova
18: San Antonio Spurs – Lonnie Walker IV, SG, Miami
19: Atlanta Hawks – Kevin Huerter, SG, Maryland
20: Minnesota Timberwolves – Josh Okogie, SG, Georgia Tech
21: Utah Jazz – Grayson Allen, SG, Duke
22: Chicago Bulls – Chandler Hutchison, SF, Boise State
23: Indiana Pacers – Aaron Holiday, PG, UCLA
24: Portland Trail Blazers – Anfernee Simons, SG, IMG Academy
25: L.A. Lakers – Moe Wagner, C, Michigan
26: Philadelphia 76ers – Landry Shamet, PG, Wichita State
27: Boston Celtics – Robert Williams, C, Texas A&M
28: Golden State Warriors – Jacob Evans, SG, Cincinnati
29: Brooklyn Nets – Dzanan Musa, SF, Bosnia
30: Atlanta Hawks – Omari Spellman, C, Villanova
With the 1st pick of the 2018 #NBADraft the @Suns select… @DeandreAyton! pic.twitter.com/celw4KEcr2

— NBA (@NBA) June 21, 2018
With the 2nd pick in the 2018 #NBADraft the @SacramentoKings select…@MB3FIVE! pic.twitter.com/lfizcAdd1x

— NBA (@NBA) June 21, 2018
With the 3rd pick in the 2018 #NBADraft the @ATLHawks select…@luka7doncic! pic.twitter.com/YMAuM7y00W

— NBA (@NBA) June 21, 2018
With the 4th pick in the 2018 #NBADraft the @memgrizz select…@jarenjacksonjr! pic.twitter.com/0YWMA9Ac87

— NBA (@NBA) June 22, 2018
With the 5th pick of the 2018 #NBADraft the @dallasmavs select…@TheTraeYoung! pic.twitter.com/mISUHDDDSg

— NBA (@NBA) June 22, 2018