Kendrick Lamar Talks Race, Kanye West, Pulitzer Prize, NFL Dilemma and More
The Grammy Award-winning rapper covers the August issue of 'Vanity Fair.'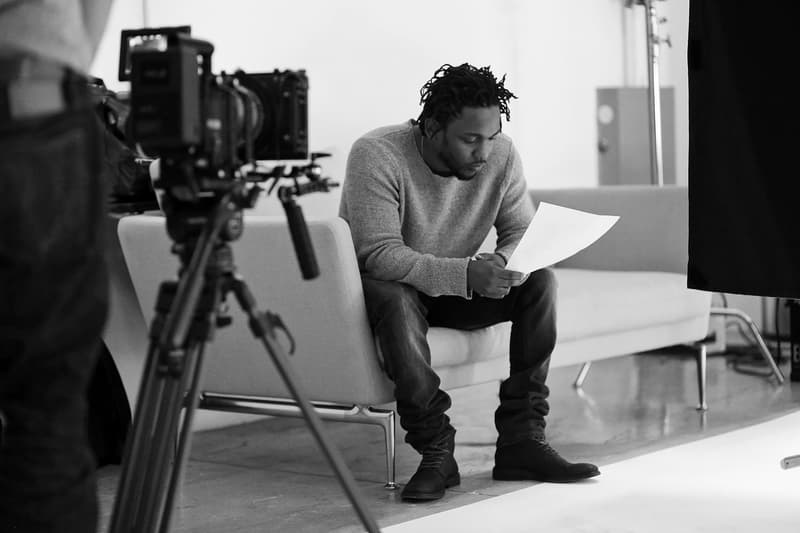 Kendrick Lamar is officially the face of this month's issue of Vanity Fair. For his cover story, the Black Panther rapper sat down with veteran writer Lisa Robinson where they discussed everything from his love for Eminem, Colin Kaepernick and the NFL, poetry, N-word usage and Kanye West amongst other topics. The conversation also touches on his recent groundbreaking Pulitzer Prize achievement where it was first time a non-jazz or classical project has received the award.
You can read some of the main excerpts from his interview below.
On white fans using the n-word:

Kendrick is thoughtful for a long minute, then he says, "Let me put it to you in its simplest form. I've been on this earth for 30 years, and there's been so many things a Caucasian person said I couldn't do. Get good credit. Buy a house in an urban city. So many things—'you can't do that'—whether it's from afar or close up. So if I say this is my word, let me have this one word, please let me have that word."

On Colin Kaepernick and the NFL:

We talk about the NFL and the national-anthem protests. He says he was a football fan, but now "I'm less enthused. It's enraging; I think what Kap [Colin Kaepernick] is doing is honest, and it's not just his truth, it's our truth."

On making it out of Compton:

Through his music, he's taken on the role of spokesman for a neighborhood that goes way beyond Compton. I ask him, Why you? "I put that responsibility on myself. I knew from jump that I thought a little bit different, people respected me, and if I let myself down, I'd be letting my guys down. Fast-forward to 2018, I'm in a position where these guys have 10, 15, 20 years in prison, but I can go in there—and I do—and tell them that when they get out, you have a job. And my word stands."

On Kanye West:

I ask him how he feels about Kanye West's statements about Trump and about slavery and, after a long pause, he says, "He has his own perspective, and he's on this whole agree to disagree thing, and I would have this conversation with him personally if I want to."

On the Pulitzer Prize:

"It was one of those things I heard about in school," he says, "but I never thought I'd be a part of it. [When I heard I got it], I thought, to be recognized in an academic world… whoa, this thing really can take me above and beyond. It's one of those things that should have happened with hip-hop a long time ago. It took a long time for people to embrace us—people outside of our community, our culture—to see this not just as vocal lyrics, but to see that this is really pain, this is really hurt, this is really true stories of our lives on wax. And now, for it to get the recognition that it deserves as a true art form, that's not only great for myself, but it makes me feel good about hip-hop in general. Writers like Tupac, Jay Z, Rakim, Eminem, Q-Tip, Big Daddy Kane, Snoop . . . It lets me know that people are actually listening further than I expected. When I looked up at that man on the podium today, I just had countless pictures in my mind of my mother putting me in suits to go to school. Suit and tie, from the dollar store, from thrift shops, when I was a kid."

On his love for Eminem:

I ask him how he delivers so many syllables and words in one line, with no wasted words and juxtapositions like "Halle Berry/Hallelujah" or a play on words like "Demo-crips and Re-blood-licans" or "I got power/poison/pain and joy inside my DNA." "It comes from my love of hip-hop. Eminem is probably one of the best wordsmiths ever," Kendrick says. "There's a whole list of why, but just bending words. . . . The Marshall Mathers LP changed my life."
You can read the full cover story now on Vanity Fair.
Join Our Discussions on Discord
The HYPEBEAST Discord Server is a community where conversations on cultural topics can be taken further.