Rucci Summarizes West Coast Music's Storied History on 'El Perro'
Inglewood's finest is ready to put his city back on the map.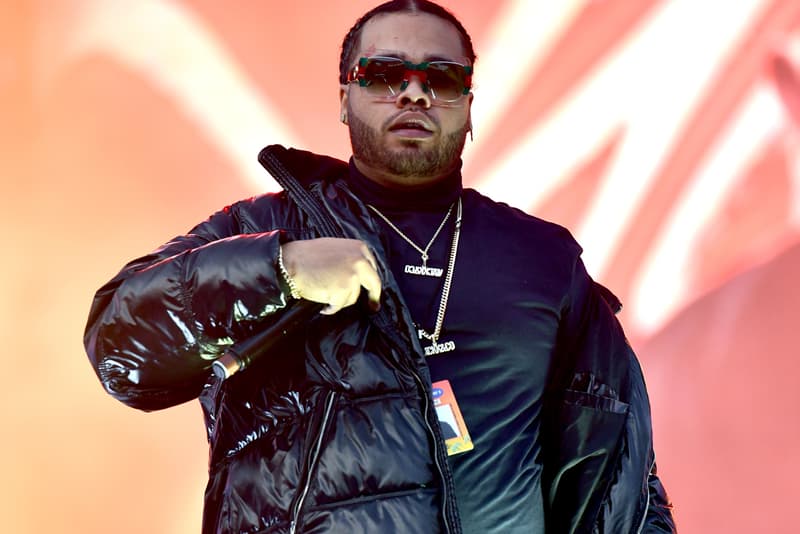 "My name is Rucci and I'm bringing Inglewood back!" Inglewood rapper Rucci yells during "Like Woah," a single off his latest major project. Titled El Perro, Rucci's new full-length — which also features other talented up-and-comers like LA's AzChike — is the culmination of a longtime grind in the local Los Angeles rap circuit and a lifetime spent building a reputation on the blocks that birthed him. Made famous in hip-hop circles by a varied range of popular rappers — think Mack 10, 2Eleven, Skeme, Big WY, U-N-I and like-minded artists– Inglewood aims to launch the career of another star with Rucci's El Perro. "I am Inglewood.. Ain't no way around it," reads a recent caption on Rucci's Instagram.
Raised off the elite artists that make up contemporary street music's spiritual and creative centers, Rucci looks to deliver the next stage in the evolution of gangsta rap. His sonic style belongs to the West Coast, but is also geared towards evoking an instant, authentic connection with neighborhoods across the globe. A lifelong native of Inglewood's north side, he's both a seasoned product of his environment and a student of his region's tried-and-true approach to emceeing; he was snapping in local cypher sessions and freestyling on couches before the "New West" became a part of the current media narrative attached to California. When asked about his greatest musical influences, Rucci swiftly names Spice-1, Tha Dogg Pound, RBL Posse, Boosie, Webbie and Bone Thugs-n-Harmony. Questioned about his personal favorite and most meaningful guiding light, he looks to his former collaborator, close friend and fellow hometown hero Sean Mackk.
"That's [Sean Mackk] the biggest key to everything I do," Rucci explains.  "I don't go to sleep because of Sean Mackk. Everything I do is because of Sean Mackk." As MackkRucci, Sean Mackk and Rucci were regarded by many as their area's answer to Daz and Kurupt. Following Sean Mackk's death in July of 2017,  Rucci took it upon himself to take Inglewood's current culture to the next level and ensure his MackkRucci partner's impact lives on.
"Inglewood got a whole other swag compared to every other part of California," Rucci explains. "Inglewood's … rare. People can see Inglewood in a certain way, but you got to be that n*gga."
With Sean Mackk's legacy and Inglewood's lineage squarely on his shoulders, Rucci plans to take his sound to every scene following the release of El Perro.  "I just don't f*ck with a lot of rappers outside my jurisdiction," he remarks, noting that he still has respect for the other locals involved in today's West Coast movement. El Perro is his way of firmly standing on his own two feet, and delivers a raw, tightly-wound summary of his journey thus far. What Daz Dillinger's solo debut did for the blue-hued Long Beach of the nineties, Rucci's El Perro intends to do for the red-flagged Inglewood of today and tomorrow.
How did this project come together? What happened between Dawgystyle and El Perro?
Dawgystyle was really on some whole "ignorant, for-the-bitches"-type shit. It wasn't really "for the bitches," but [Dawgystyle] was just to get everyone linked on to what I'm trying to do. At the same time, it was like [Snoop Dogg's] Doggystyle and every song related to the same shit he [Snoop Dogg] was talking about.
This whole year I'm doing all "dog shit" because it's the year of the dog. I was born in 1994 — that's the year of the dog too. And, I'm a dog, so … all the hos like that shit, and all the n*ggas relate to it because they feel they're the same way. I'm talking to all of them with no filter.
Musically, this project was more "all around." You ain't going to skip one song. This one tells a brief story about how I was coming up and where I'm from. On Dawgystyle I got into the ratchet side, this one I'm going real deep into it. I got a song on there called "Wishin On A Star," which will probably one of the more notable songs. It's just me being a dog-ass n*gga, but in my ways and telling the truth about everything I do. I got some shit on there like "My Way," and it's going to make you go crazy. You ain't going to see where the f*ck I'm coming from on that one; you're going to need a bottle of Hennessy to turn up to that shit.
Sort of like the old Daz Dillinger albums.
Exactly. Hell yeah. And the old-school Spice-1 and old Bay shit. That's what I was listening to the most when I was doing this: Spice-1 and RBL Posse. You can get jiggy to their shit, but they're telling you some real shit at the same time. I'm bringing that whole Inglewood back. I want people to understand: ain't nothing been this big since the 90's.
Do you feel like you're carrying the torch for the old-school gangsta rappers? You got rappers like Drakeo the Ruler and Greedo blowing up, but you're more of a traditional rapper.
Yeah. With Drakeo and Greedo, they got a different sound. With my shit, I'm bringing back that original West Coast sound. It's that 90s shit, but still has that swag with it. I'm still talking about the culture and day-to-day shit, but mixed with that gangsta shit. It's like that fly gang-banging shit, but on a whole other level now.
I go to the studio every day. Some of these songs were probably recorded around Dawgystyle and even before that, so there's just been a lot of music I've been saving. There's also a lot of new shit on there: "Wishin On A Star" and other songs were made around a month or so ago. I just picked what I wanted people to hear in an album. I just want the vibe to be real different with it [El Perro]. This one's real unique all-around; I took my time on this one.
How do you think this project stands out from the rest of the new music coming from the West? The new stuff from Drakeo, Greedo and Shoreline Mafia?
Put all that together — Drakeo, Shoreline and Greedo, all of that — and you're going to hear every angle on my shit. You're going to hear [on El Perro] all of that and with my type of swag. We are all a part of the same culture. I just feel like I got my own spin on it.
What do you feel that you add to music that other rappers don't add to the conversation?
I feel like I'm giving you multiple things. I'm more musically-inclined than a lot of artists nowadays. I feel like longevity is my key in everything. I don't feel like a "clout rapper" or none of that.
"Wishin On A Star" reminds me of oldies.
I listen to old music more than anything. I listen to old R&B more than anything. Even old 70s, blues, country … I listen to all of that. I really listen to everything. "Wishin On A Star" is something that I literally turned into my dream song. I asked someone to make a beat for me and that sample, and he sent it back ASAP; I already had the move for it because I was going through it with multiple females at once. "Wishin On A Star" is going to give you that old-school-, 90s- and Tupac, "Ratha Be Ya Nigga"-type sh*t. It's going to touch girls and the n*ggas, and it's going to be a song that has length to it.
You followed up that song with a DrumDummie beat and that reminded me of the Louisiana sound.
That's where I want to go with my music to be honest — I want to go out there and touch the south like a motherf*cker. I literally got  a whole catalog of songs on that type of shit. When it comes to new artists, all I'm listening to right now is Kodak and Youngboy. I like JayDaYoungan, that n*gga hard — I just started listening to him. Growing up, I was a Cash Money head and on Boosie for sure. Boosie is one of my favorite rappers. I feel like I get my swag from Webbie more than anybody, because he be talking that nasty shit and that gangsta shit too. I feel like I can do it all; I can do any type of music. I even got a whole project with mainstream-type music too — like DJ Mustard, 1500 or Nothin.
After this project, what's next?
I'm going to drop five more mixtapes this year. I might drop an album, but I'm for sure going to drop at least five more mixtapes. I want to go into 2019 on top of the game. I'm not even looking at or thinking about nobody else, I don't see nobody else. After this tape drops, I know it's only up from here. I'm not even thinking, "in 2019, I'm going to be famous;" I'm thinking next month.