A Breakdown of JAY Z's Revealing "All The Way Up" Verse
In his first full verse of 2016, Hov addresses Beyoncé's 'LEMONADE,' the elevator incident with Solange, TIDAL's superiority over Spotify and Apple Music, his criminal past and more.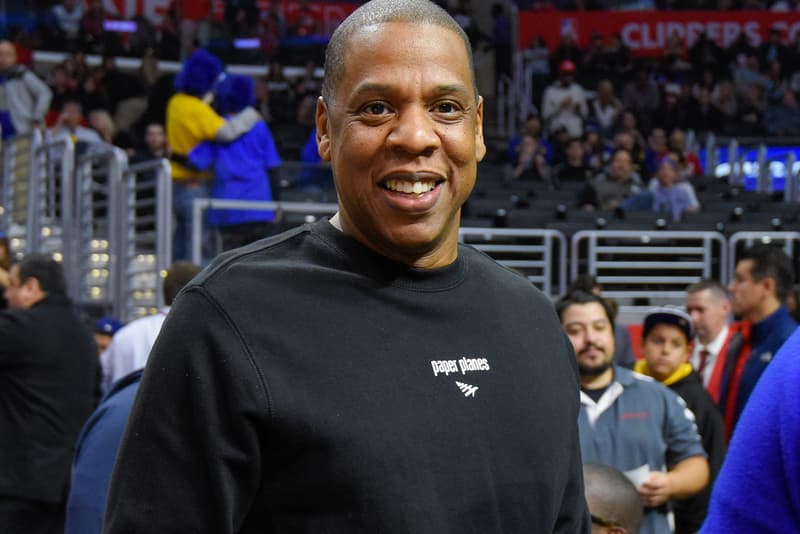 In March, Fat Joe and Remy Ma teamed up with French Montana and Infa-Red for their catchy anthem, "All The Way Up." Last night, a remix surfaced and featured none other than JAY Z. While JAY linked up with Kanye West and Drake on "Pop Style" back in April, a track originally intended for the Toronto rapper's latest album VIEWS, JAY feature was so short that it was hard to count his appearance as a verse. Hence, this is his first proper recording of 2016 and this time around, the man we know as Jigga does not disappoint. Not only did drop a hot 20, he addressed a lot of issues that have gotten people talking over last few years. Such topics include Beyoncé's claims of JAY's infidelity in her latest album, LEMONADE, the 2014 elevator incident with Solange, how the late Prince chose to put his music through TIDAL as opposed to Spotify and Apple Music, JAY current success contrasting against his criminal past and more.
"You know you made it when the fact / Your marriage made it is worth millions
Lemonade is a popular drink and it still is"
On April 23, JAY Z's wife Beyoncé released her surprise album LEMONADE, and it was essentially a narrative about her husband's infidelity and their marital issues. The album sold 200,000 copies the first day and over a million during its first week; Bey is racking up even more numbers and figures with her accompanying 'Formation' tour. Up until this point, JAY Z has not spoken on the topic. And although he never claimed to be guilty of any of her accusations, JAY states that the topic of their marriage generated them millions of dollars through her album, which was popular during its time of release and still is to this day. That line is also a reference to Guru's lyrics on Gang Starr's 1992 hit "DWYCK" — "Lemonade was a popular drink and it still is." Ultimately, regardless of whether or not the rumors are true, JAY's boasting that he and his wife are cashing out on the drama because people stay thirsty for their "lemonade."
"Survival of the littest / n*ggas who really up versus n*gga up in your business / I'm in the room where real n*ggas not allowed / I'm the only one in the room that they fear right now / I think they're clear right now"
In this section, we find Jigga dropping some of that classic braggadocio he's known for. "Survival of the littest" is a clever 2016 take on Charles Darwin's theory of evolution and natural selection. When he said, "I'm in the room where real n*ggas not allowed," he's saying how there's a very low likelihood that someone with a criminal past like him (he dealt crack as a teen, once shot his brother and stabbed a record producer) would be allowed to enter the places that he gets to go to, like The White House with Obama or meetings with well-established billionaires like Warren Buffet.
"Let's celebrate, no red champagne, we don't play that / All we see is gold bottles and paper plane hats / Twenty one Grammy's that I use for D'usse cups"
Here, JAY cosigns his own businesses, Armond De Brignac (Ace Of Spade Champagne), and Roc Nation. Instead of drinking red champagne, you will only find Mr. Carter holding Ace's gold bottles in the club. He also addresses his 2013 Grammy incident, where JAY sipped D'usse cognac — which he has endorsed since 2012 — straight out of his trophy. Perhaps he brings up D'usse again because DJ Khaled has recently also signed a deal with the company. Speaking of GRAMMYs, JAY also reminds us how he currently holds 21 awards.
"I'm on the penthouse floor, call your way up. The OG's say, "HOV, how high is high enough?" / I said "'till we eye and eye with the higher ups / Until we let 'em know, we ain't those n*ggas "
JAY wants listeners to know that his goals are sky-high; you can witness and maybe enjoy the products of his success as an outsider, but he will be the one inviting you into his penthouse at his own discretion. Everybody, including his day-ones, wonder when he will be satisfied with his success but Hov reveals he won't stop until he's on the same level as the elite individuals and families who run the world. Until these people see eye-to-eye with JAY, they're not ready to stop quite yet.
"Until our baby's showered in gold n*gga / Blue looking like Pac in the tub / David LaChapelle levels of not giving a f*ck"
Hova describes how this level of success will look like: their firstborn Blue Ivy Carter will be "showered in gold," an aesthetic he likens to 2Pac's infamous "Becoming Clean" bathtub photo shoot, which is shot by photographer David LaChapelle shortly after Pac was released from prison. We're not sure whether this was intentional, but the walls of the bathroom were also blue in color. #Bars
"Prince left his masters where they safe and sound / We never gonna let the elevator take him down"
These are, perhaps, the two deepest bars of the entire verse. Not only is this a tribute to Prince, he uses the late artist as an example of how TIDAL is a superior streaming platform compared to Spotify and Apple Music. How? Before he passed, Prince was in a 35-year battle with his label Warner Bros. over the ownership of his masters. After he won the rights, the Purple One removed his catalog from Spotify and Apple Music, and instead hosted his music exclusively on TIDAL. Hence, as long as JAY's in charge, Prince's music will be safe and sound. The second bar references Prince's actual death, which happened in an elevator at his Paisley Park estate; it also reference's the late artist's song "Let's Go Crazy" — "And if de-elevator tries to bring you down / Go crazy, punch a higher floor!" The third reference is JAY's 2014 incident, where he was attacked by Beyoncé's sister Solange while he was in an elevator. JAY's not going to let that, or any of the infidelity claims from LEMONADE, take him down on his path towards further success.