EXCLUSIVE: Christian Rich Reveal the Process Behind Vince Staples's New Sound on "Big Fish"
The brothers also share the greatest piece of wisdom they learned from Pharrell and Chad Hugo.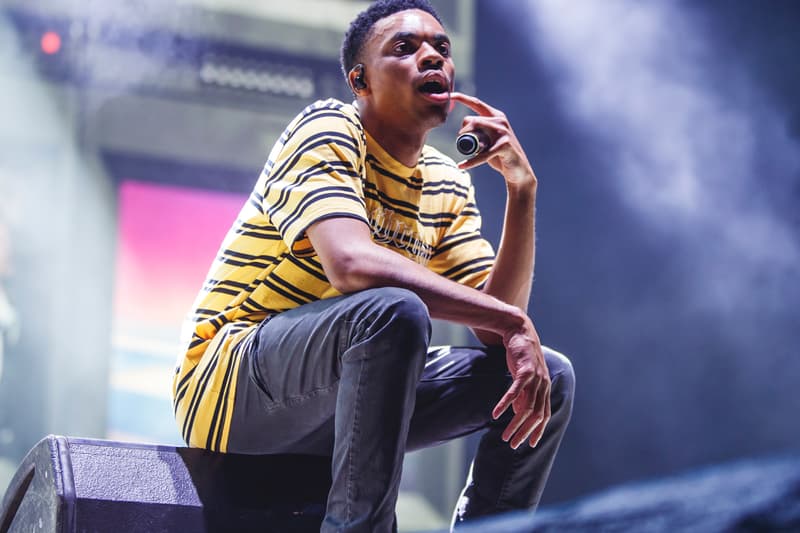 As producer-duo Christian Rich, talented twin brothers Taiwo and Kehinde Hassan have worked behind-the-boards wizardry for critically-acclaimed, globally-beloved artists such as J. Cole, Earl Sweatshirt, Drake, Childish Gambino, Mac Miller and more. The two super-producers are creatively restless and have sensibilities for just about any contemporary genre — from swirling dancefloor melodies to West Coast-styled funk to sinister street-rap, they're masters of it all. The pair branched out on their own and showcased their capabilities to create fully-formed, cohesive projects with the release of their debut album, 2015's FW14. Like their FW14 collaborators Steve Arrington, JMSN and GoldLink, Christian Rich are infinitely creative and able to push the boundaries of sound whenever they're in a studio.
Coming up under the tutelage of the groundbreaking, game-changing hitmakers The Neptunes, the Hassan brothers learned to craft beats under the watchful eye of their art form's most talented and respected masterminds. In 2017, Christian Rich are once again preparing to put what they learned under Pharrell and Chad Hugo's watchful eyes to the test with the release of the highly-anticipated new Vince Staples LP Big Fish Theory. Responsible for the production that propels Vince Staples's Big Fish Theory lead single "Big Fish," Christian Rich are once again at the forefront of a new direction for a major artist's sound and career.
To learn more about what the Christian Rich brothers are up to and pull back the curtain on the processes behind their new creations, we linked up with them to talk "Big Fish," Earl Sweatshirt, N.E.R.D and more.
The sound of the new Vince Staples record takes on a sort of futuristic, modern G-funk style. Were you guys particularly influenced by the West Coast and G-funk sounds when you two were making the beat?
We're business and friends in Los Angeles, so it's natural to be influenced by the sound. The idea for this song was more of a house music concept with a modern sound that would fit Vince's style and album. The sound if you listen closely is a hybrid of many sounds from around the world.
Since you two have worked with Vince Staples for quite some time now, how has he evolved and developed over the years? How different is the Vince Staples of "Senorita" compared to the Vince Staples of today?
We've known Vince since the Doris days with Earl Sweatshirt. He didn't have a record deal back then, but somehow he keeps that same hunger and focus as the beginning. Lyrically he has always been a potent wordsmith. The difference now is he approaches his music understanding the long term goal. That's not to say he didn't do that before but you can hear the growth from "Senorita" to "Big Fish." It's a new version of Vince that realizes he is bigger than two years ago and has to approach his music and vision as such.
Vince Staples – "Big Fish" (Produced by Christian Rich)
Are there any other tracks on Big Fish Theory that you can reveal you produced?
We can't say much about the album. We usually do two tracks or more for albums, but what makes the album is usually a surprise to us at times. In this case we knew "Big Fish" was the lead single but we have recorded other songs with Vince. We'll let Vince speak on his album and tracklisting.
When compared to other rappers you two have worked with, how is Vince Staples's creative process different?
We usually don't compare artists, but Vince's approach is similar to some of the greats we have seen and worked with. He has a lot to say and records his songs when the spark happens.
"Vince's approach is similar to some of the greats."
How did the making of "Big Fish" initially come about? Did Vince Staples reach out to you two personally?
We talked beyond the album cycle. Not everyday, but we definitely discuss or send music at times. This time was like any other time of sending ideas and meeting up in the studio. Vince texted us a few months ago about coming by the studio and after a long hour conversation with him on the approach for the album, we went to our studio and made this track based on the discussions. Once the track was done Vince heard it and immediately took it.
In terms of West Coast artists, are you still working with Earl Sweatshirt? Any updates with him?
We don't categorize artist by regions, but we work with a lot of artists from the West and East. As far as Earl, we haven't connected on music in awhile. Some mutual associates have spoken to us about working together again, but he would have to make that call himself. Whatever he is working on is gonna be great.
Do you guys have any other stuff coming down the pipeline aside from Big Fish Theory?
It's funny because people don't seem to want to mention the fact that we produced Wale's single "Fashion Week" with G-Eazy that is on the Billboard charts. It's a radio record that is moving but it's pretty interesting nonetheless. We have some great records on the way, a lot actually. Denai Moore (Mura Masa, SBTRK) is on one of our records called "Good Things."
Obviously, Shae and Pharrell played a big role in your careers, what were your initial thoughts about Chad's retirement "joke?"
We didn't even know he said that. He actually has writing credit on Wale's "Fashion Week" with us so it's kind of hard for someone who is that great at music to ever quit. His genius is out there already, you can't quit what's already made and inspiring people.
What do you guys think the music world is missing without N.E.R.D?
N.E.R.D will always exist first off. The Christian Rich's, the Goldlink's, Kaytranada's, Travis Scott's, etc. all exist because of them. Secondly, N.E.R.D represents musical freedom and expression. Artists like Lil Uzi Vert in his own way is carrying that torch as much as The Internet or any other artists that fuse multiple genres in their music.
The greatest wisdom you received from Pharrell, Shae and Chad?
Find your rhythm and repeat it.
Final words?
Big Fish. Fashion Week.