Best Art Drops This Week: Lucien Smith x Off-White™, Paul Insect Prints & More
Including an upcoming pop-up shop by acclaimed Afrofuturist artist, Hebru Brantley.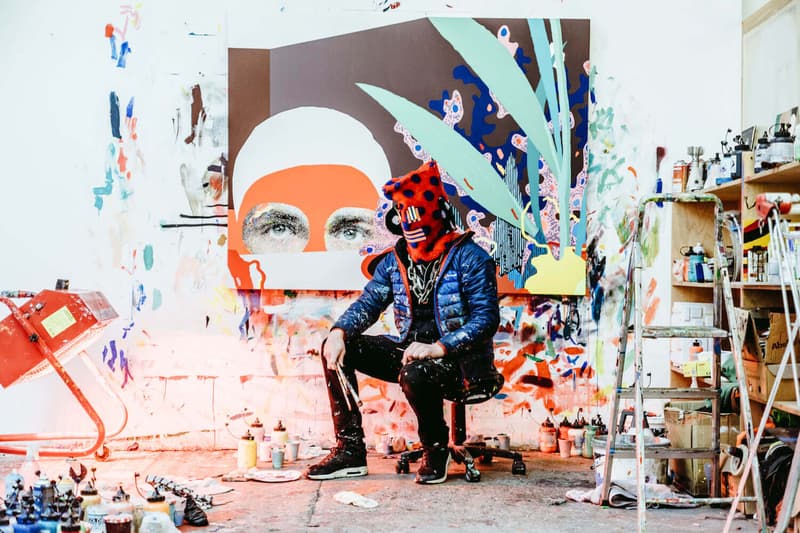 The contemporary art world is predominantly comprised of artists who once dabbled in graffiti. Take KAWS for example: he started out subverting images on bus shelters, phone booths, and billboards back in the early 1990's. His background in graffiti allowed him the unbridled freedom to transform iconic pop-culture characters and embellish them on any canvas he desired. This boundless creativity, spurred from the world of graffiti, is translated into various offerings for fans to purchase works by their favorite artists, without being an expensive fine art canvas.
For this week's best art drops, we spotlight artists Paul Insect, Hebru Brantley and Jean Jullien, who all rose from the graffiti scene and became leading contemporary art luminaries. Check out the list below and let us know your favorites.
In other art news, take a look inside Takashi Murakami's monumental "HEADS⟷HEADS" exhibit.
Avant Arte to Release Limited Edition Prints by Paul Insect
Release Date: TBC
Release Price: TBC, available exclusively at Avant Arte's official website.
Leading contemporary art platform Avant Arte is set to launch limited-edition prints by renowned British artist Paul Insect. The artist is widely-recognized for his signature stencils, spray-painted works, and color-packed canvasses that reference absurdism and surrealism. Moreover, Insect has worked with the likes of Banksy, producing artworks for the notorious Dismaland exhibition back in 2015, and Damien Hirst once bought all of Insect's artworks for his "Reflective Minds" show at the Allouche Gallery last year. The latest print release will feature pieces measured at 71 x 97 cm each.
Off-White™ & Lucien Smith Team up on Items For "FRIENDS" Exhibit
Release Date: May 1
Release Price: TBC, available exclusively at EM PTY GALLERY.
Multitalented artist Lucien Smith is the subject of a new exhibition at Virgil Abloh's EM PTY GALLERY, entitled "FRIENDS." The extensive showcase will feature a selection of portraits by Smith. In addition, a collaborative range between Smith and Off-White™ will be sold at the space. One of the partnered items is a custom T-shirt with the exhibit's key visual painted by the artist. The exhibit will launch today at EM PTY Gallery from 5 p.m. to 7 p.m. EST.
EM PTY GALLERY
2617, 51 Mercer St
New York, NY 10013
Hebru Brantley To Launch "NEVERMORE" NYC Pop-Up
Release Date: May 4
Release Price: TBC, available exclusively at the "NEVERMORE" pop-up shop.
Acclaimed Afrofuturist artist Hebru Brantley is gearing up to launch an NYC pop-up, titled "NEVERMORE," that will feature exclusive art objects and accompanying merchandise. The special range will boast graphic T-shirts and vinyl figures inspired by Brantley's signature Fly Boy and Fly Girl characters. The Chicago-based artist continues to push the boundaries of his diverse artwork that spans paintings, videos, sculptures and photography. JAY-Z and Beyoncé, Lenny Kravitz, and George Lucas are just a few A-listers who collect artworks by Brantley. "NEVERMORE" will launch from May 4 up until May 6. Find the address below.
"NEVERMORE"
393 Broadway
New York, NY 10013
Hours: 12 p.m. – 8 p.m. EST
Adam Lucas & COMME des GARÇONS Join Forces for a Collaborative Range
Release Date: April 29
Release Price: TBC, available exclusively at Japan COMME des GARÇONS shops and will drop at select Dover Street Market shops next month.
COMME des GARÇONS recently joined forces with New York City-based artist Adam Lucas for a collaborative range as part of CdG's Breaking News Golden Week campaign. Lucas — formerly known as street art troll Hanksy, who garnered a large following after reproducing pop cultures into sardonic public art memes — is the next artist to celebrate the launch of the new online-only imprint, which already includes partnered T-shirts by Avi Gold and Anti Social Social Club.
The Adam Lucas x CdG shirt is embellished with graphics consisting of Lucas' signature colorful cubist aesthetic with CDG's bold branding emblazoned beneath. The shirts are available now at all Japan COMME des GARÇONS shops and will drop at select Dover Street Market shops next month.
Jean Jullien Launches Exclusive Collectible Figures at Art Toy Culture
Release Date: May 2
Release Price: TBC, available exclusively at Art Toy Culture inside Seoul's COEX mall.
Globally-renowned french artist Jean Jullien recently teamed up with Seoul's Art Toy Culture to release limited edition figures. Julien's lighthearted and humorous illustrations are transformed into plush objects for the partnered offering. The artist will engage in a live drawing and signing starting May 2 at Art Toy Culture's shop inside the COEX Mall. Visit Art Toy Culture's official website to learn more. A potential release may follow on Julien's official website.
COEX
513 Yeongdong-daero, Samseong 1(il)-dong
Gangnam-gu, South Korea