Drake Will Executive Produce Young Thug's Singing Album
It's dropping this week.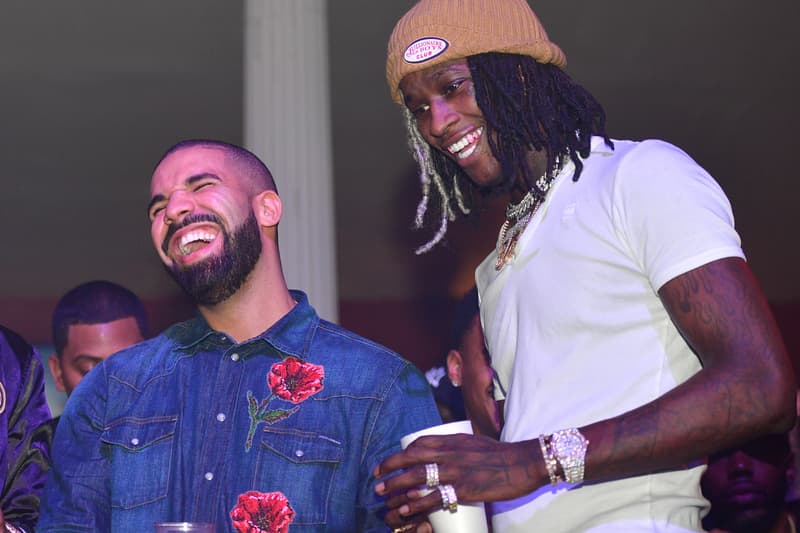 Earlier today, Young Thug took to Twitter to announce that he would drop a new "singing album" this week. What's more is that Drake is taking the role as the project's executive producer. Titled E.B.B.T.G. (Easy Breezy Beautiful Thugger Girls), no other details have been revealed other than that Thugger will be rapping/singing in a "Michael Thugger Jackson Wale voice." E.B.B.T.G. will be the Atlanta rapper's first full-length release since 2016's Jeffery. Earlier this week, Young Thug and Frank Ocean released their collaboration, "Slide On Me." Check out Thug's tweets below and stay tuned for more on this.
Singing album this week…

— Young Thug ひ (@youngthug) April 27, 2017
E.B.B.T.G

— Young Thug ひ (@youngthug) April 27, 2017
EASY
BREEZY
BEAUTIFUL
THUGGER
GIRLS….

— Young Thug ひ (@youngthug) April 27, 2017
@Drake will be EP'n my singing album.

— Young Thug ひ (@youngthug) April 27, 2017
Michael Thugger Jackson@Wale voice!

— Young Thug ひ (@youngthug) April 27, 2017