Versace's Salehe Bembury Designed the Chain Reaction to Be More Than a Chunky Sneaker
The Los Angeles-based designer talks working for Donatella, his creative approach, diversity in fashion and much more.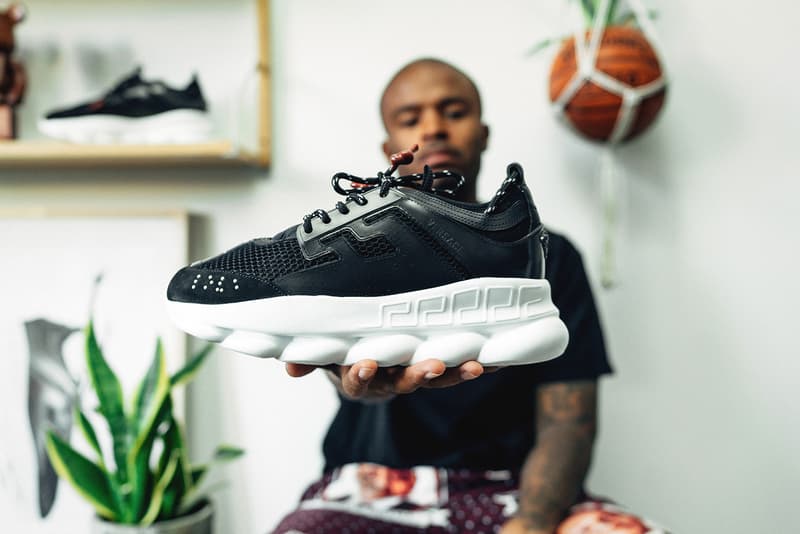 1 of 5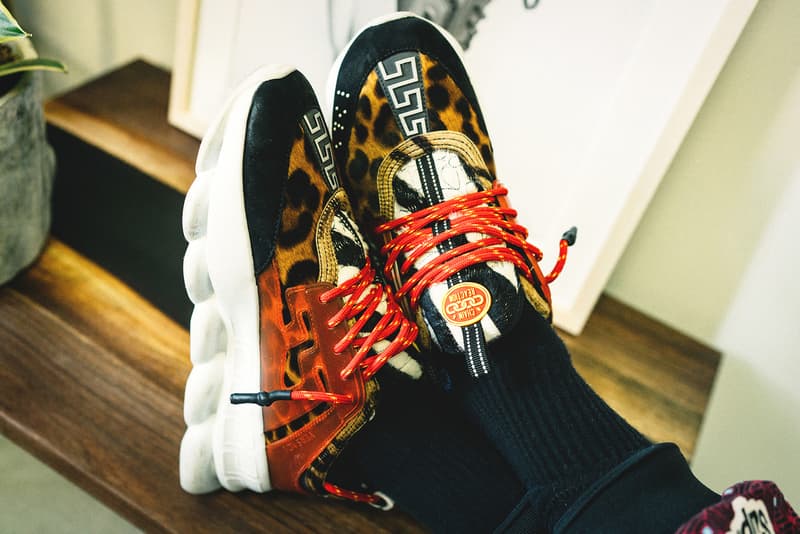 2 of 5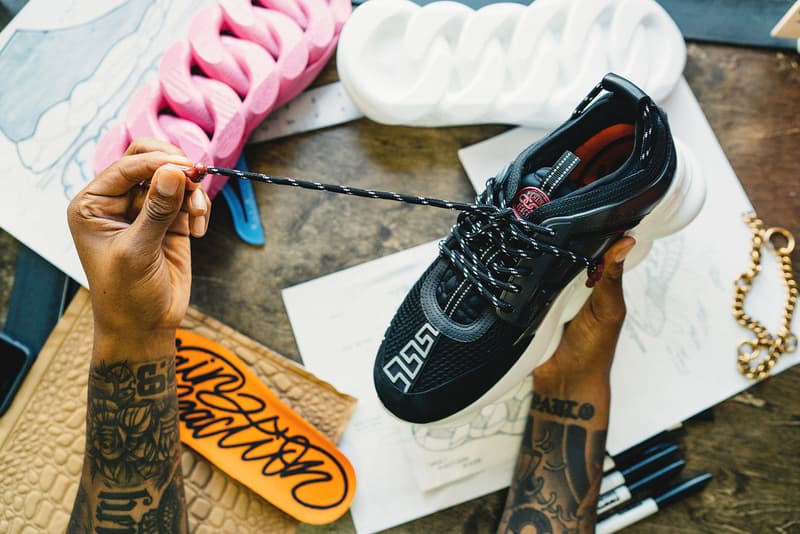 3 of 5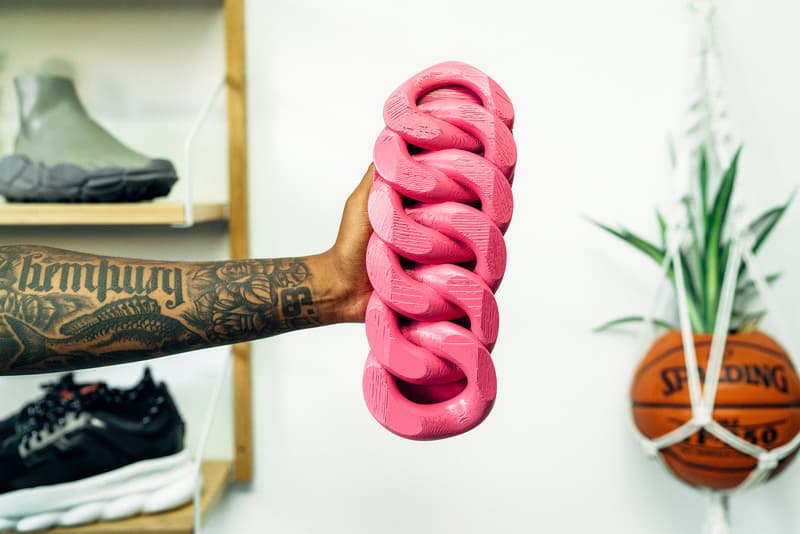 4 of 5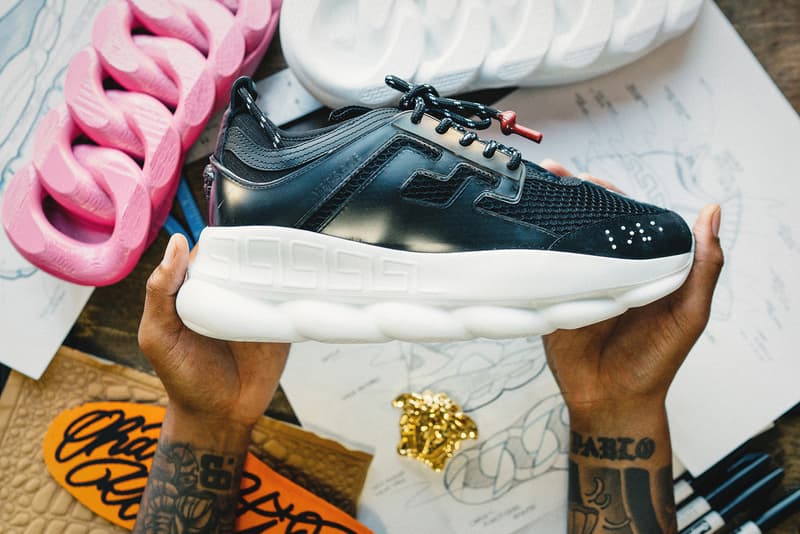 5 of 5
In September of 2017, Salehe Bembury announced his new role as Versace's head of sneaker design – an appropriate move after spending some time designing footwear for Kanye West at YEEZY. Fast forward to January of this year, and his first creation under the luxury fashion house surfaced in the hands of the lavishly-dressed 2 Chainz. Since then, the Chain Reaction has been seen on the social media accounts of creatives and tastemakers around the globe, further igniting the love-it-or-hate-it trend of chunky sneakers that started early last year. Versace's contribution to the fad calls upon its longstanding heritage with features that include a chain-link outsole, wax-dipped lace-tips and additional high-quality touches. However it's Salehe's attachment to the model that makes it that much more desirable, as a young, black designer disrupting the traditions of high-fashion.
In an exclusive interview with Salehe, we chat about his journey to Versace, how working behind the scenes at a major fashion house differs from the streetwear world, diversity in fashion, and more. Read the conversation below with some exclusive imagery of the accomplished designer's Los Angeles studio.
Tell us how you became the head sneaker designer at Versace?
I reached out to Versace on LinkedIn and essentially communicated an opportunity. The sneaker market is a billion dollar industry. Traditionally, "sneakerheads" were not looking to fashion houses for sneakers. Maybe once in a while a luxury company might drop a head-turner, but usually it was pretty dead in that market for sneakers. I explained that within the last five years, the consumer is finally starting to look at fashion houses for sneakers because they've been educated by successful adidas or Nike collaborations with luxury brands. Versace having such a rich brand heritage and ethos, I saw this as an opportunity for them to join the conversation.
I wasn't expecting a response, but three days later, I was emailed by "The Office of Donatella Versace." I was told that my ideas had resonated with the brand and they wanted to have me in Milan to discuss more. I put together a presentation, presented to Donatella, and was hired on the spot.
What it's like working for a major fashion house, as compared to your previous employers?
Because of the aforementioned rich brand heritage, the genius of Gianni, and the genius of Donatella, I try to make sure all of the decisions I make both acknowledge and respect that storied legacy. It feels as if more eyes are watching so I need to make sure I come correct.
I think it hit me during my first show (Men's Fall/Winter 2018). I remember arriving with 2 Chainz, getting blinded by photographers, and then seeing how much of a production it was and thought to myself "Oh shit, this is for real!" Not that I didn't know, but experiencing it first hand was pretty surreal. The only thing that could maybe compare was YEEZY Season 3 at Madison Square Garden. I'm a huge Knicks fan, so that was a moment.
Furthermore, I feel that working for a fashion house like this, I have a responsibility that I don't take lightly. It's kind of like The Force — with it comes great responsibility.
I think the chunky sneakers do a good job of adding dimension to one's silhouette. Similar to how stilettos may complement legs, or a dress can complement form. They aren't for everyone, but if executed properly it almost puts your outfit on a pedestal that you live on that day.
What's your relationship with the chunky sneaker trend? What is it about them that you enjoy?
As a sneaker consumer, I've always been attracted to an articulated tooling. In an effort to be a loyal brand employee, I will refrain from mentioning those models, however we all know the classics. I think the chunky sneakers do a good job of adding dimension to one's silhouette. Similar to how stilettos may complement legs, or a dress can complement form. They aren't for everyone, but if executed properly it almost puts your outfit on a pedestal that you live on that day. There's a certain level of confidence that it takes to elevate yourself above others with your footwear and I think the chunky trend speaks to this.
What makes this model stand out from the rest of the chunky sneakers currently invading the footwear industry?
I challenged myself to create something that hadn't been seen in the market before, and I believe I accomplished that. Successful design evokes both positive and negative emotions, and it's been great to see the dialogue it has created.
A previous boss used to OBSESS over shape, and while in the moment I didn't get it, I now see how important shape really is (Thank you). While the Chain Reaction may have some similar proportions to the "Chunky Sneaker" trend, I think that is the only similarity it shares. For whatever reason, most of the other chunky sneakers are inspired by the past, my intention was to look forward. Some brands are so eager to join the dance they're just making iterations of "Chunky Sneakers" already on the market.
What were the steps and/or moments that led you to conceiving the Chain Reaction?
I had to create something to grab the attention of the consumer. A "Hey! Look at us over here!" moment. I first identified the signature details of Versace. Then I explored if any of them could be functional elements. My industrial design background forces me to tackle design from a problem solving perspective. I did a lot of modeling of chains and then had what designers call an "AH HA" moment. I was looking at a cuban link chain and realized that it had flat sections that might make it a functional outsole. After some sketch, clay and 3D exploration, the Chain Reaction tooling came to fruition.
I then was challenged with the issue of "weight." There's another shoe on the market with a similar proportion (that shall remain nameless), that is ridiculously heavy. There's an argument to be made for weight being synonymous with value, however I found that reducing weight makes for a better wear. The Chain Reaction is an extremely lightweight sneaker, considering it's size and proportion. Again, an example of problem solving through design.
What has been Versace's response to the sneaker, from conception, through drafts, to final product?
During my time at Cole Haan, I both contributed to and witnessed many meetings, discussions and push-backs that occurred with the LunarGrand. Introducing a drastically new silhouette can be intimidating to a brand. Opening a new tooling is an investment that any company wants to be confident in. However, being able to speak the jargon of other positions (sales, merchandising, marketing) helps with this dialogue.
The first internal socialization of the idea was a 3D printed version of the tooling. I have found that sometimes three-dimensional models are more successful in communicating an idea. From its inception, the feedback was overwhelmingly positive, which aided in the development. I have felt nothing but support, trust and encouragement here, which have proven to be a great fertilizer for design.
Versace has a heritage that I feel is my job to foster and maintain through footwear. Despite the fact that the sneakers may be taking a new direction, it's still important to maintain the brand DNA and ethos.
Can you tell us about the color scheme choices: why so vibrant, which ones are your favorite, etc?
As I mentioned earlier, Versace has a heritage that I feel is my job to foster and maintain through footwear. Despite the fact that the sneakers may be taking a new direction, it's still important to maintain the brand DNA and ethos. In the case of the Chain Reaction, it features five greca patterns, two medusas, and three Versace logos. The color and pattern choices were cohesive to the ready-to-wear collections. I'm not sure I have a favorite as each one appeals to me for a different reason.
What is 2 Chainz's relationship to this model?
The chain tooling was inspired by the DNA of Versace — chain link jewels have always been part of the brand's heritage — and 2 Chainz. Chainz is a good friend and his inherent style, fashion knowledge and insight was definitely an inspiration. In the '90s, a lot of sneaker designs were inspired by animals, cultures or even cars. For example, the Air Jordan 13 was inspired by a black panther, because of Jordan's killer instinct. 2 Chainz acted as a similar inspiration.
As a young black designer leading the future direction of a storied fashion house, what are your thoughts on Virgil going LV and diversity, or lack thereof, in high-fashion?
I credit the evolution of the culture and ultimately the fashion space for Virgil's impressive upward mobility. Virgil utilizes "education" as a tool to bring his audience with him. His focus on "youth" has also been successful in creating an army of curious spectators of this avant-garde movement.
I believe the effect that Barack Obama (when elected) had on America, Virgil is having on the fashion space. He is breaking stereotypes, paving new roads and shifting the prototype. And he seems to be having fun while he does it.
Prejudice is frequent aspect of the black experience, however it is individuals like Virgil and myself that turn those obstacles into opportunity, education and insight. I recently spoke at Ohio State University, and afterwards, a student approached me saying how surprised/inspired she was that someone with my title and employer looked and dressed the way that I did. That was a very powerful moment for me, because I was showing her that your appearance doesn't necessarily determine your experience, ability or potential. So if Virgil is able to project that message on such a large stage, that's a big deal. Congrats, Virg.
What are you working on now for Versace? Where do you want to take the sneaker division?
All I can really say is "newness." Donatella has given me the green light to create, so that is what I plan to do. A lot of creative endeavors can be stifled by sales, merchandising or brand restrictions, however I've been given a certain level of freedom and trust that when paired with Donatella's genius yields silhouettes like the Chain Reaction.
Any advice for young creatives/designers looking to make it in the cooperate world?
It's about the journey, not the destination. I get contacted constantly by kids who just want the answer. "How'd you do it man!?" There's no answer to that. It's taken me 10 years to get where I am. That isn't to say that it will take the next designer the same amount of time, but it's just a representation of the climb. Young creatives should focus on putting as much effort as they can into the now, and be as much of a sponge as they can in the process. I also want to give a special thanks to Donatella Versace, Kanye West and Jeff Henderson for giving me the ability to make it to this point in my career.