Nicki Minaj Opens Up About Cardi B and Quavo Issues
She talks Meek Mill, Drake and the Birdman and Lil Wayne drama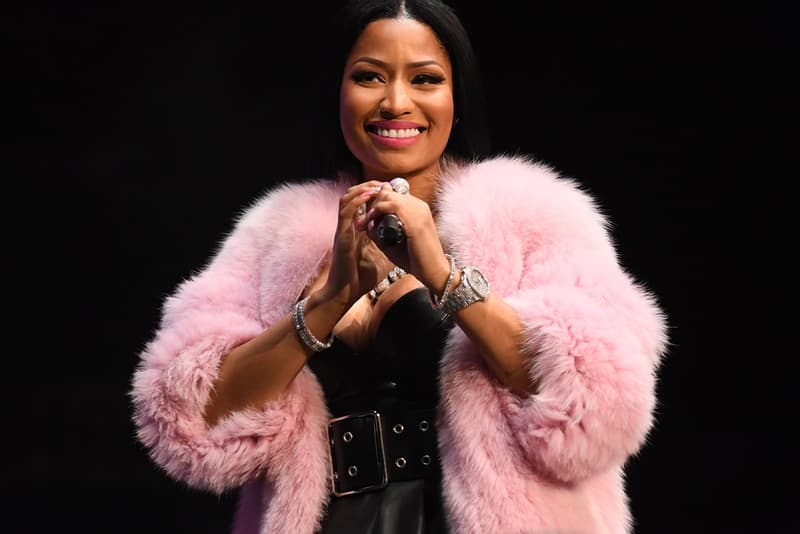 Earlier today (April 12), Nicki Minaj dropped her new singles, "Chun-Li" and "Barbie Tingz" while she was on Zane Lowe's Beats 1 radio show. During the interview, Nicki Minaj shared that she stepped away from social media to concentrate on her new album and that she's also dropping a documentary on Apple Music in the near future. Minaj claims that her new album is the best material she ever made. "I needed to focus on my album. This is the best album I've ever ever ever created," she said.
The conversation transitioned to Nicki's relationship with Drake. She pointed out that they fight like an "old married couple," but they always make up. She adds, "Drake has given me some of the best advice of my career. He's very smart, you can't take that away from him." Minaj briefly touched on her past relationship with Meek Mill and how it affected her friendship with Drake. "It was one of the hardest parts of my career to date," Nicki explains. "At the time I did love both of them. I couldn't erase the love for my team but I also couldn't speak out." She shared that she tried to stop the beef before it even started.
With Meek Mill's legal situation in the public eye, Zane asked Nicki Minaj about her thoughts and she shared that since its a legal issue, she will refrain from speaking on the subject, however, she did discuss Genece Brinkley, the embattled judge who's overseeing Meek's case.
"I will say now is that the judge in question was did everything I asked of her," Nicki continued. "And you know, so I can't bad mouth her because I met her personally. I know what she said to us and he knows that and I know that. But of course, I wouldn't wish that — I wouldn't wish jail on anybody. But, like I said I'll get into detail in the documentary and possibly on the album. What made me shed tears the other day was seeing his mother cry… She, during the relationship, was always so sweet to me."
Minaj shouted out JReidDaProducer, who produced both "Chun-Li" and "Barbie Tingz," plus a few artists she likes such as Starrah, Ms. Banks, Kash Doll, Asian Doll and Maliibu Miitch. She even praised Azealia Banks, who spoke cruelly of Minaj a few years back. When asked about Cardi B, Nicki stated that she doesn't have any issue with the budding star while squashing the rumors that "Chun-Li" contains a Cardi B diss verse, saying she wrote the song over a year ago. "With Cardi B, she's done exactly what she should have done. She's just gone full steam ahead and congratulations to her," Nicki stated. But in an interview, after "Motorsport" was released, Bardi made some displeasing comments that hurt Nicki's feelings: "I remember when I first came in the game … I would only be singing their praises and saying thank you … The first interview she did, it just hurt me because she looked so aggravated and angry. She just kept saying she didn't hear it … I was like, 'What?'"
Nicki then recounted the making of "MotorSport," which she previously outlined. She recalled Quavo texting her, "Is it OK to put Cardi on it?" She told Lowe that she replied, "Yeah, let's do it." Migos later shared a behind-the-scenes preview of the "MotorSport" video and social media attacked Nicki for not being in the clip and for not being in the same scenes with Cardi when the full video was dropped. Nicki explained to Lowe that she had a scheduling conflict when the video shoot happened and how she was hurt that nobody attempted to "clear the air," specifically calling out Quavo, who she asked directly for help.
"With 'MotorSport,' I kinda felt ambushed," Nicki says. "I love Quavo, and at the time, on Twitter, I explained how 'Motorsport' came about, and you know, people were saying that I was lying. So I texted Quavo and I said, 'Hey, just, you know, could you back me up on this because I don't want people to think I'm lying.' What do I have to lie about? And he didn't back me up. He texted me, and he was like, 'I would go on Twitter and back you up if you were my girl lol.' And that hurt, because he's somebody—I love him."
During the emotional discussion, Nicki elaborated on the situation. "And you still did interviews just to paint Nicki as the bad person. And play the victim. And that really, really hurt me because I really fully supporting [Cardi B]," Minaj said. "And up until this recent interview she did, I had never seen her show love in an interview genuinely. And I can only imagine how many girls wished they could've been on a song with Nicki Minaj."
To go along the new singles, the New York native also has released an accompanying vertical video for "Barbie Tingz" via the RapCaviar playlist on Spotify plus a teaser for the "Barbie Tingz" music video. Listen to clips of the Nicki Minaj interview below.
Nicki Minaj on Drake

Nicki Minaj on Cardi B and "Motorsport"

Nicki Minaj on Meek Mill