Peewee Longway Opens up the 'Spaghetti Factory'
Stream the ATLien's new tape and check out our Q&A.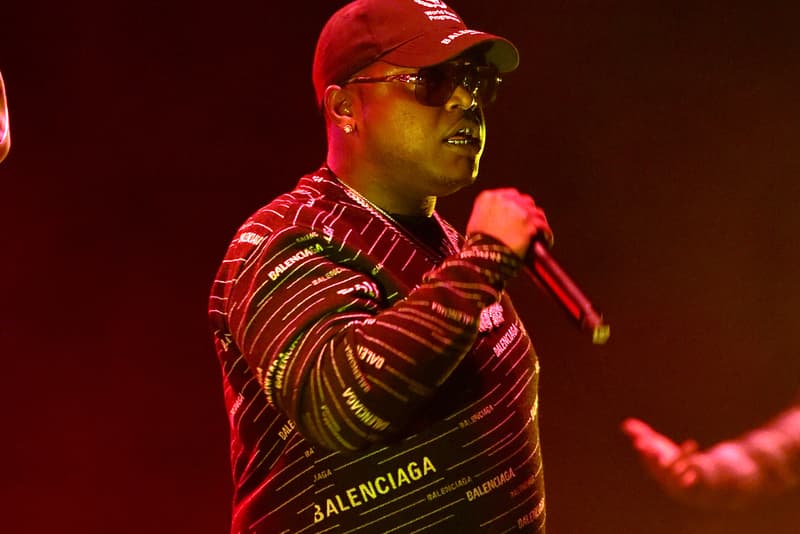 Atlanta's Peewee Longway has earned a reputation as one of his region's rawest and most colorful rappers. Now one of the city's veterans and top artists, Peewee Longway is nearing a creative peak. The MPA Bandcamp leader first captured the national spotlight thanks to an affiliation with Gucci Mane and the 1017 movement and a penchant for animated, unconventional, yet tightly-wound raps. Like his close friend and fellow ATLien Young Thug, Peewee made a name for himself by spitting bars like a surrealist painter wields brushes and structuring his songs like an amusement park ride or a drug-fueled carnival trip. He's a mad scientist with an inherent drive to experiment, not a traditionalist obsessed with spending weeks on end putting pen to paper.
Following up the success of more recent street hits like "Rerocc," Peewee Longway continues his commitment to leftfield lyricism with a new project titled Spaghetti Factory. According to the rapper, the tape only took a single week to create. "It's quick when it's a vibe," Peewee Longway tells us. "If you're stuck on one song, it takes time and your money gets stuck." The end result: a minimalist melting pot that puts the emphasis on its creator's unique, attention-stealing abilities as one of street rap's singular stars. As Longway puts it, each and every record from Spaghetti Factory's ten-track collection is his "favorite."
You can stream Peewee Longway's new Spaghetti Factory project — produced entirely by beat-duo Spaghetti J — and check out an exclusive interview with him below. The project will be available on all major platforms and retailers starting Friday, April 13.
How did Spaghetti Factory come to life and where did the name come from?
I have two producers known as Spaghetti J, and I always had a little saying, "Eat it up!" It was about that time to come home to the factory and there was a lot of the sauce about to be delivered to the table. Spaghetti [Factory] came from that: there's two producers, and they must eat it up because there's a lot of sauce to eat. That's where it comes from: my producers and me.
How did everything come together?
My little bro Wicked and Buk Buk kept talking about two producers being good engineers and having a couple hard beats. At that time, I needed someone to record me. They came over, and I was just scanning through their beats and heard a couple hard tracks. We connected together and we started working. I had recorded so many songs off their beats, so I was just like, "let's just do a whole mixtape together."
When you're in the studio, is it something you take really seriously or is it like a party?
It's always a party! [laughs] I cannot take it serious. When you take it too seriously, then your feelings get involved. You start tripping on the wrong things … so I just try to leave those feelings out of it. It's serious as far as getting the project done, but it's most definitely fun — I'm going to keep it fun! If there ain't no happy vibe, I don't even really want to be in the environment because it won't come out right. We don't have time to talk all that "extra gangsta" stuff, we're here to have fun and party and get these tracks.
That cover-art is crazy. What's the story behind that?
We have a lot of very creative folks on our side. Shout out KD Designs; that young boy has a brain that goes so far. He just took a picture of mine and slapped some spaghetti everywhere! [laughs] And that's what it was. We definitely stay creative. I take it all the way outside the box with mine, I ain't afraid.
With this project, there's a big emphasis on your bars and how you rap. Do you feel get your due respect as one of Atlanta's lyricists?
I'm not trying to really get in that category. I just want folks to know about me before I leave this bitch — I want them to fuck with me the long way. I don't want to be in no category like that … I don't even know if I'm the best lyricist or not. I just appreciate all the folks who still stand with Longway and who are helping me get to that next level. However they rank me … I appreciate that, but I'm going to get my respect regardless.
You have your MPA Bandcamp crew. What are you trying to accomplish with your own team?
We're really trying to take Bandcamp as far as it can go. We're looking for more new artists. Wherever entertainment leads us — whether it's CEO, rappers, anything — Bandcamp wants to be involved. I want it to be bigger than me if it can be.
Could you see yourself as a sort of Gucci Mane-type figure with your own movement?
Of course. That's how we came in, so it's a must that's how we leave out. That's the vision I see. It really wasn't for me, so God just put it in my shoes for me to go to the door and show others what they're supposed to do. I can see myself being a Guwop, big mogul-type guy. I'm the big CEO Longway.
From your team, who do you think is next up?
It's kind of hard; them boys battling each other right now, they're going at it! We're all training each other. They're all up next. You can look out for Lo Life Blacc, MPA Wicked, the young boy Cooly, Krazy Blacc. We coming; we all up next.
In the past you showed some pretty strong chemistry with Young Thug. Are you two planning more collaborations?
I was just in the studio with Thug the day before yesterday. We got some cook-cook-cook-up on the way. Me and Young Thug were just in the lab the other day, so we definitely have plans. We got some projects together … songs together, all of the above together. Me and Thug, we're still loaded. We still have a "big brother, little brother" vibe; it's still the same love, ain't nothing changed. When it come down to the music, we definitely have plans on doing something together. We just did something the other night together.
With us knowing each other for so long, it's like a family reunion all over again [in the studio]. It's like being with the folks you grew up. It's explosive, like some C4-type shit — like some TNT.
After this project, what's next?
You're about to hear a whole lot of Peewee Longway. You can look forward to Longway Sinatra; you can look for Blue M&M 4; you can look for State of the Art; and you can look for the last one, Journey. The last album is named Journey; I'm going to give you my whole journey on that last one. You got four of them coming your way, and all of them unloaded.