"Emerald City" Pushes How We Interact With Physical Space
With an exploration of the abstract and the accessible.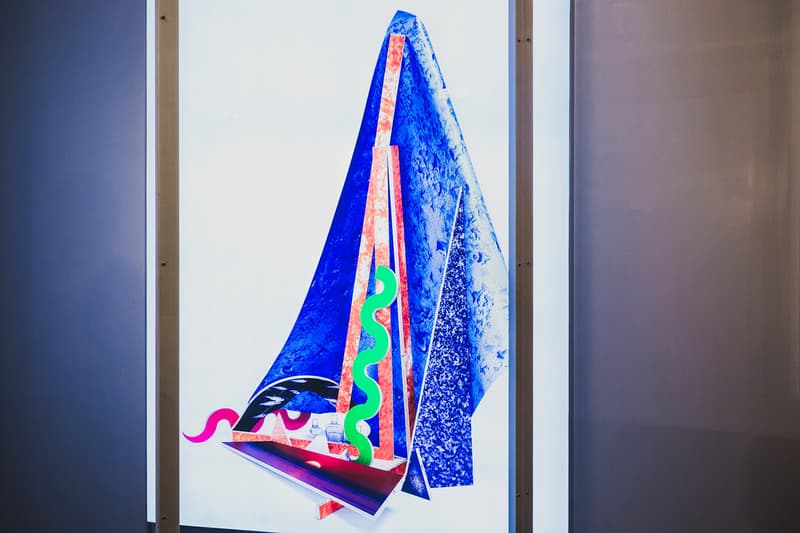 In March, people from around the world gathered in Hong Kong for Art Month. In addition to the prestigious Art Basel and Art Central, which took place at the end of March, the K11 Art Foundation (KAF) is holding its first group exhibition entitled "Emerald City." Founded in 2010, KAF exists as a platform for emerging artists in Greater China. Last year KAF co-hosted ".com/.cn" with MoMA PS1, and in 2016 the "HACK SPACE" with Serpentine Gallery, celebrating different forms of exhibitions and artistic media. Each show sought to foster cross-cultural dialogues and incubate emerging Chinese artists and curators.
Last year, KAF announced Venus Lau as its artistic director, who also planned the foundation's most recent project. Melding research, curatorial and production presentations, the venture has attracted 28 artists and art collectives, exhibiting more than 39 different pieces of work. From paintings, sculptures, videos, photography, and specific field installations involving different artistic media, the pieces create conversation in how geometry influences our conception of the world.
Using the theme of geometry, people will not only interact with shapes in real life, but will also use them to transcend the physical world. This creates intrigue and provokes the audience to question their own perception of space. And, though this milieu is constrained geometrically — such as by the projection distance of picture frames and video works, the area of the sculptural base, and the floor plan of the site — the exhibition pushes the boundary of these laws. Prisons by Peter Halley, a digitally printed mural on the entrance gate, uses triangular space to broaden the viewer's line of sight. Though we have become accustomed to the space we exist in, "Emerald City" uses various angles and a variety mediums to encourages viewers to get rid of the inherent barriers imposed on their imaginations, and re-explore abstract and tentative physical space.
Zhou Siwei's Images Carrier 02
The Images Carrier 02 on the event's poster is also being displayed on the exhibition site and is transformed into images in a lightbox. The concept birthed by artist Zhou Siwei from Chongqing, China, reinterprets color advertisements downloaded from the Internet and affixes them to plates of different shapes. The resultant combination creates an unstable three-dimensional sculpture which is impossible to reproduce. In a similar process, the images captured are then printed on a translucent acrylic sheet and mounted to a LED advertising lightbox, coming from a series of virtual images on the web to the physical space, blurring the boundary between the physical and digital plane.
Trevor Yeung's Acanthus series
The exhibition area was divided into a number of rooms. One engulfed by green LED lanterns like a mysterious laboratory, which in turn evoked viewers to explore the space. On the two walls of the room, four black and white photographs of infrared rays photographed with enamel were displayed. In the middle, white porcelain leaves made from a genuine loquat were placed within flowers. Although this kind of plant, that grows in Europe and the Mediterranean area, is unknown to the spectators, it is a common decorative embellishment in ancient Greek and Roman architecture. The pipa photography on the walls and the white porcelain leaves in the center eschewed natural colors but preserved the plant morphology. Trevor Yeung placed them under the green LED spotlights to artificially reduce the green color of the plants, transforming reality and virtuality.
The mentioned worked titled Balkan was created by Hong Kong artist Trevor Yeung. As a child, he was quite zealous over animals and flora, which would later lead to a botanical focus in his university studies. This blossomed into more than a mere hobby in which he came to understand the characteristics of plants and even establish emotional connections with them.
Zhang Enli's Dance
Zhang Enli, an artist from Shanghai, China, presented two indoor sketches entitled Dance. Although mainly a painter, Zhang has the uncanny ability to transform the ordinary things of our daily life into touching works. And with its parallel and straight perspectives, the drawn space resembles a transparent cube where each side is decorated with a unique design, such as neatly arranged groups of paintings. All of them show the experience he hopes to create for the audience while encompassing what Zhang defines as "unfulfilled space." 18 years later, these two sketches have become meaningful and independent works of art.
Due to the limitations of the traditional art media, most contemporary works of art are always inseparable from shape. "Emerald City" tries to present works of art from different eras and cultural backgrounds while reflecting on whether people can get rid of these norms and geometry.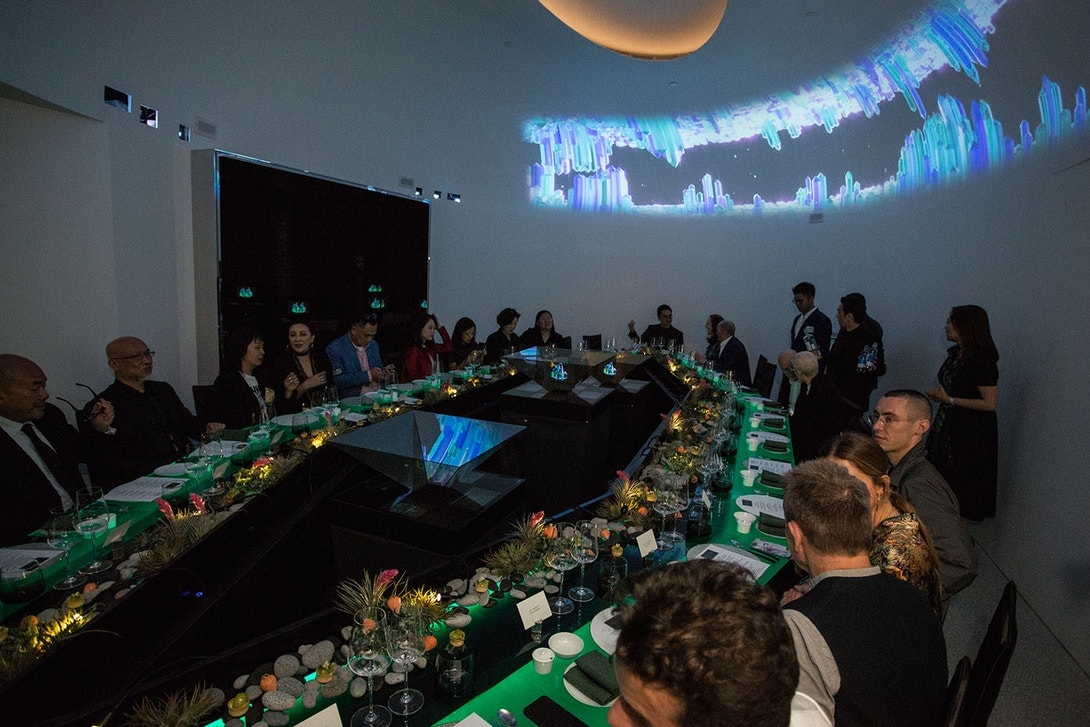 Though what can be seen as its pinnacle, opening day had the actor Carina Lau, MoMA PS1 director and chief curator of MoMA Klaus Biesenbach, Los Angeles tattoo artist Doctor Woo, Brazilian supermodel Alessandra Ambrosio, GCDS founder Giuliano Calza, fashion bloggers Irene Kim and Susie Lau, amongst others, as special guests for a dinner. During the meal, two three-dimensional projections swathed the center of the table, projecting a beautiful "Emerald City", as in an allusion to the spectacle.
View images from the event above, and head over to KAF's website for more information on the offering.
About Adrian Cheng
As a modern cultural entrepreneur, Adrian not only founded the K11 art gallery for shopping but also founded the K11 Art Foundation (KAF) to create potential talents and provide an international creative platform, to hold different types of art and cultural exhibitions. He was selected as one of the "100 most influential people" in Art Review magazine from the year of 2014-2017. He is now a prominent figure in contemporary art and culture.

Everyone can follow the latest art fashion sharing on Adrian's Instagram or #byAC column.