IKEA Talks Augmented Reality, Apps & Future Plans
"In the future you're going to search either verbally or visually."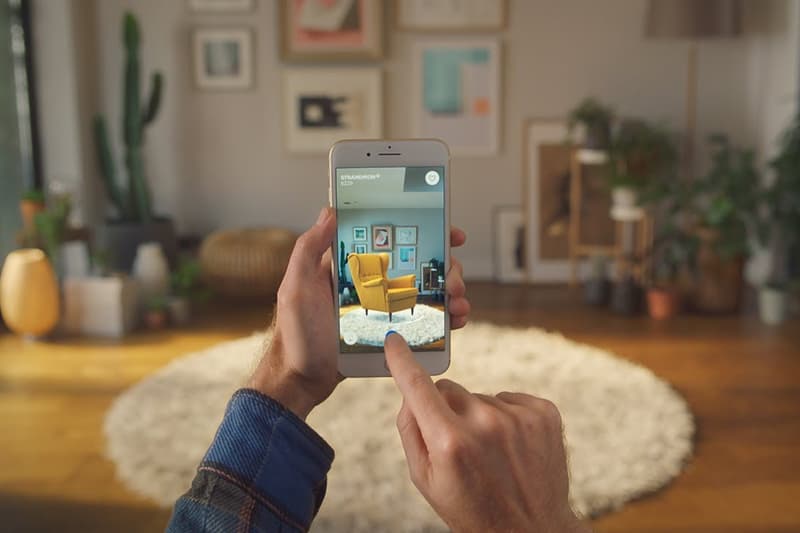 Earlier this month, IKEA teamed up Dutch designer Piet Hein Ek for a delivery of "deliberately imperfect goods" known as the "Industriell" collection. Now, setting sights on the future of furnishings, the Scandinavian brand appears to be experimenting with augmented reality, unique apps and other forward-thinking ideas. As Co.Design's Mark Wilson writes:
"People visited Ikea stores 936 million times last year, but they visited Ikea online 2.3 billion times. Meanwhile, the company debuted new ways to shop using AR and VR, partnered with the visual AI startup GrokStyle, and acquired the gig economy company TaskRabbit. In short, Ikea is acting more like a tech company than a furniture maker. And within the next few years, the way you think about shopping at Ikea will probably change entirely, as the company is aggressively pursuing a new, digital identity through its evolving wave of experimental apps."
With industry analysts forecasting a dynamic shift in the way IKEA does business, the company is aiming use digital innovation and cutting edge technology to make its goods accessible to anybody.
"The business model of Ikea having a blue box in a cornfield, and you jump in the car with your family and have an ice cream [at the store], is not the only thing we should offer our customer," Michael Valdsgaard, IKEA's head of "digital transformation," explains to Co.Design. "For the majority of people in the world, Ikea isn't accessible. Apps can make Ikea accessible."
While IKEA is currently testing the waters with a range of apps, its creative masterminds are looking to lay the foundations for future business models.
"In the future you're going to search either verbally or visually," Valsgaard tells Wilson. "How we've searched until now doesn't make sense for the coming decade … In VR, people love it, but don't use it. Then you go into AR–people love it, but half can't use it because they're not used to it yet."
Valsgaard also note that AR is still in its nascent stages. "I thought it would have gone a little bit faster with [Apple's] ARkit and [Google's] ARcore, because all of a sudden, hundreds of millions can use it. But it's probably going to take a few years before it becomes something for everyday use."
"We just want to explore," Valsgaard concludes. "I think you will find, in the next three to five years, we're going to have a range of ways to interact with Ikea, from big blue buildings on the freeway to a completely digital interface, to anything in between."
Mark Fisher also sums up IKEA's future goals well:
In this sense, Ikea's approach is a reflection of the tech industry–and its confusion over emerging mediums like AR–right now. No one quite knows what is coming next. Pinterest is betting on visual search. Facebook has gone all-in with VR. Google, Apple, and Microsoft are bullish on AR. And then, of course, we have a slew of voice assistants lurking in an increasing number of devices, mostly thanks to Amazon. Of course, while all of this UI experimentation is taking place, the future of physical retail is murkier than ever. In this sense, Ikea's strategy is to spread its chips across the table with a range of AR, VR, and visual search experiments.
In related news, designer Adam Pickard just rolled out his plans for AssembleAR, a concept app that uses AR to guide consumers through the IKEA instruction process.