HIDDEN HYPEBEASTS: Dr. Dustin Cohen Wears the Dentistry Crown
A dentist office visit you'll actually look forward to.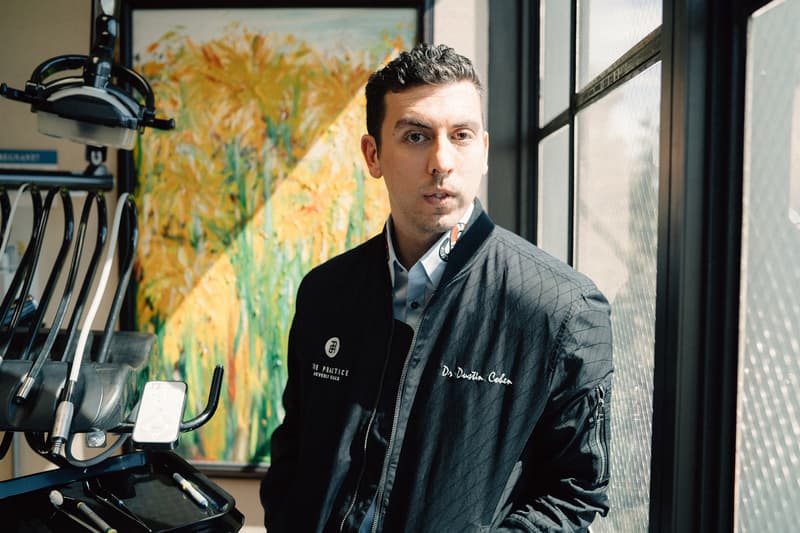 Decades ago before the term "hypebeast" was even born, a niche group of collectors and fans of sneakers, streetwear, and hip-hop culture coexisted and were seemingly a mystery to the rest of the world. These days, it's not hard to find someone who fits that mold in both a positive and negative connotation. What is difficult to find however is someone who works in a profession where stereotypically you wouldn't think of finding someone who fits the mold. And thus, HIDDEN HYPEBEASTS was born — a new series with the goal of seeking out individuals who may not come off as one at first, because of their job or occupation, but truly exemplifies the culture once you peel back the initial metaphorical layer. Today we introduce cosmetic and general dentist Dr. Dustin Cohen.
It may be safe to assume that most of us have stored away memories of visits to the dentists deep in the depths of our subconscious — unless you're Dr. Cohen. From the moment he walked into the dentist's office, he knew he wanted to be one. He also knew from an early age that he loved sneakers. Those two passions intertwined throughout his life to lead him into the present day where alongside his wife Stacey, the couple run their own clinic, The Practice Beverly Hills.
Origin Story
Ever since he was a kid, Dr. Cohen was a huge sneakerhead. "One of the first memories I can ever remember was when I was like 3 years old, I went to JCPenney and my parents bought me a pair of Converse leopard glow-in-the-dark sneakers. I ran home and looked at them in the bathroom mirror light up and glow and I've been hooked since," he recalls.
His early interests would also include all the finer things that someone in the medical field could afford to splurge on including exotic cars and a modern high-end office. "I went to visit my orthodontist when I was about 8 years old and he had a super dope office for the times with video games. As a little kid I remember he rocked cool ties, cool sneakers, and was driving Ferraris and Porsches. I told myself, 'I could do that,' so I literally wanted to be a dentist since I was a little kid," Dr. Cohen explains when asked about when his interest for the craft started. He adds that as he's gotten older, he has become more interested in the actual dentistry.
While attending dental school, Dr. Cohen recalls purchasing over 30 pairs of Chad Muska's SUPRA Skytops in an assortment of colorways as a way to express himself in an environment that required everyone to look a certain way. "I was trying to stand out even when we all had to wear the same colored scrubs and we're like 125 people that all looked the same. I lived across the street from school so in the morning I would go in one pair and then at lunchtime I would go home for lunch and go back with another," he recalls happily. That love for sneakers started at a young age and now Dr. Cohen finds himself counting Muska as one of his patients.
Dr. Woo
Like many who grew up watching Michael Jordan dominate his competitors while wearing an assortment of signature Air Jordans, Dr. Cohen felt a tie to MJ at a young age and thus Jordans were some of his first sneakers. His son is even named Jordan. But the Air Jordan 3 "Black Cement," which was recently retroed, is the most meaningful. "My wife bought me a pair while we were in dental school — she bought them at Flight Club so they were more expensive than normal — at a time when we didn't really have a lot of money," Cohen reminisces. It's also because of all these factors that he got a tattoo of the "Black Cement" 3s on his arm. But his tattoo wasn't done by just any artist, it was done by Dr. Woo, one of LA's hottest and most sought-after names. As luck would have it, the two met on the job.
In addition to his Jordan tattoo, Dr. Cohen also has three other pieces from Dr. Woo. The two have been friends for a while now and recently, Dr. Woo needed a crown. Inside of Dr. Cohen's practice is a modern technological in-house lab for special work. "Woo needed a crown and we brought him in the day we were going to put it in and we were like 'yo, you wanna tattoo this?' And he said okay," Cohen recounts. Porcelain — the material used to make the crown — is not the same as human skin so Dr. Woo couldn't use a normal tattoo machine and needle. Instead, he had to grind on the porcelain with special tools to achieve his desired design and then drip the ink into the indent himself. After that, Dr. Cohen glazed it with a finishing coat before putting it into Dr. Woo's mouth.
The lab inside Dr. Cohen's practice has also allowed him to create other custom pieces including a pair of stylized porcelain fangs for Ninja of the hip-hop group Die Antwoord. But for the most part, usually the lab is doing high quality and traditional fillings and crowns. "One guy that styles wealthy and eccentric people wanted a white gold tooth in the front and we gave him that but usually I do very nice natural looking veneers and porcelain crowns," explains Dr. Cohen. With experience in customization and a connection to all the aspects of dentistry, it's not surprising that Dr. Cohen is also well versed and educated in grills and has a partner for creating them.
Grills
Teaming up with Dolly Cohen, who's made custom pieces for celebrities including Kim Kardashian, Pusha T and Pharrell Williams, Dr. Cohen not only had grills made for himself but also for Dr. Woo. "Grills have been around in pop culture for a long time. In the '80s guys like Slick Rick and other rappers had a lot of gold in their mouth. I guess it came about as another spot to put some jewelry and show what you got," he explains. "I remember watching when I was younger, Paul Wall had the bar of diamonds across his teeth and it's evolved but it's definitely a longstanding trend," he finishes. The trend of grills has lost some of its spotlight in recent years however as streetwear has taken the spotlight over high-end fashion with its clothes and kicks doing most of the talking. Dr. Cohen mixes a little bit of both not only inside the office but outside as well.
Streetwear or High-End Fashion?
Mixing classic high-end brands like Gucci and Hermès with staples in streetwear like the Air Jordan 3 alongside up and comers like Amiri and No.One, Dr. Cohen has struck a balance that works for him. "Lately everything looks like streetwear but is priced like high fashion," he admits. "I kind of rock that middle ground. I'm not super fancy, I would rather wear a cool T-shirt and jeans with sneakers — but I'd like them to be nice ones," he puts it.
Along with a staple of Jordans, Air Max 90s, Nike Flyknit Trainers and adidas YEEZYs that he wears on a regular basis to the office, Dr. Cohen has also created a custom pair of No.One sneakers and a custom black bomber jacket to show off his personal flair. "I got the coolest lab coat on the planet with custom embroidery, a little custom logo on the inside, and my logo and name on it. It's simple but I want to give a different feeling than most dentists," he explains.
As someone who has long had a passion for sneakers and streetwear along with dentistry since childhood, Dr. Dustin Cohen proves that you can combine the two not only outside the office but also inside. Mixing high-end fashion with streetwear is now the norm and Dr. Cohen is someone who consistently pushes the culture forward — a hidden hypebeast and not your normal dentist.