A Look At JAY Z's Most Notable Businesses, Man
From Roc-A-Fella Records to his new venture capital firm, Arrive.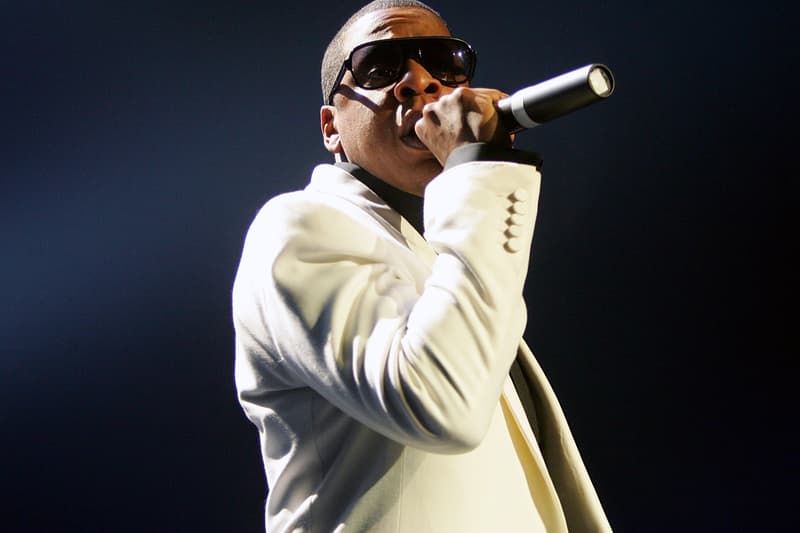 Earlier this week, it was announced that JAY Z's entertainment firm Roc Nation launched his new venture capital firm. Dubbed Arrive, the platform aims to work with early-stage startups and plans to offer investment of capital and assistance with business development, branding and more. The new business arm is kicked off with some help from Sherpa Capital, which was created by some of UBER's early investors. Arrive is a collaborative effort with early-stage venture firm Primary Venture Partners and GlassBridge Asset Management. At the moment it is unclear which companies Arrive will invest in and how much capital they are putting in. The press release states that the company "anticipates the launch of a traditional venture fund in order to, among other activities, support existing portfolio companies through their subsequent growth stages," suggesting that Arrive is going out in a big way.
This should come as no surprise to any fan of JAY's. The rap mogul has lived by the "going all out" motto his entire life. Jigga started his music career by selling CDs out of his car, then subsequently co-launched Roc-A-Fella Records as an independent label (because at the time no major was willing to sign him). Within a short few years, Jigga went from being a locally-known up-and-comer to a nationally-celebrated rap star. JAY was a calculated opportunist and a forward-thinker; many music or business moves he made put him in financially favorable circumstances. Hov helped kickstart and propel the careers of other to-be stars like Kanye West, Rihanna, Ne-Yo, Swizz Beatz, Timbaland and more. At the same time, JAY's business decisions have also contributed to disputes and fallouts with a number of close friends and collaborators.
JAY Z is currently the third wealthiest rap artist at an estimated net worth of $610 million USD, behind Diddy and Dr. Dre. Not only is he the owner and/or founder of several successful companies, he also holds a diverse investment portfolio: UBER (he purchased stakes in 2011 when they were worth 200 times less than they are today), Stance, JetSmarter and more. Needless to say, even though JAY Z and Roc Nation have picked up some promising startups, he will need more acquisitions and possibly IPOs to enclose his earning. If Arrive can improve his branding expertise and promotional influence, it could help him make an even bigger impact in the business world.
In recognition of Arrive's launch, we've gathered information on ten of JAY Z's most notable business ventures throughout his career.
Roc-A-Fella Records
Type: Record Label
Position: Co-founder, co-owner
Operation: 1995 – 2013
Status: Defunct
Roc-A-Fella Records was founded by JAY Z, Damon Dash and Kareem "Biggs" Burke. Operating as a division of The Island Def Jam Music Group, a division of Universal Music Group, it began as an independent label for JAY Z's first album, Reasonable Doubt, in 1996. JAY's 1998 song, "Hard Knock Life," became the label's first major hit and first platinum release. From then onwards, Roc-A-Fella Records launched many breakthrough and prominent releases from artists like himself, Kanye West, Dipset and more. The last album that dropped through Roc-A-Fella is JAY Z's 2013 Magna Carta Holy Grail LP.
Learn more about Roc-A-Fella Records here.
Rocawear
Type: Apparel/clothing retailer
Position: Co-founder, former co-owner (1999 – 2007)
Current CEO/President: John N. Haugh (Iconix Brand Group)
Operation: 1999 – present
Status: Running
Rocawear, an urban clothing lines for men, women and children, was created by JAY Z and Roc-A-Fella Records co-owner Damon Dash. At its peak, Rocawear had annual sales of $700 million USD. After a falling-out with Dash, Roc-A-Wear was fully taken over by Jay Z in 2006. In March 2007, JAY sold the ownership rights of the brand to Iconix Brand Group for $204 million USD, however, retaining his stake in the company as well as continuing to oversee the marketing, licensing and product development. Rocawear partnered up with Pharrell Williams' clothing label, Billionaire Boys Club, in August 2011, and by 2012, it was estimated to be worth $516 million USD.
Shop Rocawear here.
40/40 Club
Type: High-end sports bar
Position: Co-owner
Operation: 2003 – present
Status: Running
JAY Z co-owns the 40/40 Club with business partner Juan Perez. It's an upscale sports bar chain that opened in New York City in 2003, at The Barclays Center in 2012 and in Hartsfield–Jackson Atlanta International Airport in 2014. Although locations were opened in Atlantic City in 2005 and Las Vegas in 2007, they have since closed. JAY had plans to open 40/40 Clubs in the late '00s in Tokyo and Singapore but they never came into fruition. Carter referenced his ownership in his 2003 hit "Dirt Off Your Shoulder": "Now you chillin' with a boss, b*tch of course SC on the sleeve / at the 40/40 Club ESPN on the screen."
Learn more about the 40/40 Club here.
Def Jam Recordings
Type: Record label
Position: Former CEO/President (2004 – 2008)
Current CEO/President: Steve Bartels
Operation: 1983 – present
Status: Running
After an intense bidding war for JAY Z's contract began, Carter was appointed by LA Reid as President of Def Jam Records in 2004. This caused JAY, Damon Dash and Biggs to sell their remaining interests in Roc-A-Fella Records. JAY took control of both companies due to this, which ultimately caused the publicized split and disputes between JAY, Dash and Biggs. During his time as President at Def Jam, Jigga launched the careers of Rihanna and Ne-Yo and dropped his Kingdom Come and American Gangster albums. On January 1, 2008, JAY Z resigned from his position to start Roc Nation.
Learn more about Def Jam Recordings here.
Brooklyn Nets
Type: Professional basketball team
Position: Former minor shareholder (2004 – 2013)
Current CEO/President: Brett Yormark
Operation: 1967 – present
Status: Running
JAY Z bought a $4.5 million USD share of the New Jersey Nets in 2004 and eventually encouraged the team to relocate to Brooklyn's Barclays Center (which he also had stakes in) in the 2012-2013 season — to the point where the team took on the Brooklyn Nets name. However, with the launch and development of Roc Nation Sports in 2013, JAY Z had to give up his share of the Brooklyn Nets in order to represent basketball clients. He sold his shares (which reportedly declined in value to $350,000 USD) to Taiwanese singer Wilber Pan and Jason Kidd. In early 2014, JAY Z was hit with a $600 million USD trademark lawsuit over the "Brooklyn Nets" name.
Learn more about the Brooklyn Nets here.
Roc Nation
Type: Entertainment company
Position: Founder, co-owner
Current President: Michael Yormark
Operation: 2008 – present
Status: Running
Roc Nation, LLC, founded by JAY Z and Jay Brown (both CEOs of the company), is a full-service entertainment company, which houses a record label, talent agency and touring and concert production company. Owned by Live Nation, Roc Nation currently has offices in New York City, Nashville, Los Angeles and London. The company is home to prominent artists like Future, Rihanna, J. Cole, Big Sean, DJ Khaled, Jay Electronica and more. It partnered with London-based entertainment company Three Six Zero Group in 2010, and the two companies launched Three Six Zero Entertainment (a film, television and literary arts division). In April 2013, Roc Nation founded a sports management division, Roc Nation Sports, and shortly after, a boxing promotion division.
Learn more about Roc Nation here.
Roc Nation Sports
Type: Sports management company
Position: Founder, co-owner
Current President: Michael Yormark (Roc Nation)
Operation: 2013 – present
Status: Running
Roc Nation Sports is the sports management division of Roc Nation and is launched in partnership with LA's Creative Artists Agency. With 40/40 Club co-owner Juan Perez as President, Roc Nation Sports is home to Golden State Warrior's Kevin Durant, New York Yankees' Robinson Canó, New York Giants' Victor Cruz well as thirty other clients in basketball, football, baseball, soccer, boxing and tennis. The company aims to develop the careers of athletes, which includes endorsement deals, philanthropic endeavors, branding strategy, media relations and more. JAY Z had to give up his Brooklyn Nets stake because there would be a conflict of interest since Roc Nation Sport represented basketball clients.
Learn more about Roc Nation Sports here.
Armand de Brignac
Type: Ultra prestige Champagne brand
Position: Co-Owner (2014 – present)
Current CEO/President: Jean-Jacques Cattier (Champagne Cattier)
Operation: 2006 – present
Status: Running
Armand de Brignac is an ultra prestige brand produced by Champagne Cattier. The Cattier family registered the original "de Brignac" name sometime from the late 1940s to the early 1950s. For decades, the brand was dormant but during the turn of the century, the family began to set aside parcels of reserve wines for an ultra prestige Champagne project. With the addition of the name "Armand," the first bottles of Gold Brut were available for sale in France in 2006. JAY Z featured the brand in the 2006 music video for "Show Me What You Got" after his public fallout with the makers of Cristal. It was announced that JAY Z had acquired the Armand de Brignac brand in late 2014 for $200 million USD.
Learn more about Armand de Brignac here.
TIDAL
Type: Music streaming service
Position: Co-owner (2015 – present)
Current CEO/President: Jeff Toig
Operation: 2014 – present
Status: Running
TIDAL, which boasts lossless quality streaming, is known for being the first "artist-owned" streaming service. Aspiro, its parent company, was bought out by Project Panther Bidco Ltd, which is owned by JAY Z, for $56.2 million USD. In March 2015, 16 artists including JAY Z were all introduced as co-owners and shareholders of the service. In April 2015, it was reported that Aspiro closed its original offices in Stockholm, firing the CEO Andy Chen and all Swedish employees. Andy Chen was replaced by Peter Tonstad, who then was replaced by Jeff Toig as CEO of the company. On January 2017, Sprint announced that they were buying a 33-percent stake in Tidal and offer exclusive content to Sprint customers. Over the two-year period since acquiring TIDAL, JAY has been hit with many lawsuits.
Learn more about TIDAL here.
Arrive
Type: Venture capital firm
Position: Co-owner
Operation: 2017 – present
Status: Running
Earlier this week, Roc Nation announced the arrival of its latest venture, Arrive. The investment platform will help out with early-stage startups and offer capital investment and assistance with the business development, branding to up-and-coming companies. Roc Nation is working with Primary Venture Partners (venture advisor to guide investment) and GlassBridge Asset Management (business infrastructure support) to create the new firm. JAY Z has previously invested in a number of startups independently and via Roc Nation, including Uber, Stance and more. Arrive doesn't control a fund yet and it's a separate entity from JAY Z's existing venture capital fund.
Learn more about Arrive here.