Virgil Abloh Imagines His "Dream Dinner Party"
For 'GARAGE' No. 14.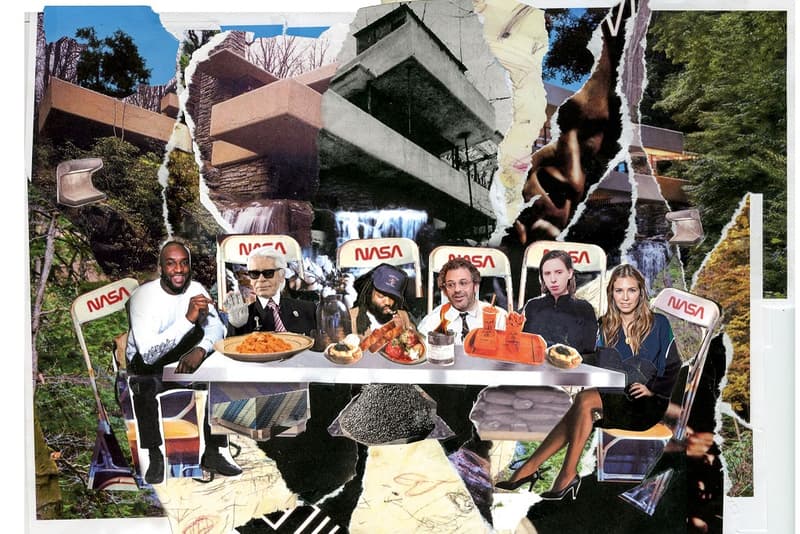 Last week, we sat down with Virgil Abloh for the latest entry in our DIARIES series, allowing the high-profile designer to discuss streetwear as an art movement. "In terms of the bigger picture for streetwear, Virgil says he doesn't want the larger fashion community and ecosystem to view it just as a trend that comes and goes," reads a quote from our piece. Now, for his latest media spotlight, Abloh breaks down his "dream dinner party" for GARAGE magazine No. 14.
For his ideal dinner gathering, Virgil Abloh wants to enjoy a meal of "spicy fusilli, Little Gem lettuce, meatballs, avocado toast and Caviar Kaspia baked potato" at Frank Lloyd Wright's Kaufmann house Fallingwater. Sitting alongside Abloh would be Karl Lagerfeld, Denim Tears, Tom Sachs, Louis Brodinski, Guillaume Berg, Arthur Kar, Acyde, Piotr Niepsuj, Emily Segal and Dasha Zhukova; the furniture would come courtesy of Tom Sachs, Pierre Jeanneret and Virgil Abloh's Component Collection work, while Sachs' Hermes place settings would round out the table area. With the entire evening soundtracked by the Miles Davis classic Kind of Blue, guests would be treated to cotton flower bouquets, Le Labo's Santal 26 Candles, Le Corbusier's Borne Beton Lamps and sharpies and "other tools" to produce an original work of art on the Off-White linen canvas tablecloth.
Courtesy of GARAGE, you can check out a visualization of Virgil Abloh's "dream dinner party" above. If you'd like to purchase your own copy of GARAGE No. 14, check out the outlet's official website.
Earlier this month, Virgil Abloh also appeared in the latest "God Save The Race" episode of MIDNIGHT TV.