Here's How Fans Reacted to the Surprising Cavaliers Trades
Thoughts?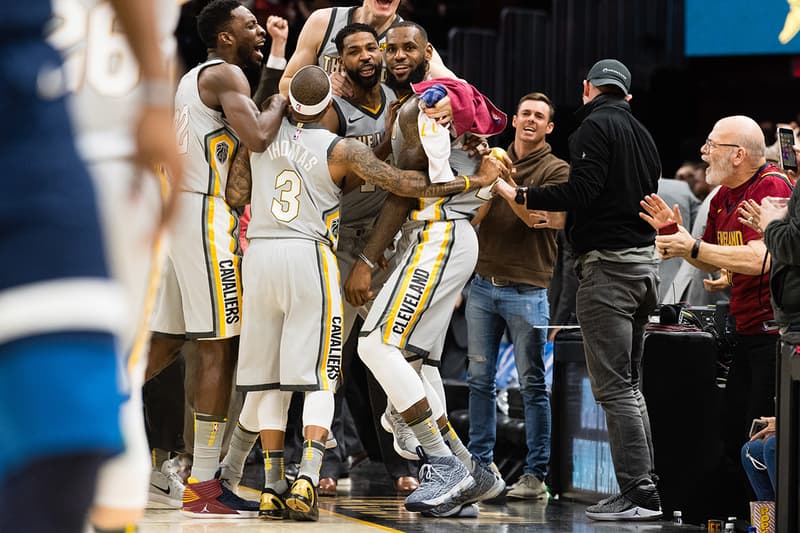 Just a few hours ago, the Cleveland Cavaliers shocked the basketball world by confirming the trades of four star players: Isaiah Thomas, Derrick Rose, Dwyane Wade and Channing Frye. It started with the Cavs trading guard Isaiah Thomas — who has been struggling since his move to Cleveland — to the Lakers. This was then followed by trades of Wade back to the Miami Heat, Rose to the Utah Jazz, and Frye, who is also headed to the Lakers.
In return the Cavs will gain Jordan Clarkson and Larry Nance Jr. from the Lakers, Rodney Hood from the Jazz and George Hill from the Sacramento Kings. With Cleveland's remade roster, fans quickly took to social media to express their thoughts on the situation. Check out some of the fan responses and memes below.
Lebron handing over IT to Magic pic.twitter.com/dKA30A7GYF

— Large Ballplayer (@MikeOxafloppin2) February 8, 2018
"We made LeBron trade his whole team and the Cavs still getting swept in the Finals… the Eastern Conference Finals." pic.twitter.com/AnUgY2Jzro

— Josiah Johnson (@KingJosiah54) February 8, 2018
When Isaiah Thomas struggles with the Lakers and Lavar Ball says he's not big enough, and then calls him a small baller>>>>>

— Wengerball is back (@BasedChasen) February 8, 2018
"Said you'd never leave, girl you made me a promise / Now you getting tossed around like Isaiah Thomas" pic.twitter.com/5v3K1MWGNE

— BANKS ? (@trvplord12_) February 8, 2018
Bron leaving the Cavs this offseason. pic.twitter.com/zROK8YttMT

— OMG, LaJethro (@LaJethroJenkins) February 8, 2018
Cleveland having a clearance sale. I'm crying.

— Instagram: TrillestAC (@TrillestAC) February 8, 2018
I knew IT was getting traded when i saw LeBron pulling out a booster seat for him on the bench pic.twitter.com/PXCVMmXkr4

— Ralph SHAF Lauren (@MaxKellermanJr) February 8, 2018
— Adrian Kofnarowski (@KofieYeboah) February 8, 2018
*LeBron in the locker room*

"Try me… I have Memphis, Orlando and Utah all on speed dial. Check ya' tone." pic.twitter.com/u0wKmgTRjp

— Pierce Simpson (@PierceSimpson) February 8, 2018
Cavs undid their entire 2017 offseason in like 14 minutes

— Beyonce has an uncle named Larry Beyince. Bruh…. (@DragonflyJonez) February 8, 2018
LeBron looking at these trades like … pic.twitter.com/1g7fXBrlM2

— ESPN (@espn) February 8, 2018
"Put the phone down slowly and back away… no more trades." pic.twitter.com/fe5l49LhJ7

— Pierce Simpson (@PierceSimpson) February 8, 2018
JR Smith just woke up lmfao https://t.co/uioVhoKs4M

— Killjoy ?? (@KilljoyGSW) February 8, 2018
How LeBron looking at the Cavs roster pic.twitter.com/b5W9gyW71b

— Josiah Johnson (@KingJosiah54) February 8, 2018
*Isaiah Thomas' phone rings* pic.twitter.com/poowgBFQKN

— tay?loko (@tayloko_) February 8, 2018