'Culture II' Is Migos at Their Finest, but Is That Enough?
A review of the Atlanta trio's latest album.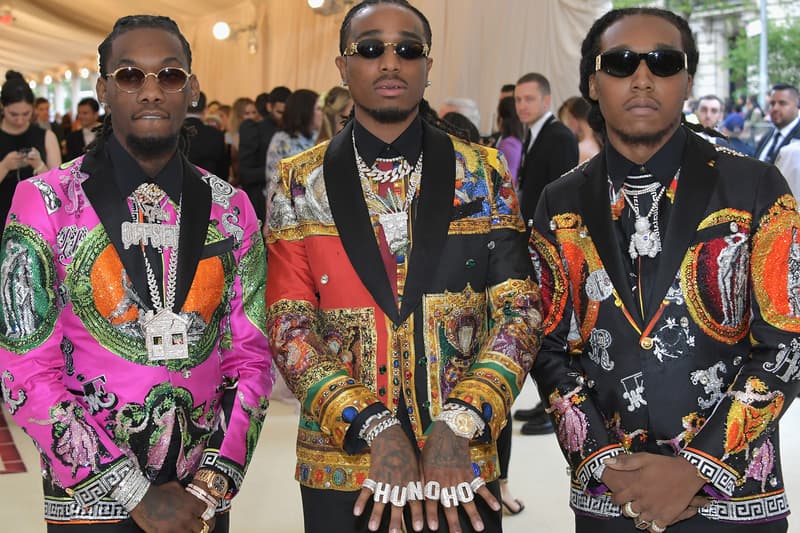 Anticipation was high for Migos to release Culture at the end of 2016. The group had released their biggest single to date, "Bad and Boujee," a few months before, and with new management seemed destined to produce a better album than their 2015 commercial debut Young Rich Nation. So it was strange when the album finally debuted almost a year ago to the day and opened with the song "Culture," whose refrain went "Culture album coming soon." It made no sense. The album was here but Migos were still asking us to look ahead for the album. Culture was the album that catapulted Migos from a group that set the trends for the mainstream ("Do it for the culture, they gon' bite like vultures," rapped Quavo on "T-Shirt") to the group that embodied the mainstream. 2017 was the year the members of Migos earned a Grammy nomination, branched off to do individual features on other songs (at one point Quavo was on 10 songs in the Billboard top 100), and cemented themselves in the hip-hop pantheon. Offset's engagement to Cardi B, arguably the most popular female rapper in the country right now, only helped transition Migos from shapers of culture to embodiments of culture. Artists at the upper levels of pop culture were no longer biting Migos, they were inviting Migos into the mainstream.
Like the first iteration, Culture II starts with an opening track that acts as a statement on how the Migos see themselves. "Higher we go, beg and plead for the culture," chants Quavo in the opening lines. While Culture opened with the Migos still focused on what was to come, Culture II opens with the group anchored to the present. The Migos of Culture II know their worth. Quavo starts the first verse of the album with the lines "I'ma put these racks in your face / In your face, show you that you lame."  But more important than knowing your worth is knowing how you earned it, and the Migos are acutely aware of both the influence their style has had and how to wield it effectively. They're are more popular and successful than ever, and while they may boast about the burdens their success has relieved them of, their style has never been more risk-averse. Culture II falls into the trap all mainstream hip-hop acts that reach the upper echelons of popularity fall into: playing it safe.
Culture II  is largely a recycling of the formulas and styles that made the Migos popular, with minimal variation to avoid any unnecessary risk. It's also an incredibly long album. At 106 minutes of material that has mostly the same sonic palette, it's clear the group chose to cut little, rather than cut too much and leave a hit on the cutting room floor, which would have been the riskier strategy. The result is an album bloated with filler and repetition. The group's most forgettable tracks appear alongside some of their best.
Culture II falls into the trap all mainstream hip-hop acts that reach the upper echelons of popularity fall into: playing it safe.
For all its repetition, Culture II occasionally combines the most exciting elements of the Migos' style into some of their best work yet. "Narcos" is one of the few tracks that has a cohesive theme, and sees the group adopt South American cartel personas and rap over a Spanish guitar sample. It's a standout track for its display of technical rapping ability alone. Offset and Takeoff especially excel, and each delivers a laser-sharp verse filled with detailed lyrics, percussive deliveries, and rapid fire flows. Offset packs an incredible amount of internal rhymes into his verse, spitting lines like "Go to Tijuana, put the kilo on the saddle / Sack him, hit a lick and cop pterodactyl," with a clarity rappers who try to copy the Migos's characteristic flow often lack. Another standout is "Supastars" that combines atmospheric cloud-rap synths with punchy 808s and one of Quavo's better hooks on the album. Honorable CNOTE and Buddah Bless combine to produce one of the more interesting beats on Culture II that contrasts the sweet high-timbre synths with a menacing 808 bassline.
The album's biggest flaw is not its length, but what the Migos fail to do with the 24 tracks they allot themselves. Culture II is a big budget studio album that plays like one of their earlier mixtapes (these were also known for their length; 2014's No Label II for instance was 25 tracks long and over an hour and a half). There are major features on this album that are diluted by superfluous filler tracks. Drake, Nicki Minaj, Cardi B, 21 Savage, Post Malone, Travis Scott, Gucci Mane, 2 Chainz, Ty Dolla $ign, and Big Sean all lend feature verses, yet less than a third of tracks have features. Quavo is credited as an executive producer, and it's possible the egregious length is a result of self indulgence. Some of the fluff such as "Crown The Kings" and "Auto Pilot" were co-produced by Quavo. The egregious length exaggerates the repetitiveness of the Migos's lyrical style to a new high. Designer name drops start to sound like obsessions by the time they're repeated for the tenth of fifteenth time. Watchmaker Patek Philippe is referenced 29 times on the album. The limits of the group's vocabulary are made painfully clear by the end. Diamonds are described with water imagery more than half a dozen times. There are so many references to shooting someone in the face that it starts getting disturbing.
The features, for the most part, are strong and help break up the repetition. Drake appears for less than 45 seconds on "Walk It Talk It," a song with "Versace" – esque repetition, yet takes time to reminisce about his long and sometimes turbulent relationship with the Migos, which is a welcome moment of reflection to remind the listener how far Quavo, Offset, and Takeoff have come. Cardi B delivers an iconic verse on "Motorsport," outshining Nicki Minaj who inflates her verse with an awkward amount of silence. Travis Scott, Ty Dolla $ign, and Big Sean all combine for "White Sand," which includes a hook from Scott that takes a page out of the Huncho Jack playbook. Dolla $ign is strong as always while Sean can't quite decide which flow he wants to use on his verse.
The limits of the group's vocabulary are made painfully clear by the end.
Culture II is at its best when the Migos put real effort into crafting a thematic track. It's clear why "Motorsport" was the lead single. Apart from the features, Quavo's hook and verse shine through for what they add to the atmosphere. For a song presumably about racing sports cars, his verse is cold and hazy. "Xans, Perky, check (yeah), Bill Belichick / Take the air out the ball, just so I can flex / Take the air out the mall, walk in with the sacks," he delivers in what is almost an autotune moan. It's peak Quavo: drugs, money, and a sports metaphor in three lines. There are also diamonds in the rough one can pick out from some of the deeper cuts. While "Open It Up" is clearly a recycled version of "Deadz" from Culture (Cardo produced both tracks), Quavo's energy on it is enough to make the track exciting again. He's mixed extra loud and his is first few lines sound more like a chant than a rap. The beat for "Made Men" is an interesting change of pace for the group that sounds like an old Kanye beat with Atlanta-style drum programming.
Culture II ends with "Culture National Anthem," a quasi ballad that begins and ends with Quavo crooning "culture, culture, culture" until the word loses meaning. "Believe me when I say we create our own sound," he sings at one point during the chorus. This is an understatement. The Migos have done more than create their "own" sound, they've helped export that sound to the rest of rap music. Culture II presents that sound for 106 straight minutes and does little to improve upon it. It's understandable why: the Migos have gotten this far by sounding like the Migos, why would they switch it up now? Except now the Migos are at the top of rap music. Culture launched them into the Grammy echelons. As much as the group likes to lament the presence of "vultures" copying their sound, it's the imitations that have helped make Migos so popular. But eventually something new will break into the underground. The Migos can either stay stagnant or use their fame to introduce new styles and sounds. If there is a Culture III this time next year, it better sound different.