Mark Zuckerberg's Bruised 'WIRED' Cover: Explained
Breaking down the scrapes and scars.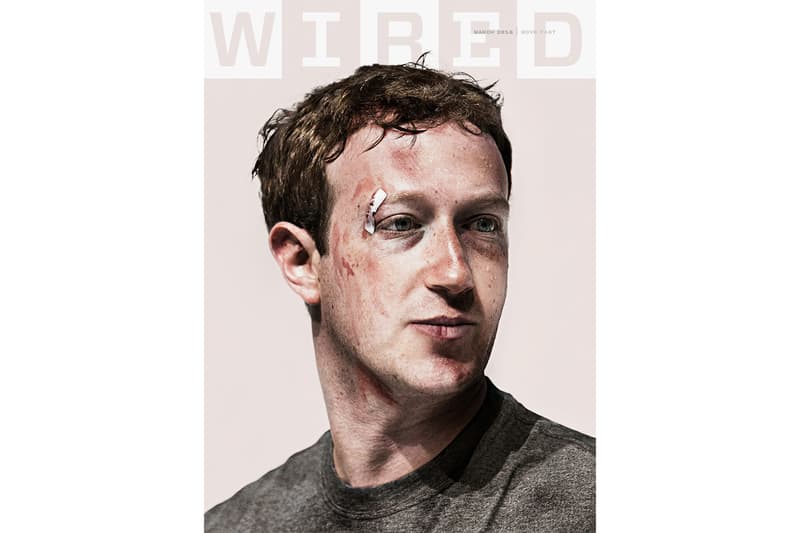 The March issue of WIRED centers around a story about Mark Zuckerberg: the Facebook CEO is revising the brand's strategy as it rounds out two particularly challenging years. WIRED editors wanted to put a bruised and battered Zuckerberg on the cover, to represent the metaphorical beating he's taken — he wasn't available for a shoot, so they did the next best thing.
Jake Rowland was tapped to create a composite Zuckerberg portrait, citing his past works as proof positive of his skill. Rowland hired two models to wear bruised makeup, combining their photos with stock imagery and an actual picture of Zuckerbeg to create the completed image. Everything has been reworked, down to Zuckerberg's expression and mussed T-shirt. Rowland noted the parallels between the faux reality of the image and recent criticisms of Facebook's fake news proliferation, stating, "I was … specifically inspired by the subject and our current moment. Those lines — between fact and fiction, document and forgery, what's 'real' and 'fake' — have never been so slippery and difficult to detect."
Check out the completed piece above and read the cover story over on WIRED's website.
Recently, Facebook announced tests of a "downvote" button, claiming that the feature is definitely not a "dislike" button.