Read Frank Ocean's Interview With Timothée Chalamet
"It is an honor to speak to you, man. I'm such a huge fan."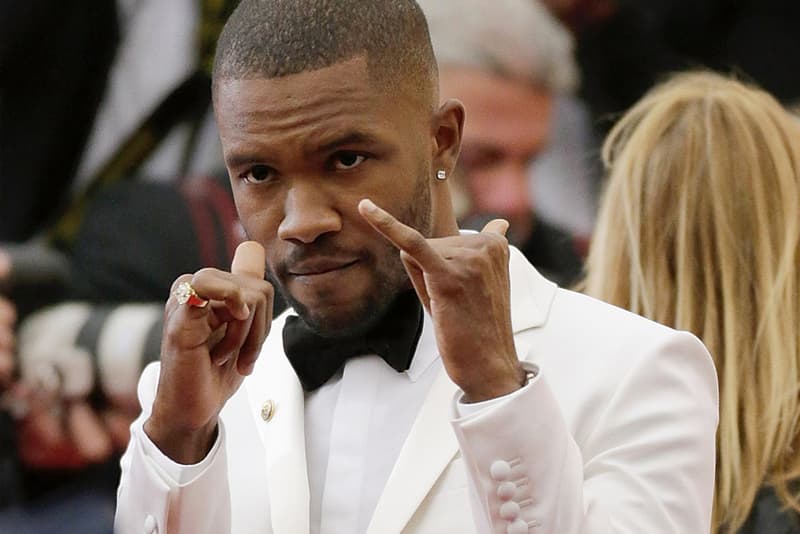 After appearing on the covers of 032c and i-D, Frank Ocean has now switched roles and become the interviewer for his latest magazine slot. For the latest issue of VMAN, Frank Ocean sat down with Timothée Chalamet, the break-out star of Oscar-nominated Call Me By Your Name.
In the interview, Chalamet — who is the youngest Best Actor nominee for almost 80 years — reveals that he is "such a huge fan" of Frank Ocean. Elsewhere, the two discuss everything from Frank Ocean's opinion of Call Me By Your Name ("so much heart and vulnerability") to the pair's must-visit spots in New York and Los Angeles and even Chalamet's favorite designers. You can read some key excerpts from the conversation below.
On their favorite designers:
Frank Ocean: "What's the fit going to be for the SAG Awards?"

Timothée Chalamet: "It's going to be…"Please don't touch my Raf, please don't touch my Raf" [laughs]."

FO: "We're giving Raf [Simons] this evening. I love it."

TC: "I'm such a fan boy. [Being involved] with fashion has been really fun, just as a fan. I don't want to work with a stylist or anything. I've been following designers like Raf, Haider Ackermann, Hedi Slimane—these guys are like rock stars. They're artists."

FO: "Yeah, they're artists. There's this really great connection between all these [creative] fields. You're finding your own creativity and being excited about that; it's cool. I've been into photography for six or seven years. It's almost like this quiet search for joy. It actually provides me with the same feeling that making a record does: imagining or dreaming about something, and then it being in the real world."
On Call Me By Your Name's soundtrack:
Frank Ocean: "That [Call Me By Your Name] soundtrack is super good."

Timothée Chalamet: "We listened to Sufjan Stevens [included on the soundtrack] with Luca and Armie [Hammer] right before we started shooting—that was an experience, to listen to that and, like, hold each other after. It's awesome to hear you say that about the soundtrack. You've got to score a movie."

FO: "Yeah, one of these days. How many hours of piano went into it?"

TC: "I had an Italian teacher, Roberto Solci, who had a painting of himself composing above his piano. He was absolutely brilliant and instinctual. I played a little bit of piano, but nothing like it was in the book or the movie. I worked with Roberto every day in a small apartment below Luca's villa, and formed a really special relationship with [Solci]."
On Chalamet's High School Rapper Persona:
FO: Those films are excellent. I just finished Call Me By Your Name, the novel, yesterday, for more insight before we talked. It's a really special role and an opportune, appropriate time right now in popular culture. I think it's also good for you that this is your opening song. It's such a proper foundation, to do roles like these that have so much heart and vulnerability in the very beginning, completely boutique or small, but on the lips of so many. Congratulations for the work and its effect and how it's made people feel; it's tremendous. Tell me about growing up in New York. I'm assuming this is you in high school, the statistics rapper Timmy T.

TC: Oh, fuck. [laughs.] I can't believe you saw the statistics video. That's embarrassing.

FO: [laughs.] I saw it on Ellen. I figured if Ellen's talking about it, then it's fair game. Tell me about that time.

TC: That's true. I went to LaGuardia, a performing arts high school. Without being "that guy that enjoyed high school too much," a trope I don't want to fall into, it was a really amazing place to go to school. I got to work creatively— I'm an over-exuberant guy and I can go a mile a minute, so having a place to channel that energy was really great.
Head over to the VMAN site to read the full interview. As well as interviewing Chalamet, Frank Ocean appeared to tease that more music was on the way in 2018.