Can Tumblr Culture Be Saved?
A unique community of "adult content" creators will be displaced.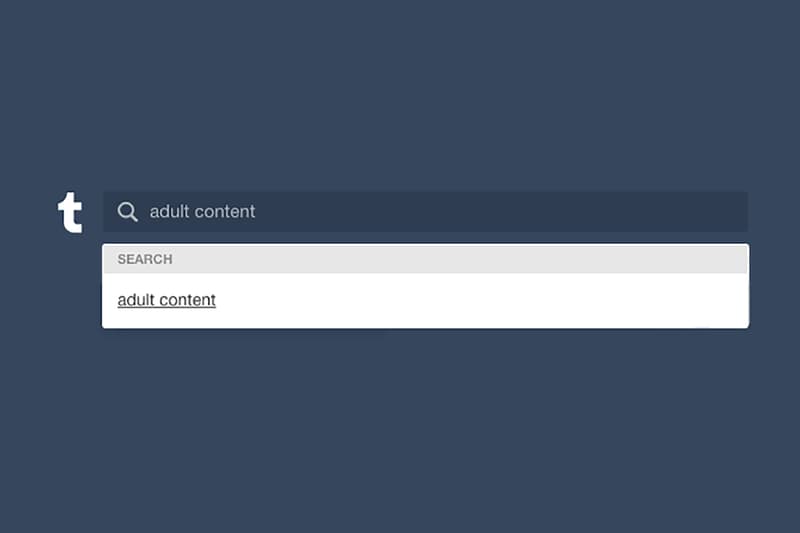 On December 3, Tumblr announced it would implement a ban on all adult content. The backlash, not only on Tumblr itself but on platforms like Twitter and Instagram, was swift. Ostensibly the ban on sexual content was meant to combat child pornography on Tumblr, but the ban on sexual content is much more far-reaching. Tumblr's new community guidelines will prohibit the depiction of sex acts, human genitalia and "female-presenting nipples," in the form of photos, videos, GIFs or illustrations; it will still allow for nipples to be shown in "health-related situations" such as breastfeeding and for the depiction of nudity that can be classified as art or political speech, with a mix of human moderators and computer algorithms making those distinctions.
The decision begs the question: are Tumblr executives that clueless to just how many people utilize the platform exclusively for consuming and creating pornography and "adult content"? Or do they just not care? With the ban on adult content taking effect on December 17, the bigger question remains, what will happen to Tumblr's community of photographers, erotic artists, porn makers and sex workers who rely on the platform to share their work?
Tumblr's rise and fall
For some users the answer is clear. "Tumblr's community and culture is going to die with the change," says Courtney Trouble, an Oakland-based artist and adult filmmaker. Trouble initially joined Tumblr in 2008 as a practical way to share their photography depicting nude, queer subjects. In the decade since, they have used the platform to support their work as a photographer, model, sex worker and filmmaker, dedicating countless hours to uploading and sharing content to Tumblr. "One of the biggest feelings I'm having is a great sense of loss," Trouble says of the upcoming ban. "I'm losing the freedom to express my artwork in a way that I've designed."
That ability to customize and control the presentation of their work was part of what made Tumblr such a useful platform for creators of erotic and adult content. Even as other micro-blogging platforms like Instagram grew in popularity, Tumblr's customizable interface coupled with its relatively lax approach to sexual content made it especially attractive for not just those in the porn or sex industries, but artists whose work uses any sort of nudity or "adult content."
"I'm losing the freedom to express my artwork in a way that I've designed."
"Tumblr always felt like a breath of fresh air to me," says Paul Sixta, an erotic filmmaker and photographer based in Amsterdam. "I could post whatever I wanted, and I felt people engaged with my work more honestly." Like Trouble, Sixta has taken stock of the hours he has spent on the platform in light of the ban. "I felt strangely hurt by the news of Tumblr's ban," he told HYPEBEAST. "I realized how much time I had put into posting my work on there, and I really don't know any other platform like it."
But Tumblr's decision to ban adult content isn't such a shock for longtime users, who have seen the platform grown more restrictive of sexual imagery in the past years. That change in attitude has affected not only those who create explicitly pornographic content but also artists, photographers or any users whose work can be classified as "not safe for work."
Such was the case for lingerie blogger Cora Harrington. In 2013, Yahoo purchased the platform for $1.1 billion USD, with Yahoo then swallowed by Verizon in 2017. It was around then that Harrington, who runs the blog Lingerie Addict, saw her own Tumblr marked as adult content.
"Being marked as adult content on Tumblr meant that you were essentially made invisible on the site; you disappeared from feeds. People couldn't search for your content." After her Tumblr was designated adult content, she began only seeing her content reblogged on "porn spam" accounts, leading her to delete the page a few months ago. Trouble had noticed a similar phenomenon, with their erotic films receiving far fewer views in the last year than they had in the past. "This just seems like the nail in the coffin," Trouble says of the new ban on adult content.
Harming those in the margins
The loss of the Tumblr community will perhaps be most harmful to the many sex workers who rely on the platform for their work. Kit Rothschild, a senior support worker with the Vancouver-based advocacy group PACE Society, says that while those with a well-developed following may weather the ban relatively easily, it's the less-established sex workers who will see themselves pushed even further to the margins and into more dangerous territories. But that, she believes, is the whole point.
"I see this as part of the Pence agenda to push sex workers even further to the sides," she says, speaking in reference to U.S. Vice President Mike Pence, although she points to a similar conservative agenda taking hold in Canada to stigmatize sex workers. She sees Tumblr's insistence that the ban's purpose is to combat child pornography as merely a coverup.
"The idea that Tumblr is doing this to protect people, whether that be children or other marginalized people, is absolute garbage," Rothschild says. "If they were, they'd be cracking down on neo-Nazis."
"The idea that Tumblr is doing this to protect people… is absolute garbage."
Further marginalization may take place online as well once the policy is in full effect, Rothschild says in reference to Tumblr's ban on "female-presenting nipples." Such a distinction is not only absurd, she says, but will also likely further stigmatize trans or gender-nonconforming people. "Who's to say what's a male or female nipple?" Rothschild asks.
In flagging adult images, nipples or not, many social media platforms have set a precedent for unfairly targeting already marginalized bodies. Harrington believes Tumblr's new algorithms and restrictions are likely to follow that lead. "The closer one is to normative standards of beauty, the less likely they are to be penalized for sharing lingerie content. There is an assumption of vulgarity, of inappropriateness, the darker your skin tone or the larger your body," she says.
Clicks, not community
Though in past years many users found in Tumblr a sense of freedom of expression that didn't exist on other sites, the ban is a harsh reminder that the platform, like all social media outlets, is a private corporation. Money, not safety or community, is their bottom line. "Users have told Tumblr for years that this is a problem and Tumblr felt no need to change any of it until they were banned from the App store," Harrington says. "Despite what their press releases say, they don't care about their users. They care about the ad dollars."
Tumblr's unique community of creators and consumers of adult content may already be feeling the sting, but that doesn't mean Tumblr itself will take such a hit as a whole. "There is never a mass exodus. Never, from any successful social platform," says Clay Shirky, author of Here Comes Everybody and Vice Provost for Educational Technologies at New York University. "Not from Friendster after the Fakesters were killed off, not from Flickr after Yahoo bought them, not from Facebook for any of its massive privacy infractions, despite wide calls for same after each of those events."
"This change will create some bad publicity (which will also be good publicity among conservatives), and there could be some reduction in traffic, but most people do not have political commitments around their social media use, which means they also do not have political commitments around their social media non-use," Shirky adds.
Finding a new home
In the immediate moment, there doesn't seem to exist a platform that can easily replicate Tumblr's sensibility. Sixta says he will be curious to see what other platforms emerge, noting Pillowfort.io, a social media platform currently in beta form that purports to offer users more control over their content. Newgrounds, a long-running gaming and entertainment platform, put a call out for displaced Tumblr users in light of the ban, with the site's founder Tom Fulp citing a rise in traffic following the December 3 announcement. Trouble also speculates that more porn makers displaced by Tumblr may turn to Manyvids, which allows creators to maintain copyright of and profit off of their own work, and also has the built-in feed and messaging tools found on most social media platforms.
"The commercial logic of trying to run a platform that can be used to publish Surprised Pikachu memes and porn may not be supportable at scale."
But looking at the existing mainstream platforms, none offer the same sort of freedom that was found on Tumblr. "Some will move to Twitter. But Twitter doesn't allow me to present photos as a gallery," Sixta says. "Flickr is horribly slow and outdated, and it will probably ban adult content soon since they are owned by Yahoo."
For sex workers or porn creators, the most logical move may be to sites explicitly created for sexual content. "For decades, there have been proposals for an internet red-light district, to be distinguished by something like the proposed .xxx domain," says Shirky. "There was never a technical version of this cordoning off, but it looks like it is now happening anyway, because the commercial logic of trying to run a platform that can be used to publish Surprised Pikachu memes and porn may not be supportable at scale."
Tumblr before and after banning all adult content pic.twitter.com/61r0N4nxdD

— c (@chuuzus) December 3, 2018

The silver lining for those who make a living from sex work or adult content is that perhaps Tumblr's ban on adult content will encourage users to once again pay for their porn. "I'll mourn this as an artist, but I'm not going to mourn it as a sex worker," Trouble says. "I'm not going to mourn the fact that there's no longer free access to my work."
But perhaps the migration won't be to another social media space at all. Trouble has already been encouraging artists and porn makers in their community to not only own their own domain name but also keep physical copies of their work. All social media platforms, like Tumblr now and Myspace before it, may well have an expiration date.
"I'm not going to mourn the fact that there's no longer free access to my work."
"There's kind of a come to Jesus moment, where we do realize it can't all be online, it also has to be on the streets," Trouble says. "We should find ways to express ourselves that don't rely on corporate distribution."
Whatever form Tumblr may take following December 17, the ban is a reminder as well that social media remains an extremely new facet to the communities centered on sex work, porn and erotica — communities which have weathered censorship and stigmatization for decades. "The only real loser here is Tumblr," Trouble says. "Sex work is one of the longest-running industries in the world. I really don't think one social media's non-acceptance of us is going to stop what we're doing."