EXCLUSIVE: EaSWay is San Francisco's New Boldly Rap Advocate for Social Justice
Stream His New 'The Panther in the Room' EP.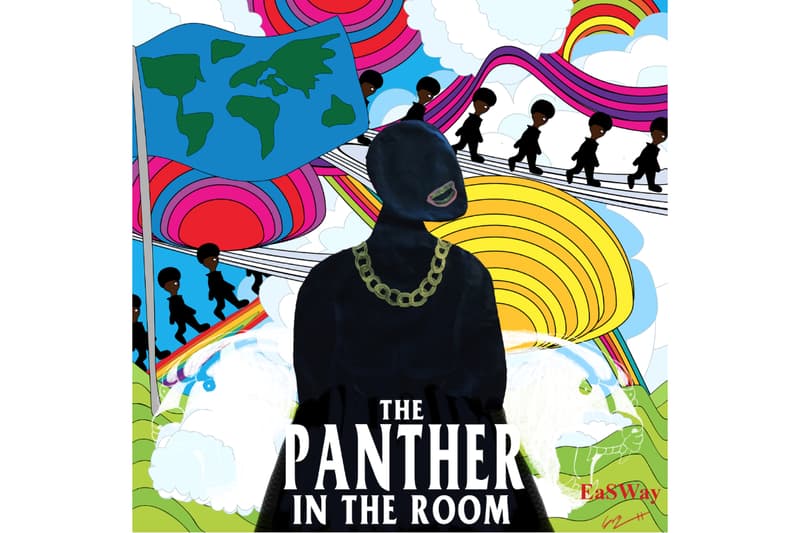 Get familiar with SF-based rapper and songwriter EaSway as we not only premiere his debut project today but also shed some light on the burgeoning creative's intriguing story. Aside from the socially-charged compositions packed with melodics and lyrical substance, the University of Southern California social science and neuroscience double-major shares his unique perspective of being a millennial African-American artist.
His latest project incites discussions about social issues ranging from racial prejudice to artistic existentialism. Along with the music, EaSway is unique not only in his innate rapping talent but also his strong sense of community devotion. EaSway conceptualizes and paints all cover arts and sells the physical canvases to donate to public school Fine Arts Programs. We all know there's an epidemic of "fake woke" celebrities and artists out there and be clear, he's certainly not one of them.
Listen to The Panther in the Room EP down below and see why he may be poised to become one of the most influential young artists in the hip-hop.
What are some of your musical influences?
I'm influenced by all music as long as it's honest. I feel the same about all artistic expression. I find honesty inspirational because it's something that's rarely ever given away in its purest form. When an artist or anyone is willing and talented enough to be completely honest, there's a vulnerability in that which can allow others to connect, even if they may not completely understand the things you're being honest about.
You're currently enrolled in college as a neuroscience major, what are you looking to accomplish with that?
I actually did the neuroscience program at USC for 3 years but switched to social sciences with a psychology emphasis when I decided I was less interested in the medical practice of the brain but I am more interested in people's motivations and desires and how that plays out in terms of brain activity.
What's the most important aspect to you when creating music?
I think liberty. I need to find the space and energy to give myself complete liberty to talk about and do whatever I want to on a song. I don't limit myself to genre or topic. People not giving themselves the opportunity to create and express whatever wants to come out of them is what causes many people to not think of themselves as artists. When creating anything, I need the freedom to be honest and myself.
In listening to your music, there's a strong sense of community devotion, where does that derive from?
First things first, I am a child of the hyphy movement and the whole hyphy movement was about love and community pride. I live in LA right now but I'm from San Francisco and I've seen the culture of a community appropriated and displaced within the last 5-10 years due to the city's reprioritizations. I've seen whole communities uprooted. I bet if you ask a lot of new residents what the hyphy movement was they wouldn't be able to tell you. It's happening in Los Angeles too now. It's funny, sometimes I feel like gentrification is stalking me. I hope it's not, that'd be horrible.
Your music touches a lot of social issues, if you can change one thing right now, what would it be?
I would allocate more resources towards education. America always claims to be a champion of the youth yet our new administration plans to cut $10.6 billion from federal education budgets. I understand politics but it doesn't make moral sense to me. That's why I'm donating profits from this project to youth art initiatives. The arts tend to be the first to get cut from school programming but I think if kids are able to experience and create art together, they'll be able to empathize with each other more. That's something we can all get better with.
What are you working on now?
I have a lot of things I want to say so I'm working on figuring out the best ways to say them. I have a lot of different musical interests—I love Pink Floyd and Frank Ocean, Kendrick Lamar and Solange, Kamasi Washington, Kaytranada and Ben Howard. It's always fun for me to combine all my influences into new amazing things.
Something you'd like the world to know?
I want the world to know that I love making music but my main goal is to make the world a better place. It's bigger than bank accounts and notoriety. I want a more united world.
Final words?
We must care for others but what is forgotten in that direction is the importance of self-care as well. One who has ignored themselves cannot give proper focus unto the world.