Brockhampton Ends 'the Saturation' Trilogy with Their Most Cohesive Album Yet
An album review of Brockhampton's 'Saturation III.'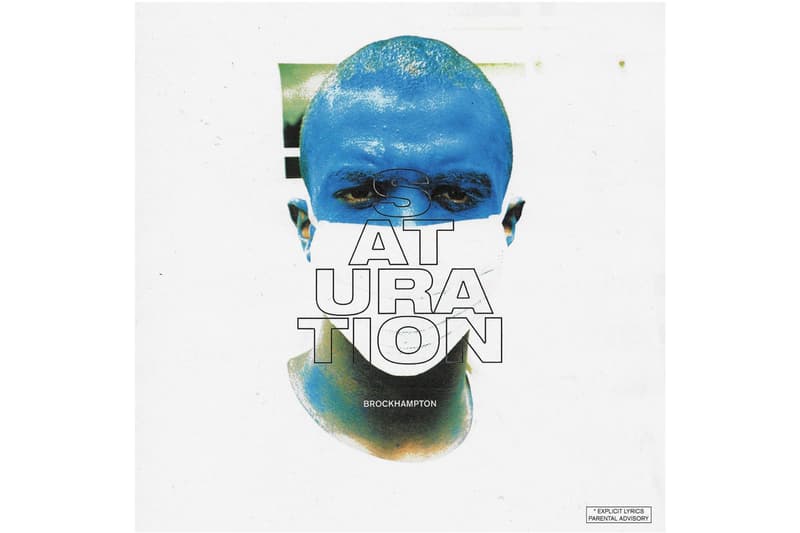 Recently the members of Brockhampton, a Los Angeles collective of young rappers, producers, designers, and creatives, have taken to calling themselves a boy band. "We want to flip that [the term 'boy band'] and redefine it," the band's ringleader Kevin Abstract (born Ian Simpson) said in a recent interview with MTV. When asked why it was important to him to redefine what a boy band was, Simpson replied simply, "some boy bands suck and we want to be an awesome boy band."
The members of Brockhampton all live together in a house in Los Angeles. They were all born in the '90s and met through the Kanye West fan forum Kanye To The. For a group of a dozen boys that live together, they can be as goofy, weird, chaotic, and immature as you'd expect. But the desire to brand themselves as a boy band speaks to the group's ethos. Brockhampton, and Simpson, in particular, want to flip things hip-hop has traditionally found uncool – being unsigned, being gay, being lonely/heartbroken – and make them cool. With their Saturation trilogy of albums, the first of which dropped in June and the last of which was released December 15, Brockhampton flipped another rule of the music industry and released three albums in six months. Saturation III, the most recent addition is the best of the series.
Saturation III begins in the same way its predecessors have with high energy bangers that blend into each other. The first track "Boogie" is a saxophone-powered anthem (allegedly sampled from Nintendo Wii theme music) in which almost every verse sounds like it could be its own hook for the song. "Boogie" continues the song structure of the previous Brockhampton projects. Verses are short, members switch off seamlessly, and amidst all the energy and hype they still find moments to be sensitive. "I've been beat up my whole life / I've been shot down, kicked out twice," Simpson raps, in song's official chorus.
"Zipper" comes next with a dusty western piano riff that gives the track a Slim Shady twinge (Joba's intro and first verse only add more to this, in fact, Joba channels early Eminem on a lot of his appearances throughout the album). It's a fun track with a shout out to Anthony Fantano and toasts to success. Simpson handles the chorus again in a celebratory chant: "Ghetto in here, flash it / Ooh, them boys stay nasty / Floating like Aladdin / Them the ones you talking to."
The third track "Johnny" is lower key, with verses about the rappers' pasts, relationships, and mothers. Like the tracks before it, Simpson appears multiple times and handles the chorus, though his intro, outro, and chorus could all serve as hooks for the song. Joba steels the song with one of the longest verses of the album in which he discusses feeling unfulfilled, moody, and lonely. "I have a couple vices, we had that show on Viceland / I was hardly in it, most the time I'm hidden," he raps towards the end, his voice a mixture of angst and regret.
From here the album picks up. "Liquid," "Stupid," and "Bleach" are all fantastic displays of the group's range of styles and sound. "Liquid" is criminally short at just under a minute and a half. Produced by Jabari, it's one of the group's colder beats that would sound at home on a Vince Staples album. Ameer sets the tone with a deadpan discussion of his past: "I grew up all alone / My mom and dad fighting / I moved around a lot / I did a lot of fighting." Simpson hops onto the end of Dom McLennon's verse with equal detachment. "I moved to California / Started getting paid," he raps with faux excitement before cutting himself off, "Shit's already boring." The switch in energy within Simpson's verse and within the first four tracks of the album is part of what makes Brockhampton so interesting to listen to. They jump around in blue face paint and orange jumpsuits but also rap openly about their relationship with their parents. These contrasts and switch ups only increase the emotional potency of each other and it's no accident Saturation III contains more beat switches than their other albums.
"Bleach" kicks off the more melodic second half of the album with a chorus by the only non-Brockhampton artist on the album, Ryan Beatty. The second half of the album is also more experimental and stylistically diverse than the first, and contains both the best and most average musical moments the group has produced thus far. "Hottie" and "Rental" are probably the most pop-oriented tracks, the latter much better than the former. "Hottie" has a jingly chorus from a pitched-up Simpson (a vocal effect he deploys almost gratuitously throughout the album). The latter sees melodic verses from Simpson, Dom Mclennon, and Matt Champion. "Rental" also has the best deployment of autotune on the album, especially on Mclennon's verse. The chorus has a bassline that seems to continuously rev up and a recurring beeping that sounds like a grocery store checkout punctuates the snare.
The second half of the album also contains some of the weirder material the group has put out. The beat to the first half of "Sister/Nation" is crunchy, chaotic, and switches up a number of times. There's double time drumming, a verse by Joba about his mental health problems, and more pitched-up vocals from Simpson. The second half, "Nation" is completely different. Only the black members of Brockhampton participate and rap about feeling like an outcast in various ways. Mclennon raps about not fitting in and being viewed differently by different parts of society. Simpson raps about getting beat up and coming out of the closet in his most potent four bars of the album. Merlyn, always a jolt of energy, simply chants "Power, African power!" three times.
The album (and Saturation trilogy) ends with "Team," which starts off with Bearface crooning over guitars that sound like they came off of a demo for Frank Ocean's Blonde before it descends into a beautiful reverb-soaked shoegaze track. Just when it seems like the album is over, the beat switches up and the rest of the crew takes over, trading off lines and verses in such a cohesive way it's hard to follow who's rapping when. It's peak Brockhampton: they're not afraid to experiment and get weird, but can also reign it in and go in with bars. The group speaks with one voice on this track in a way that a proper boy band should.
It's this speaking with one voice that makes Saturation III one of the best rap releases of the year. Brockhampton as a boy band is unique in that their webmaster and photographer are members alongside the producers and rappers. It's easy for a group that big to get disorganized, for its songs to sound like each member is just waiting for their chance to rap. Odd Future and Pro Era sometimes fell into this trap. But Saturation III works because it transports you into the Brockhampton Factory (the name the group gave to their collective house/studio in L.A.). At one point on "Team," you can hear Ameer mutter "Gimme that mic, nigga," before he starts his verse. The members ad lib for each other, complete each other's lines, and jump into each other's verses after a few bars. Songs with six or eight verses don't sound as exhausting as posse cuts like "Swag Me Out" or "School High" because for Brockhampton it's all really one verse.
The album's one glaring flaw is a result of this cohesiveness: you never get enough of one member at a time. The verses switch off too quickly in some parts, making it hard to keep track of who's saying what. Before you can grasp what was just said, a new voice chimes in. But this is from a group that takes artistic inspiration from Apple and Facebook. It's all part of the plan. Back in June, Saturation I came out the same day Kevin Abstract played at Bonnaroo and Viceland premiered their show American Boyband. The next day, Simpson was in a hotel room in Tennessee Facetiming his bandmates back at the house. "I had an idea," Simpson tells his friends. "What if we don't drop solo albums for a long time? And we really on some One Direction shit just put out Brockhampton albums? Then people will demand the solo projects." Six months and two more group albums later the plan seems to have worked. Let's hope what comes next is just as exciting.
You can also look back at some of Brockhampton's best releases from there year on our site.