UPDATE: Rare Rolex Submariner Sells for Ten Times Original Sale Estimate at Bonhams Auction
Boasting the rarest of the rare.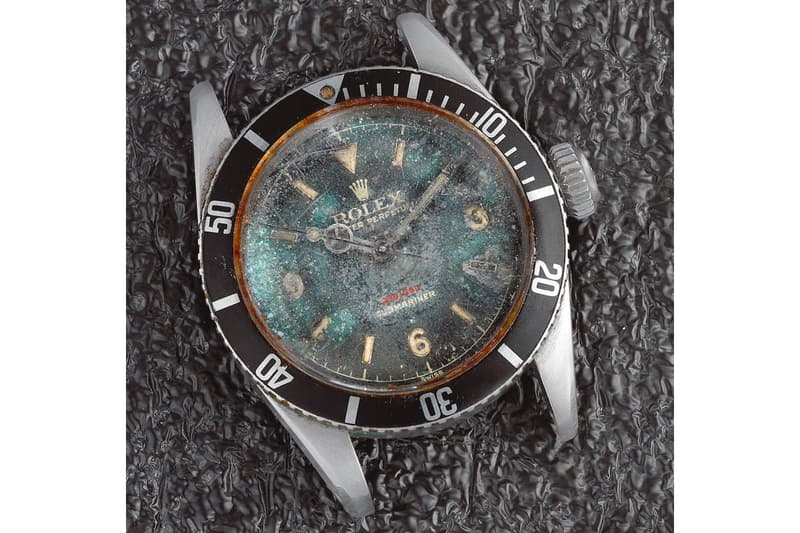 UPDATE: The Rolex Submariner with a red depth rating Explorer dial has sold for for more than ten times the sale estimate, fetching a hefty £181,250 GBP (~$229,000 USD).
Original article posted Dec 4, 2018
International auction house Bonhams will be holding its Fine Watches and Wristwatches Sale at its Bond Street flagship saleroom in London on December 12. The sale will feature a wide range of rare and highly desirable timepieces that includes Paul Newman Daytonas and a highly-desirable Rolex Submariner that boasts a red depth rating Explorer dial.
The circa 1956 Rolex timepiece was presented to the crew of The Sovereign who competed in the 1964 America's Cup. The patina on the dial is likely due to the salt water it was exposed to during the grueling race across the Atlantic. What makes this piece even more desired is that the red depth rating dial marks the earliest of the Rolex submariners.
The three Paul Newman Daytonas are estimated to fetch a high price. The first is a rare piece from the late 1960s and is estimated at £120,000 to £180,000 GBP (~$153,000 to $229,000 USD). The second, circa 1969 model is estimated at £80,000 to £150,000 GBP (~$102,000 to $191,000 USD), while the circa 1967 model is expected to garner between £100,000 to £150,000 GBP (~$127,000 to $191,000 USD).
On top of those, two Kew A Certificate Rolexes will also be offered at the sale. Only 136 Kew A Certified Rolexes currently exist, with only 16 receiving the "Especially Good" classification. The certification test is carried out over a 45-day period by the Royal Navy for their ships' chronometers.
Head over to Bonhams website to learn more about the auction and for more rare and exquisite timepieces, check out this Rolex Submariner that recently sold for over $1 million USD.