Best New Tracks: Roy Wood$, Future, Ma$e, Ta-ku, MellowHype, Lil Baby & More
Start your December off with the right soundtrack.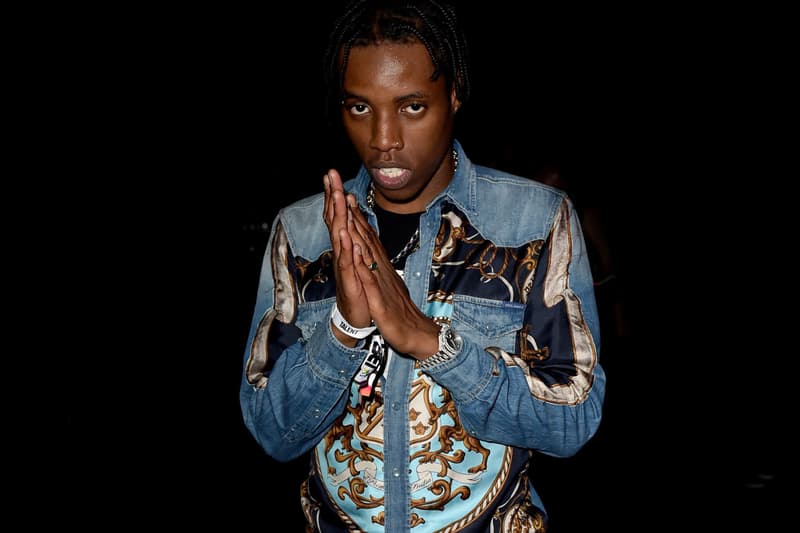 For this week's music drops, fans received several new long-awaited albums including OVO's own Roy Wood$, Miguel and Chief Keef. On the note of LP's, Big Sean surprised everyone when he announced he'll be dropping a joint record with Metro Boomin before 2018, while Quavo & Travis Scott's project is officially complete according to the Migos rapper who said "all the files shipped off for mixing." Frank Ocean also teased a new forthcoming album on his Tumblr this week saying "Well! I made the album before 30. I just ain't put that b*tch out!' – quotes from an interview I haven't given haha." This week also saw a heavy HYPEBEAST Mix from Travis Scott's right-hand man, and go-to sound purveyor, Chase B.
Aside from the actual music itself, other notable headlines included DMX getting into the holiday spirit with an official mixed down version of his infamous take on "Rudolph The Red Nose Reindeer." JAY-Z also sat down with The New York Times for what may be one of the most in-depth interviews of his career, touching a wide number of topics including rap, politics, therapy and marriage.
Check out our picks for this week's best new tracks and let us know what you think in the comment section.
Roy Wood$ – Say Less (Album)
The long-awaited sophomore album from Roy Wood$ touched down this week, following weeks of promo that included impressive single releases with PARTYNEXTDOOR, dvsn, PnB Rock and 24Hrs amongst others. Listen to the full project below.
Ta-ku – "Drive Slow, Homie Vol. 5" (Mix)
Ta-ku's infamous fan favorite "Drive Slow, Homie" series made a return this week with its official fifth installment premiering exclusively through HYPEBEAST Music. The eclectic mix arrives well over three years after the Australian multi-hyphenate dropped "Part IV" via HYPEBEAST Music (formerly HYPETRAK.) Stream bleow.
Listen to the mix, as well as volumes one through four, via Ta-ku's YouTube channel.

N.E.R.D & Future's Energetic New Single, "1000"
After leaking the track-listing, cover art, and official release date last week, N.E.R.D dropped off one of the most anticipated singles off their upcoming album with "1000" featuring Future. Using a similar high-energy aesthetic from previous cuts "Rollinem 7s" with Andre 3000 and "Lemon" with Rihanna, "1000" is another frenetic, bass-heavy dance cut that's anchored by N.E.R.D's trademark spacey synths and vocals which seems to be the theme for their upcoming album. Listen in below.
Ma$e – "The Oracle" (Cam'Ron Diss)
As the saying goes, "Don't wake a sleeping dog." This week, Cam'Ron felt the wrath first hand after the the one-time Bad Boy rapper-turnt-pastor dropped a scathing diss track aimed towards the Dipset frontman after he took a jab at Ma$e on his new Program mixtape. Cam would eventually fire back with his own diss record, but it was short lived in comparison to "The Oracle." Check it out below.
Still Parade – "Should Have Known"
Berlin based sound-maestro Niklas Kramer, otherwise known as Still Parade is taking his dreamy psych-pop sound into the realm of mid-80s soundscapes. We had the opportunity to premiere an exclusive off his new Kindness EP this week and it doesn't disappoint one bit. Press play to vibe out below.
MellowHype – "Tisk"
Hodgy and Left Brain had a reunion this week after a three-year hiatus. After making the announcement on his Twitter last night saying, "I'm dropping a mellowhype song tonight Lofi shit 2018 here we are wait for the album shoutout out LBTURNUP," Hodgy would deliver on his promise this morning and also confirm a new MellowHype project for 2018 in the process. Check out their first project single below.
Miguel – War & Leisure (Album)
Miguel continues to push his creativity to new boundaries and it's on full display within his new long-awaited album, War & Leisure. Listen to it in full down below.
SiR & ScHoolboy Q – "Something Foreign"
Things are starting to heat up with ScHoolboy Q's album on the way. This week, the TDE spitter teamed up with fellow TDE labelmate SiR for a thumping new single called, "Something Foreign." Stream below.
Lil Baby – Too Hard (Mixtape)
Lil Baby has not only managed to become one of the hottest rappers out of Atlanta in just a year's time, but he's also managed to catch the attention of his fellow peers during the process. The 21-year old rapper has already penned songs with the likes of Young Thug & Lil Yachty, and he's only getting started. This week he debuted his new mixtape and the timing couldn't have been better. Listen in below.
Be sure to check out our previous music roundups for the best drops of weeks past.