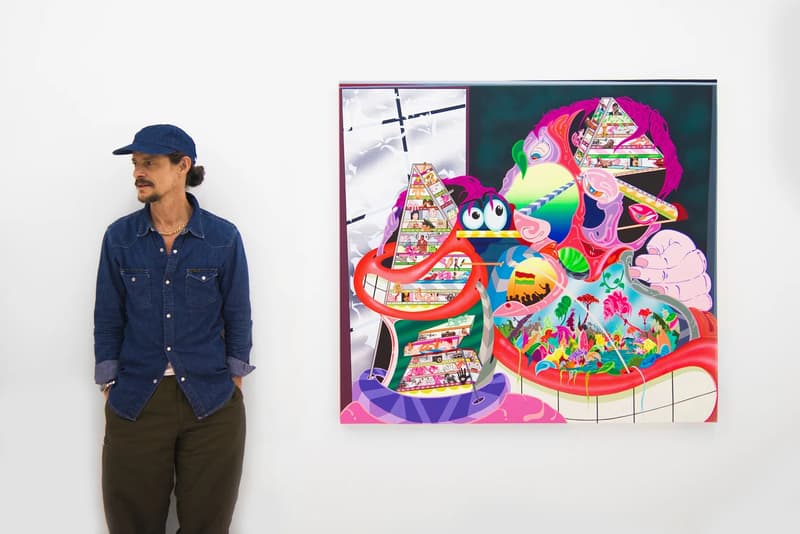 Best Art Drops: Erik Parker Skate Decks, André Saraiva x Futura Prints & More
Alongside PichiAvo sculptures, Studio Arhoj ceramics and more.
---
Every week we spotlight the best art drops by leading artists, galleries, museums and contemporary art platforms across the globe. Listed items typically encompass original artworks, prints, collectible figures, collaborative merchandise and more.
For our latest installment: the HOCA Foundation and Erik Parker release a special skateboard set, André Saraiva and Futura release collaborative prints, Goodhood and Studio Arhoj launch new ceramic figures, APPortfolio and PichiAvo will soon purvey a series of live-painted sculptures, and Lars Nepotil purveys his latest Leica Museum book.
Check out the list below.
HOCA Releases Erik Parker Rome Pays Off Skateboard Set
Release Date: Available now at HOCA's online store
Release Price: $552 USD
Erik Parker currently has a solo exhibition on view at the HOCA Foundation in Hong Kong. The Brooklyn-based artist is showcasing a total of 28 artworks for this latest presentation entitled "Millennial's Dilemma." To celebrate the launch, HOCA and Parker joined forces on a collaborative skateboard set (sized 80 x 23 cm per deck) that features Parker's Rome Pays Off artwork. The set is now available in an edition of 75 at the HOCA online store.
André Saraiva & Futura At Us Prints Available Online
Release Date: Available now at Danysz Gallery's online store
Release Price: $1,225 USD
André Saraiva and Futura recently joined forces to launch a new exhibition at the Danysz Gallery in Paris, France entitled "Chez Nous." The collaborative presentation spotlights new pieces that highlight Saraiva's popular Mr. A character alongside Futura's signature abstract motifs such as atoms, drip visuals, and his futuristic Pointman subject. Accompanying the show, the artists have released collaborative prints entitled At Us in pink and orange versions. The 80.5 x 122 cm print is available online now in the orange iterations as an edition of 60.
Goodhood & Studio Arhoj Unveil New Ceramics Collaboration
Release Date: Available now at Goodhood's online store
Release Price: $21 USD-$69 USD
London-based retailer Goodhood launched its latest collaborative project with Danish ceramics label Studio Arhoj. The new capsule consists of limited-edition ceramic figures, each of which is hand-finished and entirely unique. The ceramic figures arrive in varying tones such as natural brown and lighter shades. Head over to the Goodhood site to pick up the limited-edition ceramics.
APPortfolio & PichiAvo to Release 250 Unique Sculptures
Release Date: Available December 19 at APPortolio's online store
Release Price: $548 USD
Spanish artist-duo PichiAvo spraypainted a vivid composition on a series of intricate plaster sculptures which they collectively named Hybrid Psyche. Classical interpretations of a male and female subjects are featured on the side portions of the artwork alongside graffiti text across its entire form. APPortfolio is set to launch each unique piece from the live-painted mural. Each sculpture arrives hand-signed and numbered from 1-250. Hybrid Psyche by PichiAvo will officially launch on APPortfolio's website on December 19 for $548 USD each.
Lars Netopil Purveys New 'Leica Museum' Photo & Guide Book
Release Date: Available now at Leica's online store
Release Price: $199 USD
Leica expert and historian Lars Netopil recently released a new extensive volume called Leica Museum that spotlights the fledgling Leica Factory Museum in Wetzlar, Germany. From the UR-Leica to the red anodized device, Netopil unravels his expertise on the camera manufacturer's vintage and contemporary cameras alongside key exhibitions in the institution. A total of 672 pages divided into 36 chapters with large-format photographs produced by Wolfgang Sauer are purveyed in the tome designed by David Pitzer. Sized at 21 x 30 centimeters, the hardcover book in cloth arrives with a dust-jacket for extra protection.