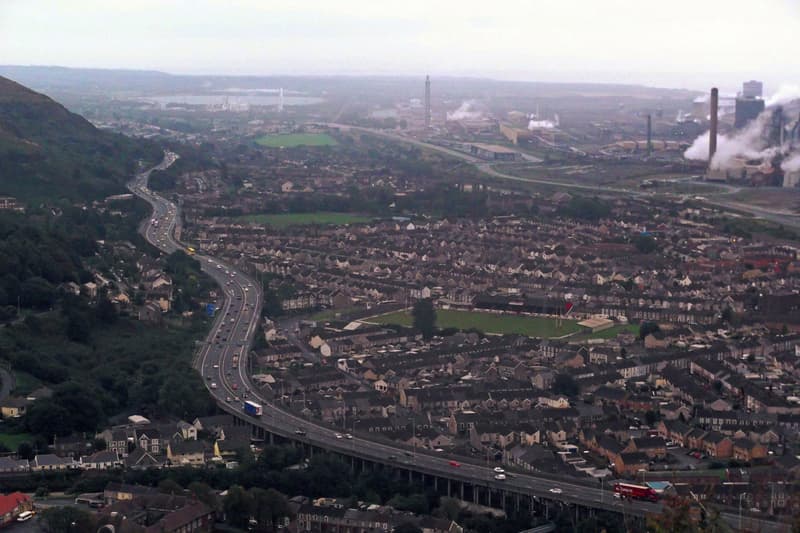 Banksy Addresses "Most Polluted UK Town" in Latest Street Art
With a sardonic holiday twist.
---
Banksy took to Instagram to share a video of his new spray-painted stencil ostensibly located on the wall of the Taibach area in South Wales, UK.
The elusive British artist kicks off the clip with an up-close shot of the Port Talbot street artwork, portraying a stenciled child adorning winter clothing and sticking his tongue out to catch snowflakes. As the camera pans outward, a sleigh is observed next to the child who has his arms stretched out in an embrace. As the shot expands, the camera points towards an adjacent wall that shows a dumpster caught on fire with ashes swelling outward and falling on the child who believes they are snowflakes. The video ends with a long shot of the city with a haunting, festive tune in the backdrop playing throughout the entire video. Banksy aptly captioned the post "Season's greetings."
In pure Banksy fashion, the artist utilizes this new piece to apparently address the town's heavy pollution issue. Earlier this year, Port Talbot was named "the most polluted town" by the World Health Organization, as per Wales Online. However, the publication reported that WHO made a mistake in giving incorrect data about the town's air pollution levels. Despite the data error, a third-party study conducted in October suggests that Port Talbot among nearby towns were still "over the limit for air pollution limit," the publication continued.
Nevertheless, watch the clip of Banksy's latest street art below and let us know your thoughts. Elsewhere, A "hateful" mural painted on a LA school is being removed after local activists argued that it resembled "the Japanese imperial battle flag."