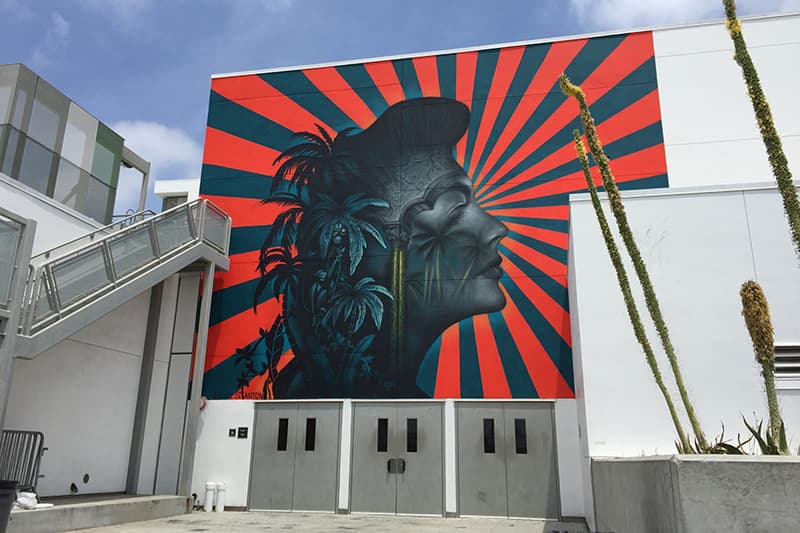 LA School District To Remove Massive "Hateful" Mural In Koreatown
After local activists claimed that it resembles "the Japanese imperial battle flag."
---
The Los Angeles Unified School District recently decided to whitewash a large-scale mural on a wall at the Robert F. Kennedy Community Schools in Koreatown. The forthcoming removal of the piece was prompted by Yong "Jake" Jeong, president of the Wilshire Community Coalition. Jeong claimed that the artwork's starburst background resembled Japan's Rising Sun Flag from WWII. According to the LA Times, "activists say the mural suggests the Japanese imperial battle flag, a symbol they regard as hateful as a swastika."
In an exhaustive complaint letter sent to the school last month, Jeong and a group of local Korean activists in the neighborhood have publicly decried the mural over the backdrop which they argued "is as offensive to them as a swastika would be to Jews or a burning cross to African Americans," the publication reported. Jeong also threatened legal action if the mural remained on the wall. Roberto Martinez, the senior school district administrator for the area, ultimately bowed down to the censorship this week.
The sprawling wall artwork was made by Brooklyn artist Beau Stanton back in 2016. It featured a portrait of famed movie star Ava Gardner set against palm trees visuals and a starburst backdrop. For the piece, Stanton's motifs originally drew inspiration from the Cocoanut Grove, "the long-gone nightclub at the old Ambassador Hotel, now the site of RFK Schools," as per the LA Times.
The artist and supporters of the mural, especially the National Coalition Against Censorship, have fired back against the claims saying that there is no connection to the flag. Also, its year-end removal will set " a dangerous precedent of submission to public pressure in assessing art and allowing students' access to diverse viewpoints and ideas," the coalition said in a statement.
Take a look at the controversial mural above and let us know your thoughts. In other art-related incidents, an "aggravated" teenager destroyed precious artworks at the Denver Art Museum last week.