Serena Williams & Virgil Abloh's 'GQ' Cover Sparks Commentary
Abloh's quotation marks may have gotten him in hot water.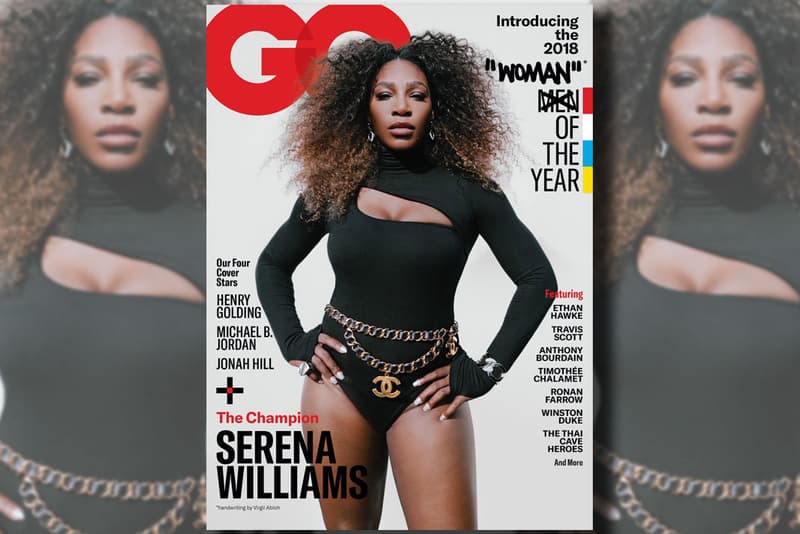 Any decisive year-end list will inevitably incite some controversy, and GQ's "Man & Woman of the Year" magazine covers are no exception. Along with the usual discussion of whether one celebrity deserved it over another, one issue has stuck out beyond the others: controversy over Virgil Abloh's hand-drawn addition to Serena Williams' cover.
Williams is the sole woman among the four stars, and her cover features Abloh's personalizations to reflect that: In the "MEN OF THE YEAR" sidebar, "MEN" is crossed out and "WOMAN" is scrawled above, between the designer's signature quotation marks. Those quotes, however, have roiled some Twitter users, who felt that the quotations around "WOMAN" were disrespectful to the tennis star. Though GQ contributor Mick Rouse attempted to allay the unintentional slight, users both aware of and unfamiliar with Abloh's work voiced their concerns across the social media platform.
Look for the controversial cover to hit store shelves in December. Abloh has collaborated with and supported Williams throughout the year, ranging from gifting the athlete bespoke goods to honoring Williams with a special sneaker release.
Elsewhere, Slick Rick joined GQ to break down his infamous jewelry collection.
Announcing GQ's Men (and Woman) of the Year 2018: @michaelb4jordan, @henrygolding, @jonahhill, and @serenawilliams (featuring handwriting by @virgilabloh) https://t.co/EpG3lKCJ3r #GQMOTY pic.twitter.com/6MgczSxSpq

— GQ Magazine (@GQMagazine) November 12, 2018
Okay but why is woman in quotation marks @GQMagazine

— Anna Wagner (@Anna_F_Wagner) November 12, 2018
Because it was handwritten by Virgil Abloh of Off-White, who has styled everything in quotation marks as of late (see Serena's US Open apparel that he designed)

— Mick Rouse (@mickrouse) November 12, 2018
Hey @GQMagazine …what the heck? Why "woman" and not WOMAN? ..seriously?!!!

— Carolyn (@careme10) November 12, 2018
Here's my hot take: I get that Serena and Virgil apparently collabed recently, and the quotations have a meaning, but… MAYBBEEE the cover of a magazine wasn't the best place to use quotations around the word woman. I mean… did no one think ahead on this? Marketing 101, yo.

— Miss Adria If You're Nasty (@MirandaAdria) November 13, 2018
hmm pic.twitter.com/hG4vAtTDTE

— E. Alex Jung (@e_alexjung) November 12, 2018
@GQMagazine Please explain to me why GQ Magazine's Editorial Team felt that quote marks were necessary on the Serena Williams' Woman of the Year Cover. I Really Really Need to Know. I'm Expecting an Answer????‍♀️??????????? pic.twitter.com/qGNPNJI4Rq

— Y•S•A•N•N•E (@YsanneBueno) November 13, 2018