Pharrell & LOUIS XIII Create a Song That Will Be Locked Away for the Next 100 Years
Pharrell talks to us about music, world issues & the current political administration.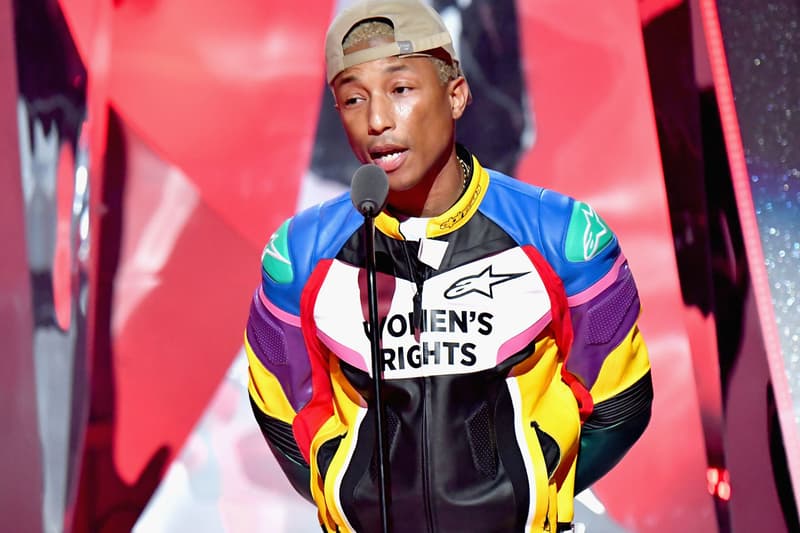 "Pharrell Williams is one of the most talented artists of this generation, there is no doubt about that," states Ludovic du Plessis, global executive director of LOUIS XIII when asked to comment on the artist's relevance in today's pop culture market. Known to many as an iconic trailblazer responsible for helping shape much of what we know as '90s hip-hop/pop, Pharrell has laced tracks for the entire musical collective it seems, hitting various categorical genres, generational time gaps and the crosswind of talent residing in each. Today, the talented creator is widely celebrated as one of the most respected multifaceted artists, laying down a legacy that spans not only music, but film, fashion and television.
It is this interdisciplinary approach to the arts that has endeared Pharrell to the LOUIS XIII family — making him the all but obvious choice to front its newly-hatched call-to-action campaign. Dubbed "100 Years," the initiative aimed to help raise awareness for global warming — a cause the brand has dedicated years to help curb as full-fledged members of the United Nations "Global Compact" organization. For those who can recall, and for the many that can't, the cognac connoisseur first partnered with renowned actor John Malkovich in 2015 to create 100 Years: The Movie You Will Never See. The thought-provoking film centered around the past, present and future of the world we inhabit, and the dire state of affairs attributed to it. "He is such a talented actor and creative visionary, because he loves wine and spirits, and because he speaks better French than me," du Plessis shares when asked about the venture and Malkovich's involvement.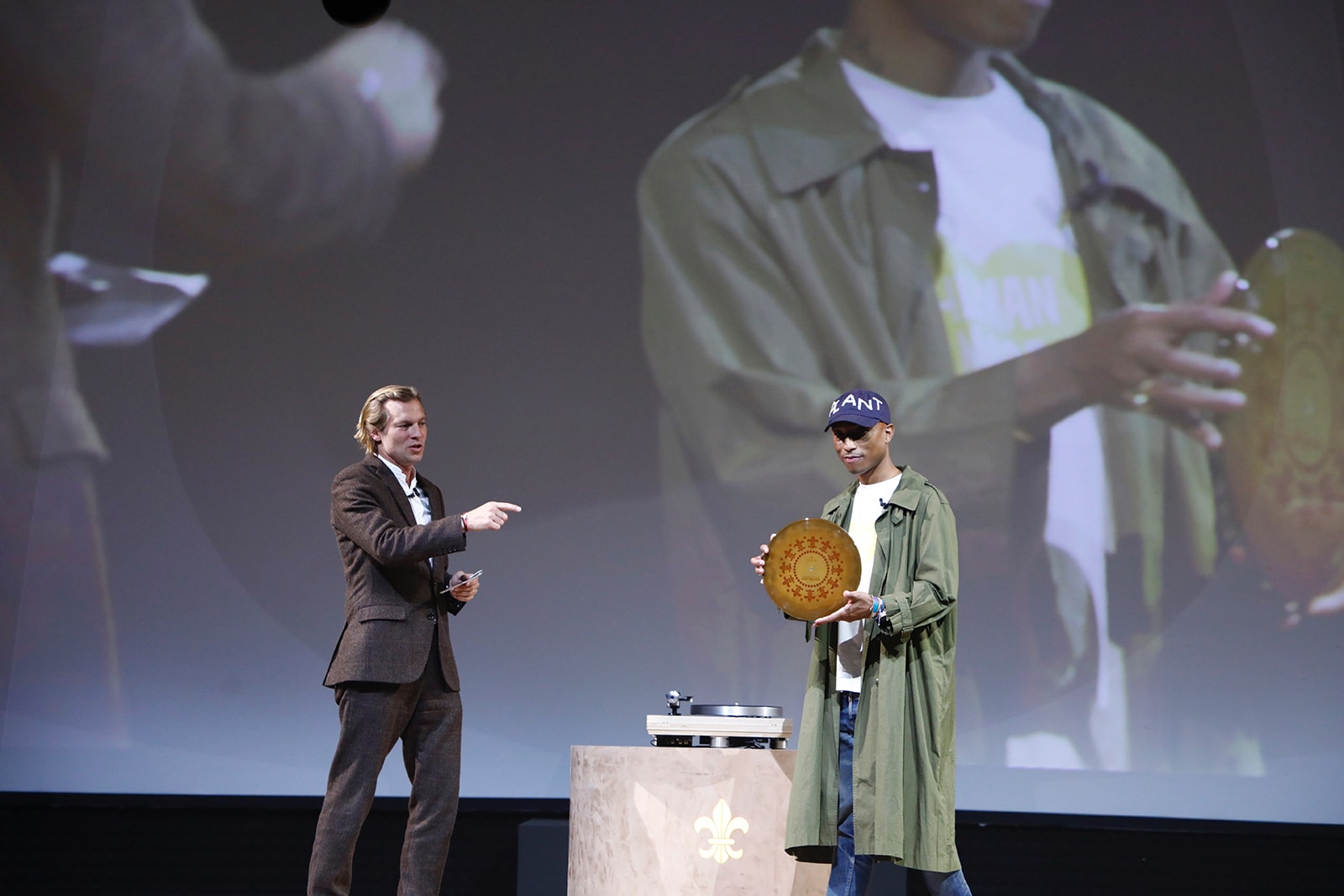 With the same narrative still in play, du Plessis and his team felt it time to shift creative gears — taking the spirited fight to song, so to speak. Riding along the same wavelength as the aforementioned film, Pharrell was then brought in to compose a track that addressed the delicate interplay between nature, time, and the effect humans have on their own environment. "He knows exactly what LOUIS XII stands for and our vision, he understands that we think a century ahead. Most importantly, he really cares about the planet," du Plessis counters when speaking of Pharrell. The track was successfully recorded on a disc fashioned from clay — taken directly from the soil of the brand's Cognac region, and locked in a state-of-the-art safe, which is now stored away deep in the cellars of the storied spirit makers. "I wanted to make an artistic piece, a song, but no one will be able to hear it before 2117 to show everyone the time it requires," the global executive director tells us in our sit-down interview. He later adds, "If we don't change our behavior, the ocean will rise to a certain point and maybe the safe will be underwater and the song will be destroyed forever. That's why the name of the song is '100 Years,' and we will all be able to hear it in 2117. But, only if we care enough about the planet."
Referring to "100 Years" as a sarcastic postcard for the countless pessimists and nationalists who don't believe in real science, the multi-Grammy Award-winning artist found it necessary to use his voice in addressing certain political figureheads and their "misguided" social agendas. Speaking with HYPEBEAST and other media channels, Skateboard P touches on the current political administration, saying "You look at what's been going on in the past year and you look at the supremacy being so pronounced. You look at the choices that we had, and the way the public reacted to it, how some stayed quiet… how other people went and supported this administration and only paid attention to the small percentage of things they care about… that turns me all the way up."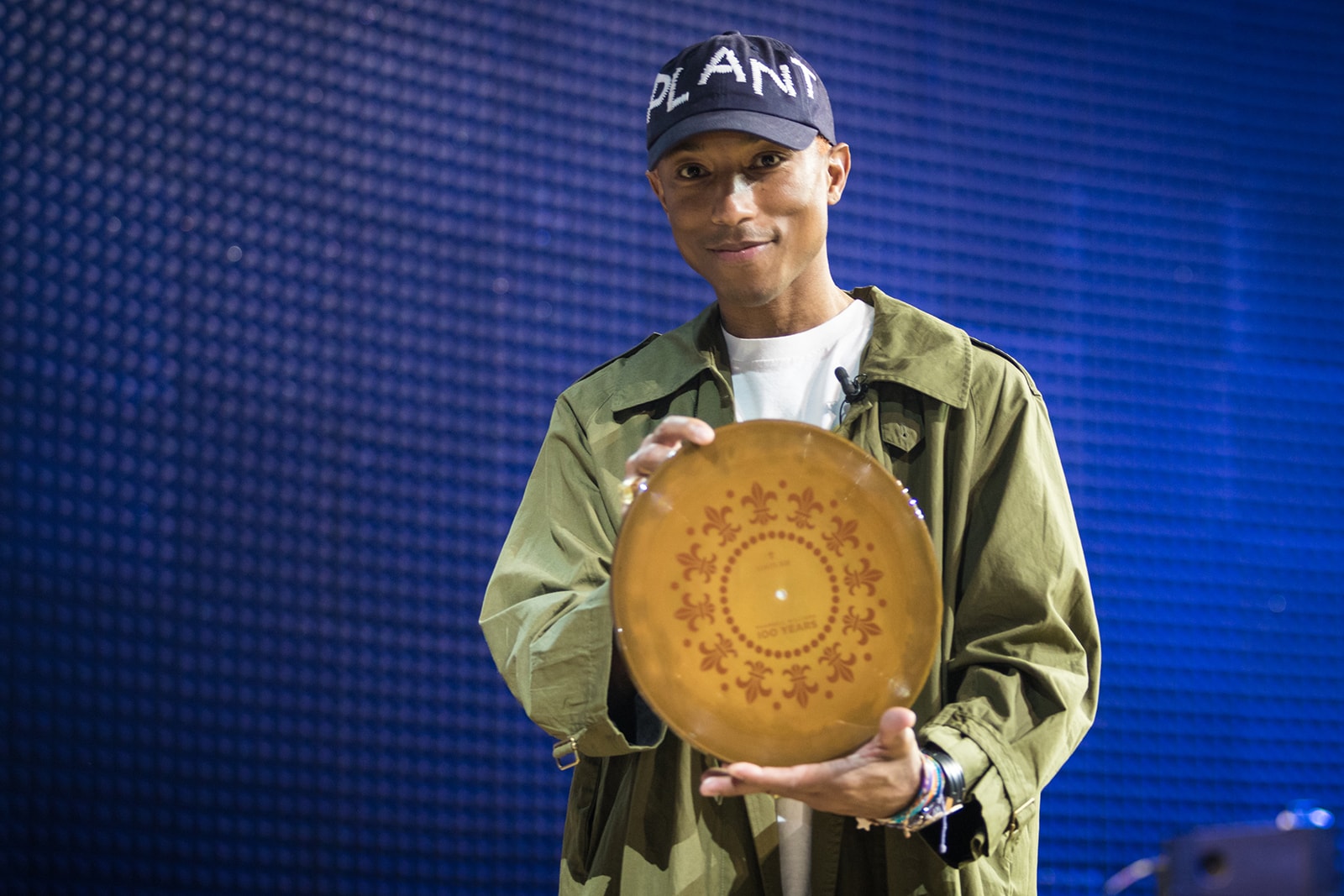 Further, when asked how he would have approached creating the same song, "100 Years" 10 years ago, he replied with, "Back then, I never would have thought our leaders would be our leaders. I mean we were complaining back then, I had written 'Lapdance' about Bush. I just really didn't see this coming… but in 2015, we thought this guy could win because he had a team that understood the Internet. Let's face it, he is the best troller of all time. He will see something that is happening and will come up with an explanation for what is about to happen and his followers will blindly follow him and will believe anything." Passionately embroiled with discussing America's current state of affairs, his mood lightens and a wry smile plasters his face when talking about the younger generation currently coming up. "I love it that the kids do all of the black dances. I love it that they love our music, they love our clothes… I fucking love it." He later adds, "I'm not super vocal about it, but I'm activated and I'm in it. We're fighting the good fight in our music, in our apparel, in our shoes, in the design. Anything that I am making, you should know that there is definitely some enlightening DNA. I don't want to do anything for pure aesthetics anymore. Not only is it a waste of a tangible material good, but it's kind of like a sin," when commenting on his own personal stance and methods of fighting back.
Pharrell echoed the exact same sentiments and tone in the song itself. Amongst the 100 lucky guests in attendance, the artist put needle to disc — finally playing the song for a room full of anxious ears. What first resembled a lighthearted circus-style jamboree — eventually brought forth a wave of anticipation, with those in attendance wilfully awaiting a heavy baseline drop. As expected, a hard-hitting beat crushed the speakers as P hastily went about his story. "I got to air out my grievances and the way I felt. That really excited me because I got a chance to properly channel it. I feel if you channel it in the right way, there could be some education in it for you and you can become enlightened," Pharrell recounts when touching on the main inspiration points of the track.
For our generation and the one directly to follow, "100 Years" is already lost — a song never to be heard. But maybe that's the point. The song is not meant for us; the actions guiding us to the year 2117, however, are. The tune is but a mere reward for our descendants to come, a celebration to be had — commemorating we as a collective society, doing something right.
"I strongly believe and I have no doubt about this, in 2117, our descendants will be able to hear this song. So my point is, if we take action now, we will be there," du Plessis cheerfully closes with.