What Fashion Insiders Think of Palace x Polo Ralph Lauren
Experts analyze the collaboration.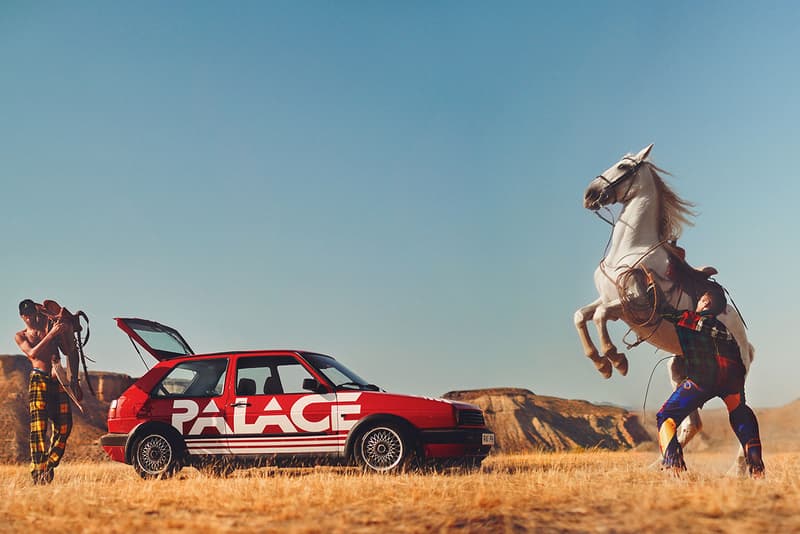 Last month, a string of billboards appeared all over the world, teasing an unexpected collaboration between London skate label Palace and the all-American Polo Ralph Lauren. Since then, the collection — which Palace described as "a love letter from a young London skateboard company to their favorite brand in the universe" — has been officially unveiled in a short film followed by a David Sims-shot lookbook and now a closer look at every piece.
Palace co-founders Lev Tanju and Gareth Skewis also explained how the collaboration came about, with Tanju telling Business of Fashion that Ralph Lauren is "the only brand you can wear to a board meeting, a funeral and go to the football in — and all in the same day." Both Tanju and Skewis also discussed the motivation behind the collection. "We don't want to rest on our laurels and do boring stuff; we want to keep it fun and exciting," explained Tanju, while Skewis added: "collaborations — it's what people do now, it's like seasons. For me and Lev, this is a massive moment and a real pinnacle."
Discussing the collaboration from a Ralph Lauren perspective, journalist and author of Genuine Authentic: The Real Life of Ralph Lauren Michael Gross believed that the link up made sense. "Ralph has always been in the socio-cultural vanguard," he explained over email, "25 years ago, when I profiled him for New York Magazine, he had just introduced high-performance sports clothing suitable for both street and field, and hired Tyson Beckford as the face of the line. Today, collaborations are in fashion, so of course, Polo/Ralph Lauren is there. I have no doubt that Ralph, as a hands-on micromanager, was very much involved in the decision to partner with Palace."
Despite this view, not all Ralph Lauren fans are happy about the upcoming collaboration. "Its not going to have an influence in America, not within Lo Lifes," adds Thirstin' Howl the 3rd, rapper, OG Lo Life and co-author of Bury Me With the Lo On. "It's not the same kind of style. It's definitely not going to capture any Lo Lifes, not the ones who really live the culture." Considering these different opinions, we caught up with some fashion industry insiders to hear what they thought of one of 2018's most surprising collaborations.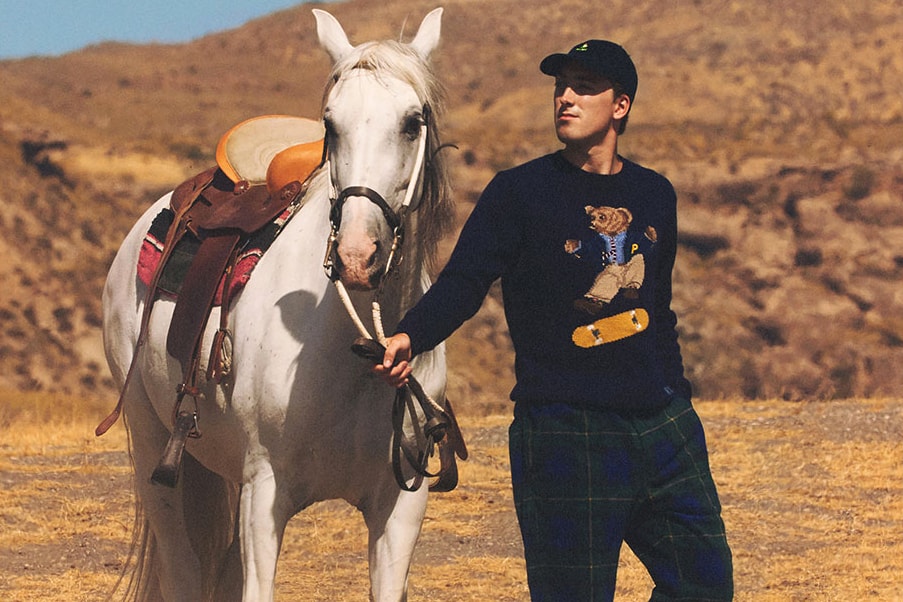 First off, what do you think of the collection?
Lawrence Schlossman, brand director at Grailed: While the collection is more bullish on the seemingly incoming prep revival than I am myself personally—and to be clear this is what Polo has been doing for five decades—I think it is perfectly spot on and exactly what I expected in the best possible way.
Milo Harley, owner of Duke's Cupboard: To be honest I quite like the collection. I was pretty surprised when I first heard about it as I don't think Ralph have have collaborated with any brands in the last 50 years ? (not 100% sure on this but pretty sure) — so it's a pretty bold move. I think the polo bear knit with the skateboard is a nice touch, and personally my favourite piece is the mixed flannel shirt, I'll probably grab one of those.
Paul Ruffles, brand consultant: What's not to like about it? There is pretty much something for everyone — I think its been done with a lot of thought and clear, genuine love for Ralph and fair play to Ralph for trusting their vision.
Jason Jules, writer, stylist & brand consultant: In pure design terms I think it's a real triumph – the aesthetic of classic Polo, remixed by Palace and cut to their silhouette. It's bold and playful and that's what you expect from Palace and the collection's all the more impressive because they've done it with someone else's brand, not just theirs. It kind of looks like someone gave the Palace designers the keys to Polo's 90's archive and let them run riot and I suspect, even if it wasn't the actual process, I suspect that was the intention.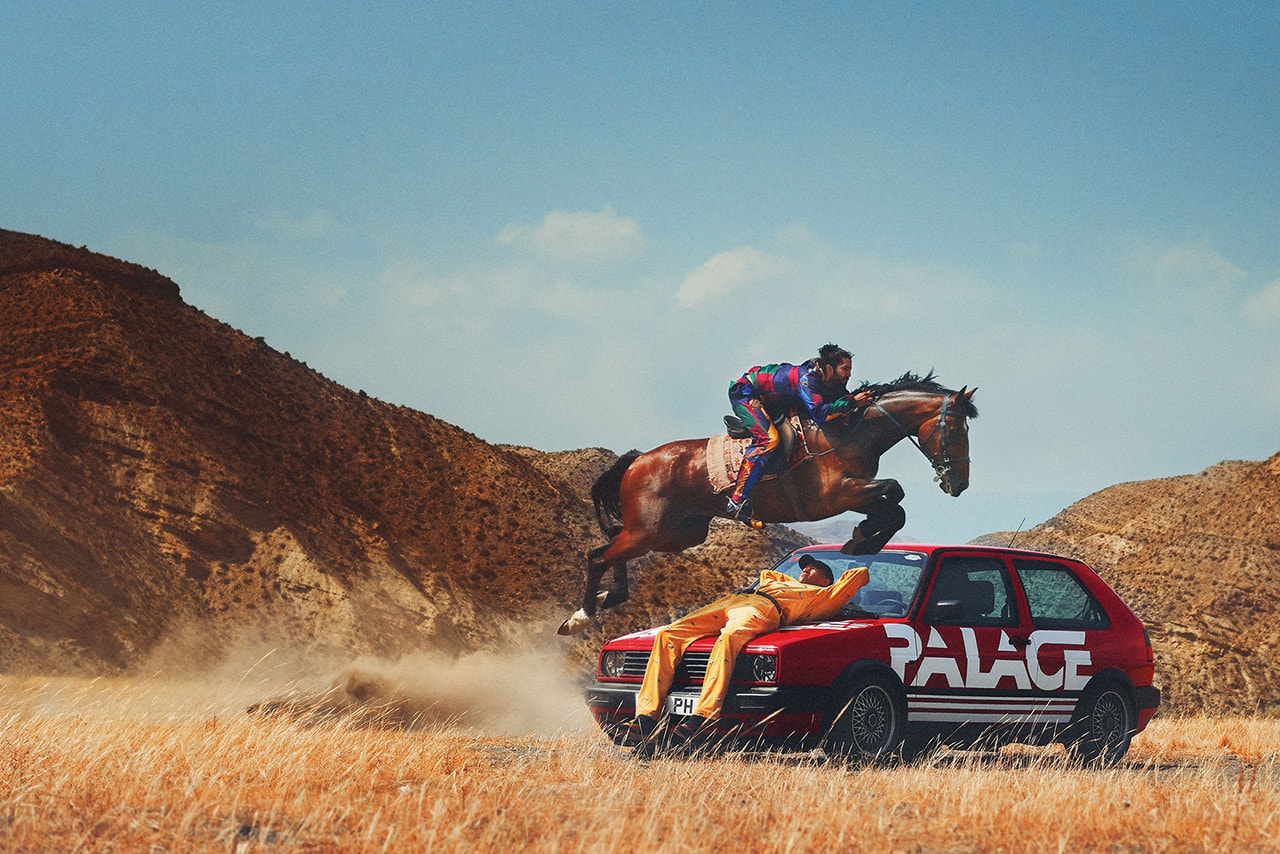 What do you think the two brands have to gain from this collaboration?
Lawrence Schlossman: I think it's pretty obvious that Palace stands to gain the kind of industry cosign that can change an independent streetwear brand's entire trajectory, while Polo gets some added 2018 relevance and the kind of in-the-know boost that can only come from working with a brand like Palace.
Milo Harley: I guess it's a good look for both brands. One thing for sure is it gets people talking, Historically there's not many brands like Ralph Lauren — in my opinion most modern street wear brands have taken influence from them somewhere along the way. I guess it says a lot about streetwear at the moment. But the hype around streetwear especially with younger generations Is something I guess Ralph doesn't really have access to – you don't see big queues outside polo every other week. In this respect maybe a new kind of audience will look at polo in a different way after this collab.
Paul Ruffles: Both will have broadened their audiences and shared the individual powers of their respective brands with this collaboration for mutual benefit – which is one of the main purposes of a proper collaboration. It's also a clear and honest reaffirmation of what both brands are about and how a colab should be done at a time when most colabs don't mean sh*t and are an obvious sign of chasing wins by dipping into cultures they have no real care for and no understanding about – with this, both Palace and Ralph Lauren's identities are clear, respected and not compromised – look at the promo videos even?! They are an almost perfect amalgamation of both brands – the tonality, the music, it just needed Ralph himself riding off into the sunset, I mean seriously…
Jason Jules: Both brands have a win-win here – short term and long.  Even at it's most basic, introducing premium Polo branded product to Palaces customer will only act as an invitation to those customers to take a look at what else Ralph Lauren has to offer. On another level, even more so perhaps than the Snow Beach product earlier this year, it acts as a way which compels the brand to shift its attitude internally too. Kids, streetwear kids will be heading into Ralph Lauren stores, places they might have previously felt unwelcome – and, not looking for a specific collection or collab but for the brands wider offering secure in that knowledge that they are in fact among the brands target audience and also that the staff are also attuned to that fact. You get the sense that Ralph Lauren have learned from the tensions that were created from the lack of reciprocity experienced by previous street wear generations, and are doing what they can to avoid repeating past mistakes. For Palace it's even more of a game changer. They've done the unimaginable and on their own terms. When it comes to streetwear, they're still relative newbies, but with this one move they've demonstrated a level of maturity and savvy to match any of the much longer established streetwear brands.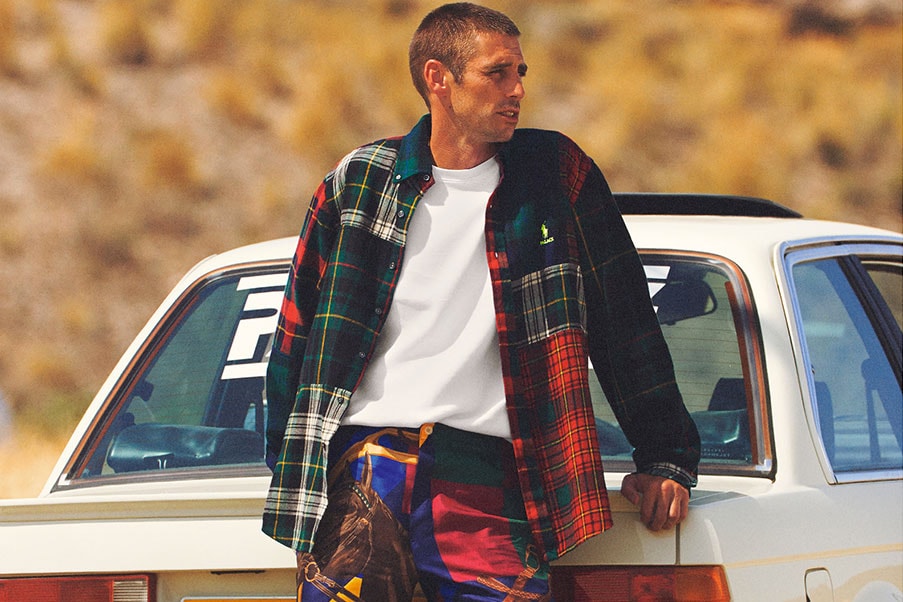 What does this say about the direction of Palace?
Lawrence Schlossman: To me this proves that Palace is now firmly in that top tier of streetwear brands that transcend the genre. They're not neck-and-neck with Supreme yet, but the sky is the limit.
Milo Harley: For Palace, It really shows how far they've come. I remember back in the day buying Palace out of Slam City Skates before they had a shop. Now they have stores in the biggest cities in the world and are collaborating with brands like Ralph Lauren, it's pretty mad. It's cool to see a British skate brand doing such big moves.
Paul Ruffles: It says they mean business but also that, to me, they know exactly what they want and how they want to do it – which has always been the case with Palace this just takes it up levels. Clear brand identity and consistency is so important now in world awash with products coming at you 24/7. It's no surprise to me that the brands that have this are the ones standing out — not that this is a new way to run a brand, it justs seems many forgotten and are therefore following/chasing. I think this is also a realisation that streetwear brands like Palace and Supreme are getting younger than ever and this collaboration has something for a broader scope of ages.
Jason Jules: I don't think this collab is in anyway a detour or a diversion Palace as a brand. Ever since I met Lev and Gareth and also Nugget, Charlie and Rory, years ago it was obvious to me that this is where they were heading and what they were about. To me, they bore all the authentic markers of becoming a truly global British streetwear brand. Over the years I've had tons of conversations with them about stuff like chinos, button-down shirts, go-to-hell trousers, madras shorts, loafers and brogues and of course Ralph Lauren, that this project not only makes perfect business sense, it's also as authentic and true to what Palace as about as I can imagine.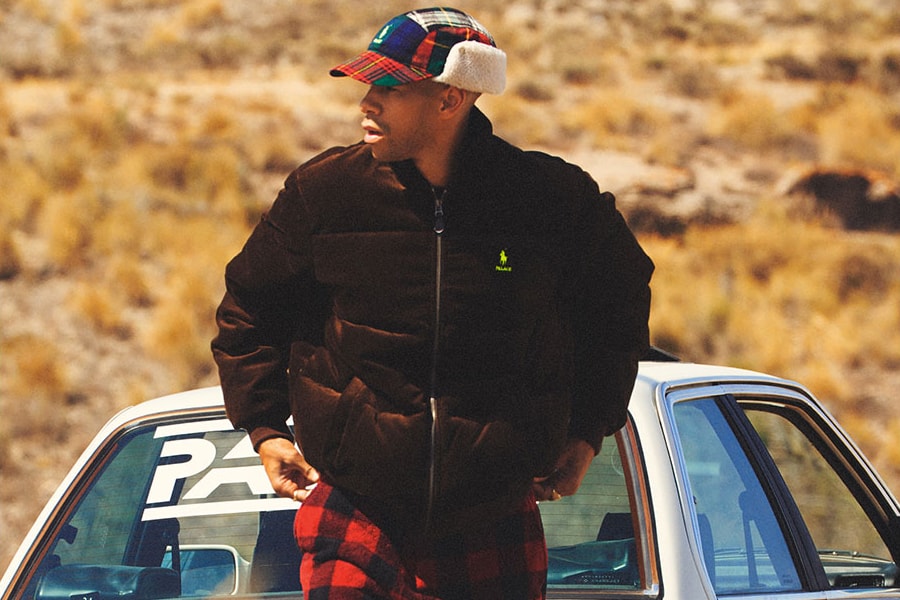 What does this mean for Polo Ralph Lauren?
Lawrence Schlossman: I think this collaboration speaks to Polo Ralph Lauren's complete willingness to finally play the game so to speak. They've already shown signs of this with their reissue drops of various iconic capsules the past few seasons and the launch of their app, but this collection with Palace really seals it and leaves no doubt they're on board.
Milo Harley: I guess for Polo it shows they are trying something new. 5 or 10 years ago they wouldn't have done this. We have worked with them on a few jobs this year for the retro re-releases for the snow beach collection and CP-93, personally this is some of my favourite polo ever made when it came out the first time round. The fact they re released this stuff shows that at the moment they are trying to appeal to a new kind of audience as I guess the people who were into this stuff when it first came out aren't your typical polo customers. I think it's clever or Ralph to team up with Palace, even big brands like Ralph Lauren need to keep it moving – try new things and keep things fresh.
Paul Ruffles: This was a smart move by Ralph. Let's face it, Ralph was getting older with its audience and this brings it right back into a more youthful audience without upsetting its current audience. I can imagine both parties met several times and it became clear to Ralph that Palace love Ralph (as I know they do) and trusted them with their vision.
Jason Jules: For Polo, this collab is the perfect counter balance to reaching their 50th anniversary mark. It's as if they're telling the world, sure we've got half a century under our belt, but we're still as relevant, if not more, than any other luxury or high-end brand you'd care to mention. It says that the brand is still hungry for new customers and willing to take on new ways of appealing to them. It also says that unlike in the past where the notion of streetwear was something of an alien concept to them, the current generation of people at the brand get streetwear and understands that what streetwear is about and what Ralph Lauren is about are actually complementary and in no way conflicting. And even with the Supreme collab and Virgil at Louis Vuitton and even with Thom Browne dressing the likes of Lebron James and Lionel Messi, that notion right there is kind of new.
Why do you think Ralph Lauren made this unprecedented move now?
Lawrence Schlossman: I think Ralph Lauren needs the juice and the sales at this point in time. Simple as that.
Paul Ruffles: Like I said, Ralph was growing older with its audience so it seems they decided to do something about it. The timing is bang on as it seems the fashion world (and others i'm starting to see) is currently obsessed with all the facets of streetwear – the passion, the hype, the working processes, the colabs etc. Ralph is one of those brands that once you get in to it you never leave it and them doing this makes Ralph desirable to new audience that can eventually grow older with it all over again.
Jason Jules: Historically Ralph Lauren always seems makes these killer moves whenever there's a major shift in the market. In recent years for example, they launched the short-lived sub-label, Rugby when brands like Abercrombie and Fitch were on the ascendance. They rolled out RRL when the whole heritage trend in menswear was dominating the market. Not to mention Polo Sport and Snow Beach. This is them stamping their authority on the luxury streetwear trend in much the same way they did with previous trends, only with the awareness that they need to a work with brand such as Palace in order to bridge the potential authenticity gap. Like a lot of what Ralph Lauren does this is both tactical and strategic.