ICYMI: Ian Isiah, Ashnikko, Benny The Butcher and More
Other artists include Stella Santana, Statik Selektah & Termanology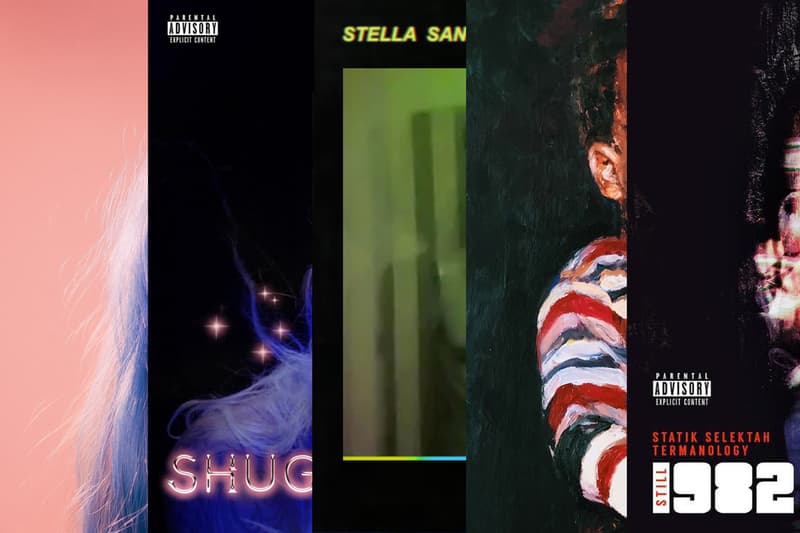 It's been a busy week of music, with a ton of artists are dropping bodies of work. To make sure our readers are all up to speed, HYPEBEAST offers ICYMI, a list of significant new projects, songs and videos that have been recently released but you may have missed. This week's selections include music from Ian Isiah, Ashnikko, Benny The Butcher, Stella Santana, Statik Selektah & Termanology.
Ian Isiah – Shugga Sextape, Vol. 1 [UNO NYC]
Brooklyn-based Ian Isiah dropped his Shugga Sextape, Vol. 1 project and its one of the most interesting underground releases of 2018. This is Isiah's first full-length since his 2013's The Love Champion. Raised in the church, Ian Isiah spoke in a recent interview about celebrating spirituality in between the sexually themes throughout Shugga Sextape.
"It's a celebration of you living out your wildest dreams sexually," he explained "I want people to have freedom and options—is there a way to be free and optional at the same time? I'm trying to see what that formula is in music. But love is definite. Being able to love who and whatever you want. All-the-time love. Consistent love."
The eight-track LP features production from Wedidit Collective producer Juice Jackal plus Sinjin Hawke.
Ashnikko – Unlikeable [Parlophone Records]
London-based artist Ashnikko drops her new EP, Unlikeable. The four-song project features production from Ashnikko's OddChild labelmates CallMeTheKidd, Jason Julian and Culture & Tones plus a guest appearance from Kodie Shane on "Invitation." Ashnikko breaks down each track of the EP:
"BLOW"
The song starts with "Take it off and show them how much you want it," which is calling out the culture of women being exploited in music. I'm tired of being brainwashed that my body is my biggest asset. And it's me saying to myself that I will never exploit myself in a way that doesn't empower me, I will stay authentic. Me having my tits out is my choice, I'll do it if I feel like it.

It's a motivational speech to myself, a "fuck you" to the people who treated me like I didn't exist, and a reminder that I need to love myself. Recently I've had people tell me that I'm really lucky to get to where I am now. Obviously, I am lucky – I'm a healthy girl and I've lived a relatively comfortable life – but in music, I've been busting my ass for eight years. It's been a long uphill struggle, as I left my whole family to move to the other side of the world on my own. It was absolutely terrifying. That wasn't luck.
"NICE GIRL"
It was about my ex and not wanting to be someone else for someone else. I'm not a nice girl that you can make into your perfect wifey.

The waves I'm making aren't big, yet, but I still get little boys in my inbox telling me to kill myself, calling me ugly– just for having the audacity to speak my mind. Any woman with opinions is going to be hated by someone. All of my role models are unapologetically vocal with their opinions and I want to do the same. I will not be nice and lady-like just to make the patriarchy feel comfortable with my existence.
"INVITATION" – Featuring Kodie Shane
When I'm on the street at night alone and some guy blows kisses at me and follows me all the way to my door, I wish I could just take a knife out and cut his dick off… but I know I can't even stand up for myself verbally in that situation because he probably has a physical advantage over me. He could overpower me, assault me, or worse. There's always a sense of panic when a man is inappropriate and harassing you in public because the situation might escalate.

The fact that women have to fear for their safety on a day-to-day basis and are altering their lives to exist in a male-dominated world makes me want to be violent. Whenever I have to walk an alternate route home to avoid the group of guys who are harassing me I get so so frustrated. I want to regain my power the only way I know how, which is through music. I'm sick and tired of our female experience not being believed. The clothes we wear, the makeup on our faces, the drinks in our systems, the tits on our chests, OUR BODIES ARE NOT INVITATIONS FOR OBJECTIFICATION AND HARASSMENT.
"NO BRAINER"
I wrote "No Brainer" during a really emotionally tumultuous period of my life. I'm pretty sure I was crying while writing it. I'm so emo I love it. I've never written a song quicker. The song is about me finally FINALLY coming into my own and not letting a partner hold me back. It's me telling myself that it is an absolute no-brainer that I'm going to fucking smash it in my career. I have no other option. It's all I'm good at. There is no Plan B.
Benny The Butcher – Tana Talk 3 [Griselda Records]
Griselda Records' Benny The Butcher releases his highly anticipated LP, Tana Talk 3. The 14-song project features guest appearances from both Westside Gunn and Conway The Machine plus Mayhem Lauren and Royce The 5'9. Production is handled by a consistent moody feel by in-house beatsmith Daringer, as well as Alchemist.
"I give you every aspect of a hustler's life with Tana Talk 3" Benny exclaimed to Billboard. "My goal was to create a feeling you can only experience if you are living that lifestyle, or you are listening to Tana Talk 3."
Stella Santana – "Steady" [Belli Beats]
Rising singer Stella Santana debuts her new song "Steady," an ode to female energy and power. The daughter of Carlos Santana, the song spotlights Stella's dynamic songwriting.
About the track: "I wanted to shine a light on how bossy not only the women around me are, but also the women I see and hear about every day doing the most amazing work in their field. How we continually overcome and persevere through sexism, misogyny, racism and other examples of small-mindedness, which makes us even more powerful as we realize our goals as individuals and also as we support each other's goals as women within our communities."
This is his first single off her upcoming EP, which releases early next year.
1982 (Statik Selektah & Termanology) – Still 1982 [Showoff/ST. Records]
Termanology and Statik Selektah continue their 1982 series with their third installment, Still 1982. Referencing the year both artists were born, Still 1982 is a 12-track project that features Chris Rivers, Conway, Kendra Foster, CJ Fly, Crimeapple, Lil Fame of M.O.P. and more.
"I love making the 1982 projects with Statik because we have a formula we use and it always works," Termanology told HHDX. "We always have a couple conceptual songs, some really grimy, disrespectful songs, a radio song or two, some boom bap beats with scratches and a little R&B with some updated topics lyrically. We not tryna jump on every wave. We just stick to doing what we do best and doing it at the highest level."
"It's definitely filling a gap right now of just fun, traditional East Coast Hip Hop," Statik added. "No extra hype or gimmicks. Got some fun guests on it." Stream Still 1982 everywhere now.