What Did People Really Think of Hedi Slimane's First CELINE Collection?
Hedi gonna Hedi.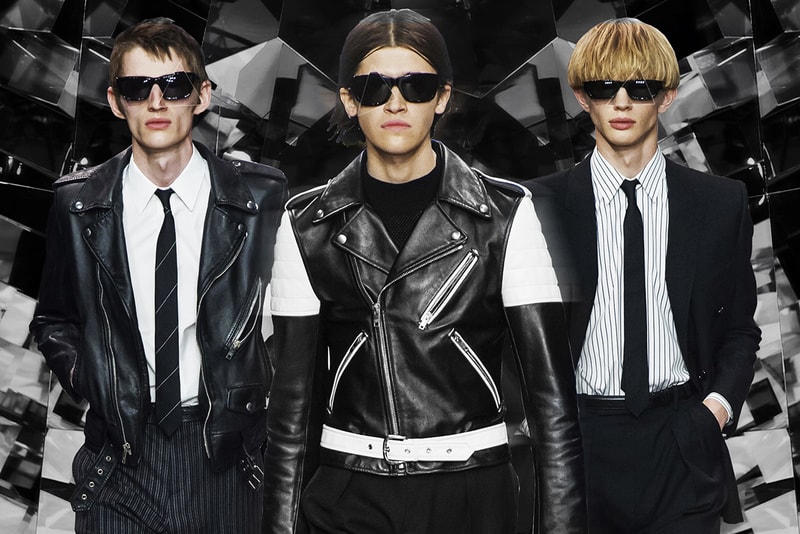 Following the rebrand, the teasers and the spread of posters — eight months since he was named artistic, creative and image director — Hedi Slimane unveiled his first collection for CELINE. Since his appointment, there had been one key question: would the collection follow in CELINE's lineage, or would Slimane bring his trademark skinny fits and rock'n'roll-inspired designs? The answer was definitively the latter.
In his only interview before the show, Slimane discussed breaking from CELINE's tradition. Speaking to Le Figaro, Slimane revealed that, for him, "The weight of the past is not as heavy as it is at Dior or Saint Laurent. We can break free of it more easily… There's no constraint, no model that is linked to a very important legacy." With this in mind, Slimane's first collection bore little or no relation to the decade-long tenure of Phoebe Philo. Instead, the collection followed in the footsteps of Slimane's previous work, first at Dior Homme and most recently at Saint Laurent.
The reaction to the collection has been largely critical. Speaking after the show (which he describes as "an ode to youth and skinniness in black and sparkle") critic Angelo Flaccavento explains that he sees it as "Slimane doing the Slimane cliche." A similar sentiment comes from Lawrence Schlossman, brand director at Grailed: "I guess I'm more disappointed in myself than anyone for expecting something new from a designer who only has interest in playing the same note over and over again. Frankly, it's become clear it's the only note he knows how to play."
"At best, Slimane's CELINE men's debut is his Dior Homme, minus any earth-shattering shock and awe. At worst, it's his Saint Laurent: gauche and vapid."
Flaccavento also raises another point concerning where Slimane's CELINE fits into the modern landscape. "It's an idea of mock-alternative French chic he has already explored at Saint Laurent," he says of Slimane's vision for the house. "Which poses a problem, since at Saint Laurent Anthony Vaccarello is carrying on the line set by Hedi before him. Now we have two identical brands, with the paradox that the original version is at CELINE." The nature of Slimane's collection — including skinny suiting and big shoulders — makes it impossible to avoid comparisons to his earlier work. "At best, Slimane's CELINE men's debut is his Dior Homme, minus any earth-shattering shock and awe" says Schlossman. "At worst, it's his Saint Laurent: gauche and vapid."
Slimane's insistence on sticking to the formula that made him a star attraction has also led to people questioning why he wasn't given his own label. Tweeting during the show, The Fashion Law's Julie Zerbo pointed out that "when you are either as incapable or unwilling to adapt as Hedi Slimane currently is, that is when you launch your own line, no?" It was a view shared by Jo Ellison in The Financial Times, who added that, if Slimane "clings on to the dogma of his aesthetic so tenaciously, and his clothes remain the same regardless of the label," why didn't LVMH set up him on his own?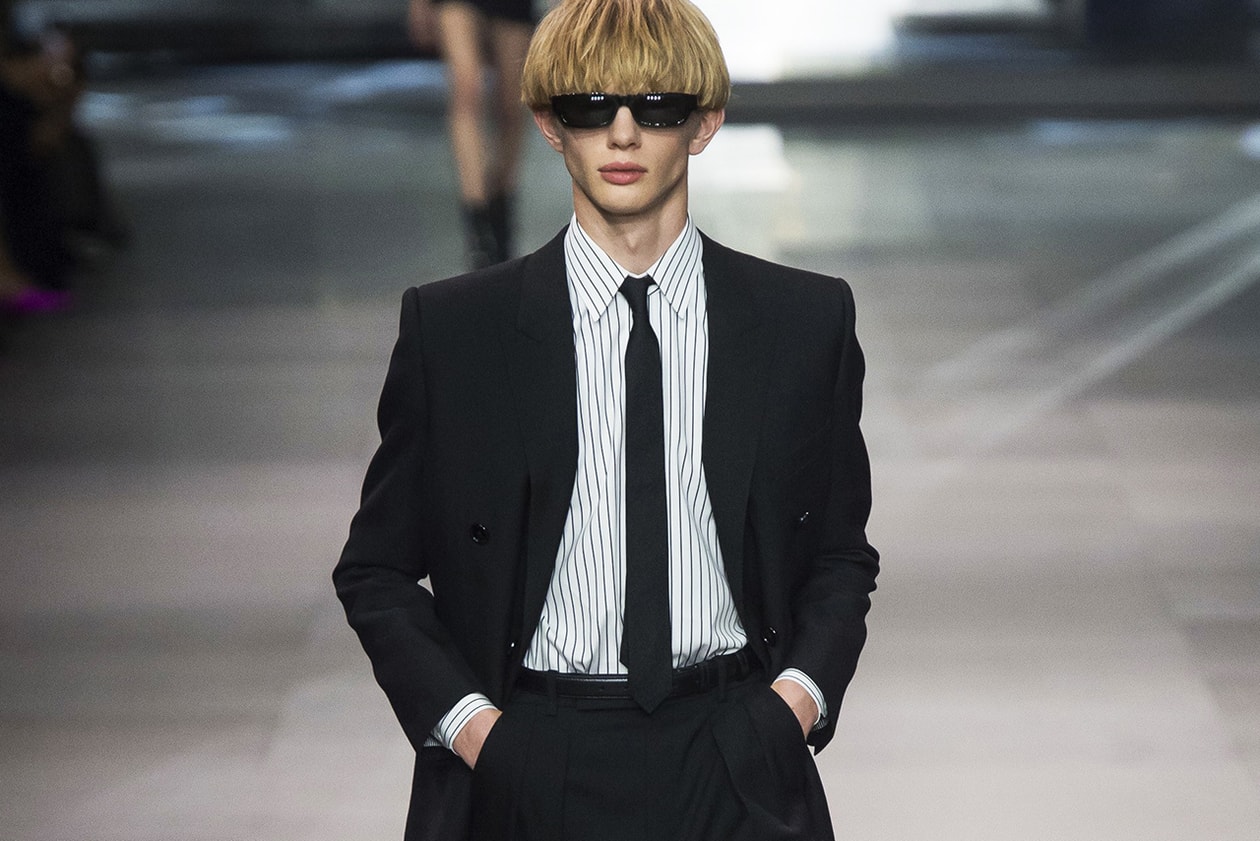 References to previous collections at other labels isn't the only criticism that has been levelled at Slimane for the show. For Flaccavento, "Slimane's obsession with youth as skinniness has narrowed the scope of the brand to a super-definite target," leading him to describe it as "excluding." Elsewhere, the show has been criticized for its casting, with issues raised about representation in terms of sizing and race. Writing in Garage, Rachel Seville Tashjian described the casting as the show's "true major issue" as well as reflecting "a disconnect with what fashion wants to stand for right now."
"It was where Slimane felt most cast in amber," adds Tyler McCall, deputy editor at Fashionista, of the casting, "in terms of a near-complete lack of diversity and an obsession with the slimmest of slim models." For McCall, the casting, and what it says about the label's direction, also poses potential commercial issues for CELINE. "It is one thing if he wants to propose his particular brand of rock'n'roll, louche fashion vision to a more mature audience, but I cannot comprehend why he insists on showing on models who look prepubescent," she continues, "are those really the types ready to shell out thousands for another slim-cut suit? I'm not so sure."
"The casting "was where Slimane felt most cast in amber, in terms of a near-complete lack of diversity and an obsession with the slimmest of slim models."
There has also been criticism of the collection for breaking too harshly from the Philo-era. The London-born designer had inspired one of the most devoted subcultures in modern fashion — the Philophiles — some of whom gathered in Paris before the show to mourn the passing of CELINE as they knew it. This group were key to the house's success under Philo (although may be replaced by Slimane's own die-hard fans), and LVMH risks cutting them loose with CELINE's new creative direction. Amidst the label's much-vaunted move into menswear, its position in womenswear may have been taken for granted. For New York Times this show was LVMH "rejecting the female gaze" for the future of CELINE, while writer Lou Stoppard described it as a "big fuck you to women who just wanted something non-demeaning to wear."
Blogger Tina Lundin — who was part of that gathering in Paris — is a self-confessed "devoted Philophile" who was drawn to CELINE because Philo's "designs don't expect you to be a certain way, you can be whoever you are, whoever you want to be. It feels like Phoebe, the designer, doesn't have her woman on a pedestal. She has complete faith in you and her job is to give you options." Slimane's era at the house runs the risk of alienating women like Lundin, who have been devoted fans of the label for the last decade. "I'm afraid they'll find themselves out in the cold, hopefully they stockpiled their CELINE pieces while they could" adds McCall of the Philophiles, although it isn't all bad news: "I do think there are a number of designers out there producing the kind of clothes those customers loved — I know Loewe has been tossed around as one such name."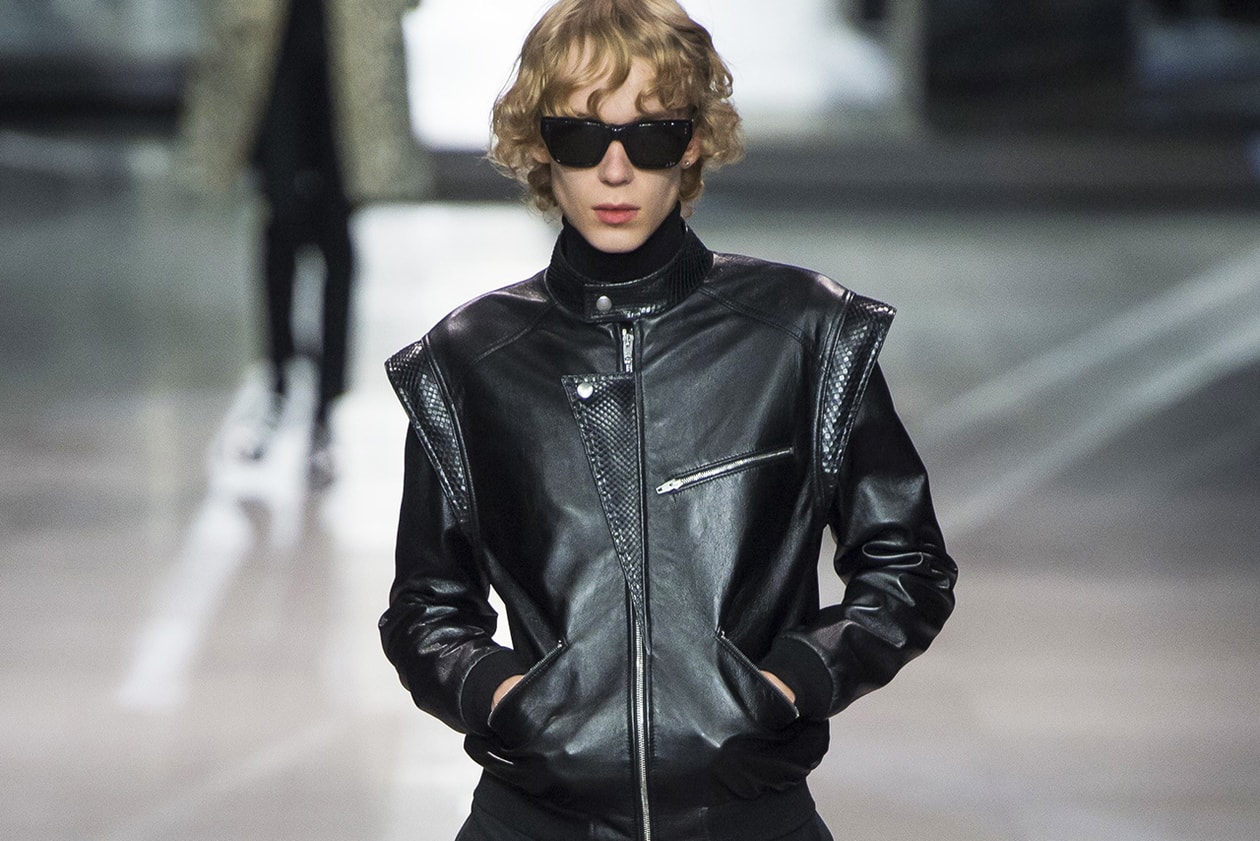 The reaction to CELINE's Spring/Summer 2019 show hasn't been all negative, though, and many support Slimane's direction. Stylist and fashion consultant Ana Gimeno Brugada believes that Slimane's debut collection was "impeccable" and a continuation of the designer's "personal vision of all time." For Gimeno Brugada, it is no use comparing CELINE under Slimane to the Philo era. "It is not comparable," she continues, "they are distinct aesthetics." Similarly, The Cut noted improvements in Slimane's collection, but couldn't avoid referencing his past, describing the collection as "the next chapter of Saint Laurent, not it's beginning." Dazed was also supportive of the collection, with writer-at-large Dean Mayo Davies describing Slimane's "historic skill is a riposte to the print 'em up and sell-em jersey streetwear narrative," while also celebrating "a designer who marches to the beat of his own drum."
Slimane is also a safe bet financially. According to The Washington Post, Slimane's four years at Saint Laurent saw the house grow by double digits yearly, eventually reaching an annual revenue of $1 billion USD. It is expected that the sales performance will carry over to CELINE, with a new audience attracted through Slimane's work. "I think this has the potential to be commercially successful," explains Flaccavento, "it will cater to a younger, cooler audience." Schlossman agrees that LVMH could have a money maker on its hands: "At least this shit is gonna sell gangbusters!"