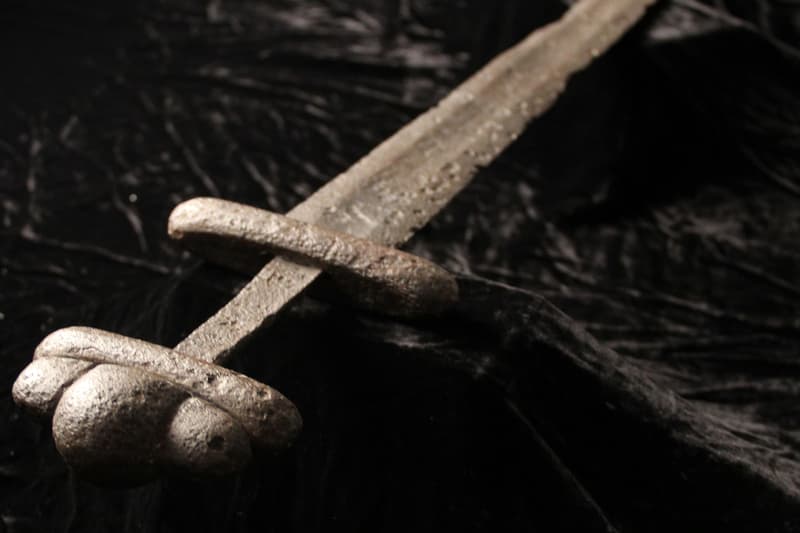 Ancient Pre-Viking Era Sword Was Discovered by 8-Year Old Girl
Casually while she was skipping rocks at the lake.
---
Earlier this year, 8-year-old girl Saga Vanecek discovered an ancient sword while skipping rocks at Vidöstern lake.
The artifact, which she at first assumed was a stick of some kind, turns out to be a 5th to 6th century sword that pre-dates Viking times, according to Jönköpings Läns Museum. Saga recounts the discovery:
"I was outside in the water, throwing sticks and stones and stuff to see how far they skip, and then I found some kind of stick. I picked it up and was going to drop it back in the water, but it had a handle, and I saw that it was a little bit pointy at the end and all rusty. I held it up in the air and I said 'Daddy, I found a sword!' When he saw that it bent and was rusty, he came running up and took it."
The weapon is constructed of preserved wood and metal, and measures 85cm in length. When the location was investigated further, a similarly-aged brooch was also found, prompting claims that the area may have been an area of sacrifice. Further searches have not yet resulted in any other significant finds.
Eight-year-old Swedish girl pulls Viking era sword from lake https://t.co/kWMkiMWR9C pic.twitter.com/nooQbc91wT

— The Local Sweden (@TheLocalSweden) October 4, 2018
Saga's father states that the discovery is quite impactful for their family. "It's cool that it will be in a museum and it might even say 'Saga's sword' and it might be there for thousands of years."
Recently, the "Salvator Mundi" by Leonardo da Vinci sold for $450,000,000 USD, but was originally discovered and purchased for only $10,000 USD.