Machine Gun Kelly Cast as Tommy Lee in Netflix's Mötley Crüe Biopic 'The Dirt'
Based off the band's autobiography.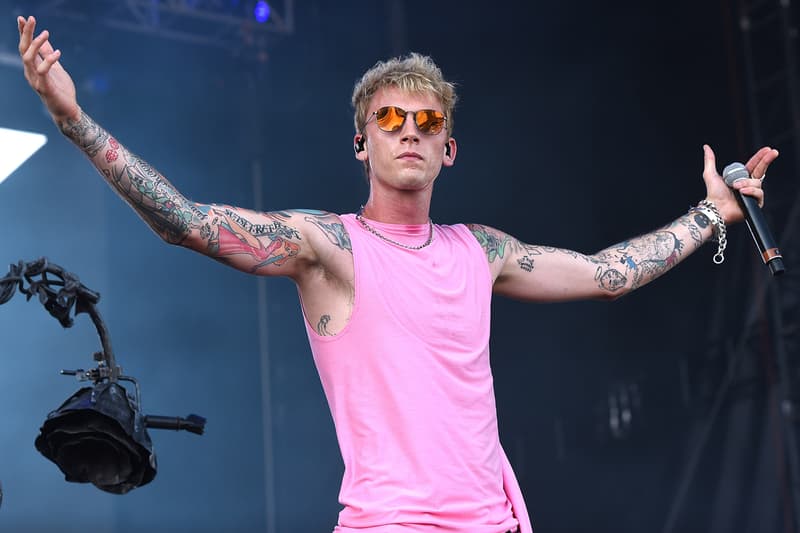 Yesterday Tommy Lee revealed that the long-awaited Mötley Crüe biopic The Dirt has started pre-production and would begin shooting in February. Tapped to play the drummer himself is Colson Baker, known by his stage name Machine Gun Kelly. Backed by Netflix, the film will be directed by Jeff Tremaine and written by Rich Wilkes and Tom Kapinos. Julie Yorn, Erik Olsen, and Allen Kovac are producing, while Chris Nilsson, Steve Kline, and Rick Yorn are exec producing. Members of Mötley Crüe are co-producing.
The film is based off Mötley Crüe's The Dirt: Confessions of the World's Most Notorious Rock Band autobiography, which detailed much of the band's days of excess during their heyday of the '80s. The group revealed plans to take their story to the big screen with Tremaine helming the effort as they started promotion for their final tour in 2015.
In recent years, Kelly has started to amass acting credits, especially for his role as Wes, a roadie-turned-problem-child-whisperer on Showtime's Roadies. Kelly has also appeared alongside Dave Franco and Emma Roberts in Nerve, and in lesser known films Viral, The Land and Punk's Dead: SLC Punk 2. Stay tuned for more details when they surface.
In the meantime, check out the hottest films and TV shows dropping in January.
and it's finally announced. ?? excuse me for being crass but….HOLY FUCKING SHIIIIIIIIIIIIIIT!!!!!!! ?? @variety ?? @netflix @MrTommyLand pic.twitter.com/rEbUi3MjUG

— GUNNA (@machinegunkelly) January 19, 2018
i got the movie to hire my little bro as my drum teacher. kept it in the family. ?? i WILL learn the drums and finish the new album before we start filming.

— GUNNA (@machinegunkelly) January 19, 2018