Fashion Insiders React to UNDERCOVER & TAKAHIROMIYASHITATheSoloist. Shows
'2001: A Space Odyssey' references were a favorite.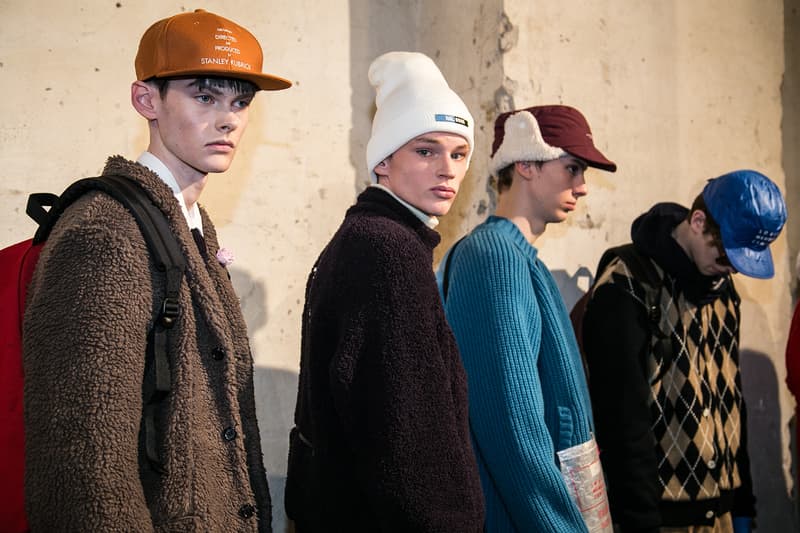 A few days ago, Jun Takahashi's UNDERCOVER and TAKAHIROMIYASHITATheSoloist. unveiled their respective Fall/Winter 2018 collections during a joint show at Pitti Uomo in Florence, Italy. As is the case with most of the bi-annual menswear trade show's guest designer presentations, the highly-anticipated event attracted top players in the fashion industry and drew legions of the brands' sizable cult followers.
Unlike its Pitti-hosted predecessors, the show shied away from elaborate theatrics and lush set design, opting instead for an understated, combined showing that took place inside a dimly-lit Leopolda station. Dubbed "Disorder/Order," UNDERCOVER and TheSoloist presented their collections back-to-back within a theme that harkened space travel and futuristic societies, the former making overt references to Stanley Kubrick's 2001: A Space Odyssey and the latter taking a more ambiguous approach with designs that tapped post-apocalyptic cowboys.
With commotion still stirring around the show in the blogosphere, we spoke to three fashion industry insiders to hear what they really thought of both shows and why there were considered one of this season's biggest highlights.
Alex Kasavin, Idol Brooklyn Co-Founder
The 2001: A Space Odyssey-inspired UNDERCOVER show had all the elements of a post-apocalyptic space opera: a hypnotic soundtrack, languid pace and recurring leitmotifs. From UNDERCOVER, what immediately jumped out at me were the the futuristic fanny packs and glowing HAL 9000 electric eye rings.

TheSoloist collection combined the complex layering of Takahiro Miyashita's final collection for Number (N)ine with the new tech-luxury direction and otherworldly silhouettes of the current FW17 collection. I'm excited to see how this will break down in the showroom and hope that some of the more adventurous pieces from both designers will find wearers to transport the vision from the catwalk to the streets.
Jean-Philippe Lalonde, Salomon Special Projects Manager
Upon entering the repurposed train station, you were transported in space that felt far away from the bustling activity of Pitti Uomo. The meticulous execution of the show scenography contributed to amplify both designers' work.

UNDERCOVER's show embarked us on a voyage to a utopian/dystopian vision of the future presented with beautiful references from 2001: A Space Odyssey. TheSoloist further prolonged our journey in the future by showcasing very unique utilitarian silhouettes for "The Day The World Went Away." The use of quilted insulation, matte rubber, heavy hardware and abrasion-resistant fabrics contributed to create a compelling story.

Walking out of the venue back to the streets of Florence was certainly a clash. Thank you to Jun Takashi and Takahiro Miyashita for inviting us on this expedition!
Edward Maradona, Cabinet Noir Buying Director
The show felt more like a movie than a fashion show. The combination of music, stage production and the actual collections themselves gave me goosebumps. For UNDERCOVER, when the lights turned on, it was as epic as seeing sunlight appearing on the horizon at the beginning of a sci-fi movie. It was fitting to see how influenced the collection was by Stanley Kubrick's 2001: A Space Odyssey. We saw a lot of prints referencing HAL 9000 going berserk. I loved the accessories, especially the light up ring and futuristic bum bags. Only Jun knows how to pull gimmicky pieces without looking cheesy.

Skirts on men have been done before (Comme des Garçons, Givenchy, Rick Owens, etc) but for some reason, this time they actually looked good, rather than trying to be disruptive and controversial. We will see more gender-breaking fashion coming into play next season (without the help of Jayden Smith).
The ending of Jun's show was funny yet epic at the same time. I couldn't hold my giggles seeing the models come out in Astronaut outfits, but then again, I could see myself wearing them on the streets.
Takahiro Miyashita to me is an artist using fashion as his medium. His collections always challenge my perception. He is not bound by any rules when it comes to creativity. This season he didn't disappoint. I was left speechless and trying to figure out what he was trying to say by having his models covered in hoods and masks, while styled in layers upon layers of jackets, vests and garments. If art is subjective, then maybe it is best to let the audience and consumers decide what to make of it.

Be sure to follow Fashion Week Fall/Winter 2018 for the latest sartorial happenings this season.