Here Are All of Coachella's Past Lineups
Which year is your favorite?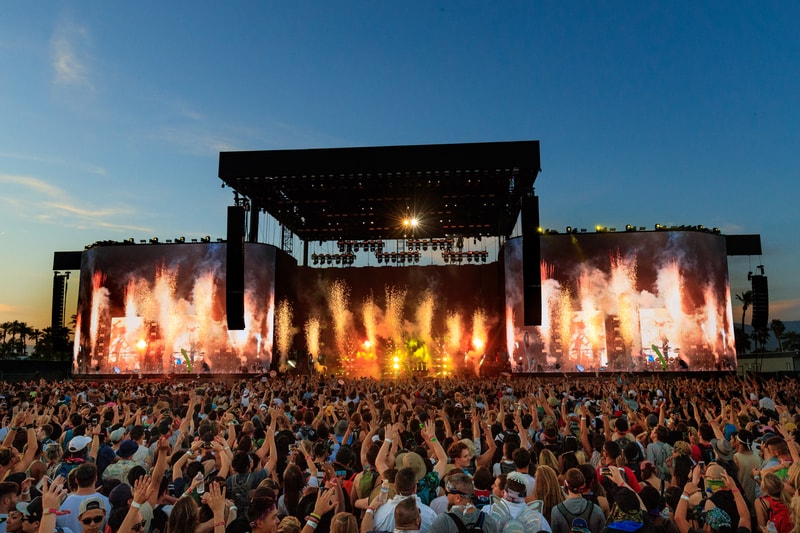 Yesterday, Coachella Valley Music and Arts finally unleashed the lineup for their 2017 festival. The rumors were confirmed — Kendrick Lamar, Beyoncé and Radiohead are headlining. In addition, artists like Travis Scott, Future, Gucci Mane, Lil Uzi Vert, KAYTRANADA, ScHoolboy Q, Justice, Hans Zimmer, Bon Iver, Kehlani, Tory Lanez and more are set to perform. Set to take place at Indio, California on April 14-16 and April 21-23, passes will go on sale on January 4 at 2 p.m. EST. Learn how to purchase the tickets here and check out the advanced sale information here.
In celebration of the lineup and in anticipation of the forthcoming festival, we've put together a timeline (as well as some information) on all of Coachella's past lineups — from the festival's inception in 1999 till now. Which year did you feel had the best lineup?
1999
Headliners: Beck, Tool, Rage Against the Machine
Ticket Price: $50 USD per day
Attendance: 25,000
Gross sales: Approx. $1,850,000 USD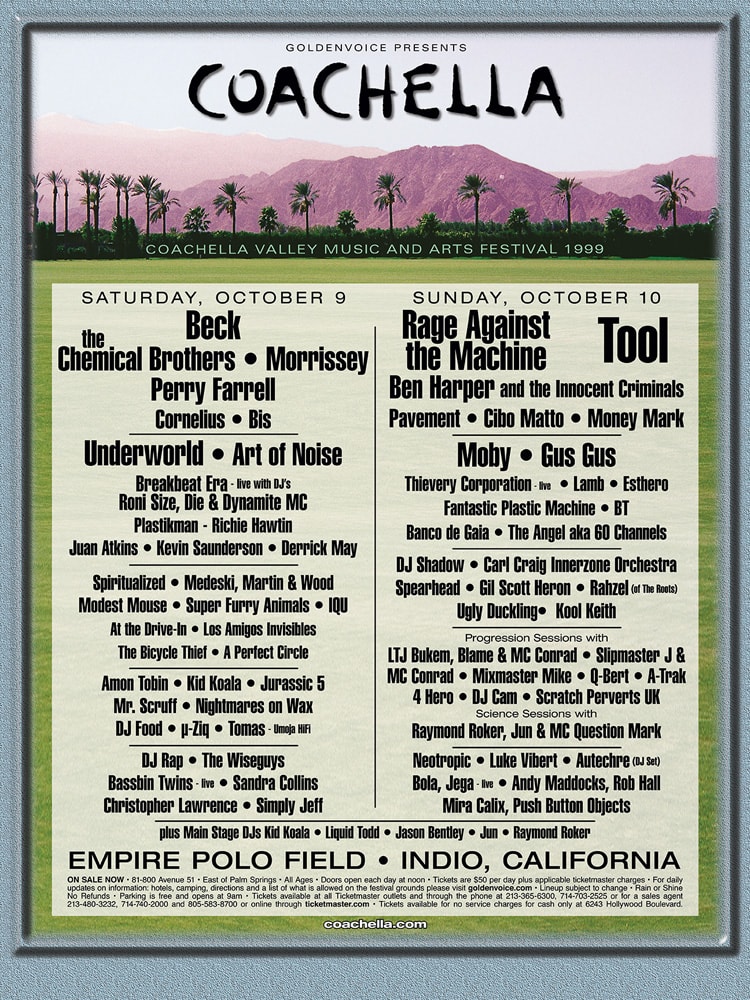 2000
Goldenvoice, a subsidiary of AEG Live as of 2001, lost $850,000 because of the first Coachella. It struggled for almost two years to survive as a company, having 1999's headliners agreeing to receive deferred compensation. Although tentative dates were reserved to get the festival going again for 2000, it was cancelled. Instead, electronic dance music festival Nocturnal Wonderland took its place at the Empire Polo Club instead.
2001
Headliners: Jane's Addiction
Ticket Price: $65 USD per day
Attendance: 35,000
Gross sales: Approx. $2,275,000 USD

2002
Headliners: Björk, Oasis
Ticket Price: $70 USD per day
Attendance: 55,000
Gross sales: Approx. $3,850,000 USD

2003
Headliners: Beastie Boys, Red Hot Chili Peppers
Ticket Price: $75 USD per day / $140 USD two days
Attendance: 60,000
Gross sales: Approx. $4,000,000 USD

2004
Headliners: Radiohead, The Cure
Ticket Price: $75 USD per day / $140 USD two days
Attendance: 110,000
Gross sales: Approx. $8,000,000 USD

2005
Headliners: Coldplay, Nine Inch Nails
Ticket Price: $80 USD per day / $150 USD two days
Attendance: 110,000
Gross sales: Approx. $9,000,000 USD

2006
Headliners: Depeche Mode, Tool
Ticket Price: $85 USD per day / $165 USD two days
Attendance: 120,000
Gross sales: Approx. $10,000,000 USD

2007
Headliners: Björk, Red Hot Chili Peppers, Rage Against the Machine
Ticket Price: $85 USD per day / $249 USD three days
Attendance: 186,636
Gross sales: $16,300,000 USD

2008
Headliners: Prince, Roger Waters, Jack Johnson
Ticket Price: $90 USD per day / $269 USD three days
Attendance: 151,666
Gross sales: $13,800,000 USD

2009
Headliners: Paul McCartney, The Killers, The Cure
Ticket Price: $103 USD per day / $281 USD three days
Attendance: 152,962
Gross sales: $15,328,863 USD

2010
Headliners: JAY Z, Muse, Gorillaz
Ticket Price: $269 USD three days
Attendance: 225,000
Gross sales: $21,703,500 USD

2011
Headliners: Kings of Leon, Arcade Fire, Kanye West, The Strokes
Ticket Price: $269 USD three days
Attendance: 225,000
Gross sales: $24,993,698 USD

2012
Headliners: The Black Keys, Radiohead, Dr. Dre & Snoop Dogg
Ticket Price: $285 USD three days
Attendance: 158,387
Gross sales: $47,313,403 USD

2013
Headliners: Blur, The Stone Roses, Phoenix, Red Hot Chili Peppers
Ticket Price: $349 USD three days
Attendance: 180,000
Gross sales: $67,200,000 USD

2014
Headliners: OutKast, Muse, Arcade Fire
Ticket Price: $349 USD three days
Attendance: 193,000
Gross sales: $78,332,000 USD

2015
Headliners: AC/DC, Jack White, Drake
Ticket Price: $375 USD three days
Attendance: 198,000
Gross sales: $84,264,264 USD

2016
Headliners: LCD Soundsystem, Guns N' Roses, Calvin Harris
Ticket Price: $375 USD three days
Attendance: 198,000
Gross sales: $94,218,000 USD

2017
Headliners: Radiohead, Beyonce, Kendrick Lamar
Ticket Price: $399 USD three days