Could Virgil Abloh Trademark His Use of Quotes?
"Quotes" have become part of Virgil's brand identity.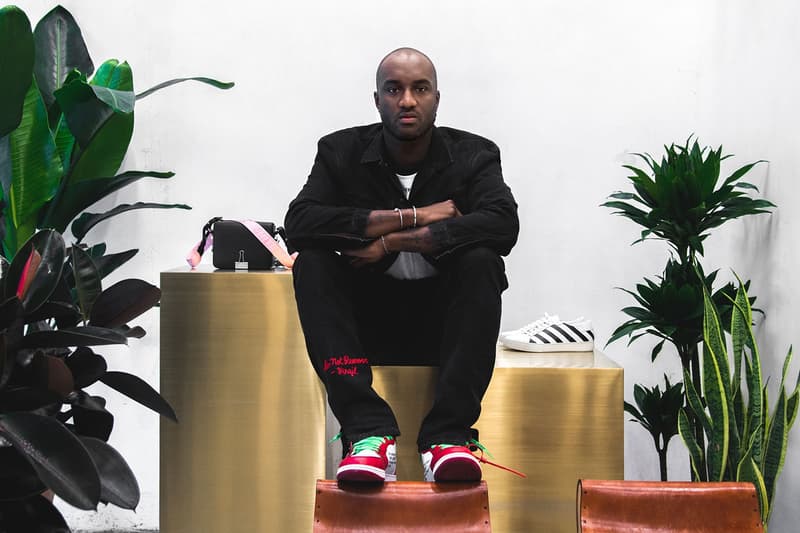 Virgil Abloh's use of quotation marks in his designs and overall brand communication with Off-White™ has become ubiquitous. As 032c's Thom Bettridge recounts, "Quotation marks are one of the many tools that Abloh uses to operate in a mode of ironic detachment." But whether for irony or just plain use of effective branding, the quotations have made a lasting impression amongst consumers. Recently, Virgil's partnership with Nike saw the release of "The Ten" and the rollout of the "Off Campus" events. Again, even throughout this sought-after collaboration, the quotes were hard to escape as words like "REVEALING" and "GHOSTING" were part of the narrative.
With all of this, it leads us to the question of can Virgil Abloh actually trademark his use of quotes? The Fashion Law blog actually lays out some interesting points and raises a few more concerns. For one, TFL notes that Mr. Abloh and Off-White™ are not actively looking to trademark the practice but then again, it wouldn't be surprising if they eventually start the process.
The main question TFL has is, "Is Abloh's use of the quotations protectable by law?" According to the article as understood in Trademark law, the way Abloh utilizes his quotes as a way to "distinguish the goods of one brand from those of another" can be protected. TFL further explains that:
Unlike patent law, which specifically requires "novelty" in order for an applicant to receive protection – there is no such requirement for trademarks. Instead, the governing requirement is whether or not there is a "likelihood of confusion" between the proposed trademark (Off-White's use of styled quotation marks around a single word or a few words in all caps in a specific font) and a mark already registered or in a prior pending trademark application owned by another party.

As noted by the U.S. Patent and Trademark Office ("USPTO"), it "determines that a likelihood of confusion exists when both (1) the marks are similar, and (2) the goods and/or services of the parties are related such that consumers would mistakenly believe they come from the same source."
Unfortunately for Abloh, other brands have already used words in quotes and have even applied for the specific patent before. According to TFL, "A quick search of the USPTO's database reveals a handful of trademark applications and registrations for various words in quotation marks for use on garments and accessories."
Abloh's use of quotation marks on everything is more evident now than ever and the novelty isn't faltering one bit. However, fans of the brand could start to realize the cheapening of the house once the practice hits its tipping point. Even with Abloh's diagonal stripes, which consumers are still fans of, has been used less — it's evident in Off-White™'s latest Spring/Summer 2018 presentation. But in terms of the "quotation" marks, Virgil Abloh looks like to be just riding the moment it's having and surely, when the appeal has worn off, Abloh will find something else to use as a brand signifier.