Virgil Abloh Says "Snobs & Haters" Feed His "Reference System" in '032c' Interview
Covering everything from "biting" to being called out by Raf Simons.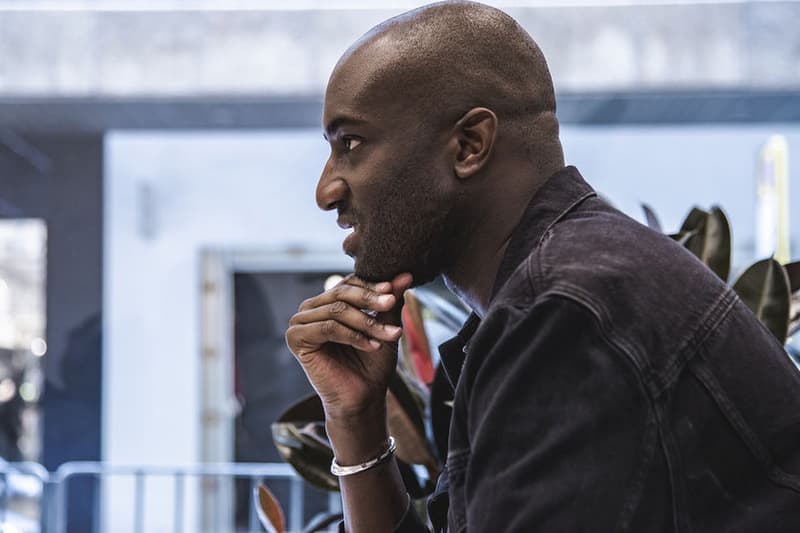 Berlin-based magazine 032c sat down with Virgil Abloh for its 2017 summer issue. The piece, by the magazine's Managing Editor Thom Bettridge, is part of the "US vs. THEM" issue fronted by Bella Hadid. The interview describes how Abloh is plotting "a fashion industry coup d'etat" before covering topics ranging from his design system to being called out by Raf Simons, as well as what he means when he describes OFF-WHITE as "open source." You can read an exclusive extract from the interview below, and you can get your hands on 032c's summer issue from its web store.
You've described your brand as being "open source." What does that mean?
It means that what I do has the instructions embedded into it, so that kids can look at the garment and think, "Hey, I can do that too." And that's true of anything from a screen-printed Ralph Lauren shirt to showing 35 looks in the UNESCO building in Paris with leaves falling. I think the best analogy for this is skateboarding. Some kid can do a trick that no one has ever seen before, but the second he films it and puts it on YouTube, ten other kids around the world can do the exact same thing. That's open source, and I embrace that.
And that's not about stealing – those kids aren't "biting" that other kid.
It's additive. You create art so that people can build on top of it. My friend just sent me Zara's new collection, and they have my jeans. Mango has two things on their line sheet that I showed in Paris one week ago. And when I see this, I think of it as my validation.
What feeds your reference system?
Snobs. Haters. It's a system enlarged by call and response. Making something successful is not just doing whatever you want. It's knowing what works, then also knowing the opposite of what works and syncing those two things up with the moment. My friends and I, we're not sheep. We're all independent thinkers. A lot of my closest friends will say to me, "Hey, I would never wear an Off-White shirt." People love saying that they're not into fashion, but then you look at what they're wearing, and it's totally normcore. So that is the tension where I find my new ideas. Because every sweatshirt that goes out into the world affects every other one. That's the feed, that's Instagram, and it creates loops because everyone is watching each other.
Was it the same in the early days – when you were smoking weed on Varick Street with A$AP Mob, still coming up with Pyrex? What influences and experiences did you guys share?
You know what it was? We were all looking up at the mountain together. We were black kids that were consumers. And we were left to be influencers. We were supposed to just buy it. And then we started feeling expressive. When A$AP and all those kids started coming downtown, wearing Rick Owens, and Supreme, and Palace, that was something no one had ever seen before. Music careers were budding. We were inventing new styles of DJing. Parties were happening. I think in a large part that whole moment sparked the generation of merchwear. Because now we're at a point where influencers are just as big as media outlets. If you have that many followers, and you're selling a 30-dollar hoodie, you can sell way more without magazines ever writing about it.