Here's Why Virgil Abloh's Nike Collab Is Important for the Culture
We talk to Benji B. & Neville Brody before London's "Off Campus" activities begin.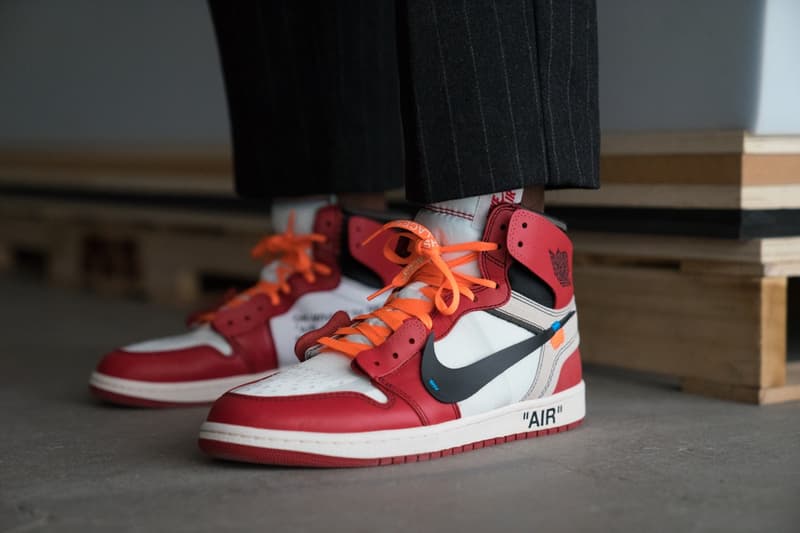 The upcoming Virgil Abloh x Nike collaboration is undoubtedly one of the most anticipated releases of the year, and the "TEN ICONS RECONSTRUCTED" have caught the eyes of everyone involved — including Benji B and Neville Brody — who will be taking part in the London leg of the collaborative "Off Campus" activities.
Brody may not be a name familiar to some readers, but the graphic designer is one of the most important cultural figures of his generation. His work on the publications like The Face and Arena was leading the way back when magazines were the primary source of information and influence, leaving their mark on everyone from graphic designers to the likes of Supreme's James Jebbia – a noted fan of The Face. The veteran designer has since gone on to found Brody Associates and work for the likes of Samsung, LMVH, Yamaha and — of course – Nike. In fact, Brody has long worked with the company, counting the David Fincher-directed "Just Do It" project figuring among his earlier work. If that still doesn't sound familiar, some of the designer's more recent notable contributions also include a Beijing street mural for Converse and his hand in the type design for the England World Cup kit.
So, with that history in mind, when Nike asked Brody to take part in this project, he obliged: "I loved the spirit of the collection and what the campus element was trying to do from a content point of view. Giving people the chance to engage with not just sport but, as an art director and designer, for people to engage with a wider culture and stimulus."
Meanwhile, Benji B is a DJ, founder of club night "Deviation" and longtime friend of Abloh, with Virgil stating in a prior interview with HYPEBEAST that he considered him to be "the Anna Wintour of this music scene." Whereas, for Benji, it's the Off-White™ designer's support of "Deviation" that brought the two together: "Virgil has been listening to my weekly Radio show and mixtapes for 12 years or more," he says. "Maybe 15. He's one of the only people I know that still references songs I played or specials that I made since the very beginning of being on air. His knowledge of my record crates and music taste is deep. I don't know many people that listen more religiously. He's been a supporter of "Deviation" since it started, both as a club night, a sound and a brand." The two started hanging out during the Glow in the Dark period and then worked together during the time of the Yeezus and The Life of Pablo records. He also notes that "whilst music culture brought us together, our friendship is definitely beyond that of just a 'industry' relationship."
And this real friendship is why he "didn't have to think twice" about taking part when Virgil personally asked him to be part of the activities, adding that, "It's a golden ticket for those that successfully apply, and an amazing and authentic concept to launch a dope project."
Brody is similarly effusive about the events, explaining, "What is amazing for me is the crossover of interests, especially the sense of cut-up and mash-up that brings different ideas into the same space and opens up questions about meaning and icons." He goes onto say that he "loves the core themes around remixing and ghosting, subverting what we usually expect from Nike. Remixing is a DJ idea that we have also worked with in our own design work, especially for magazines and some brand projects, taking iconic work and deconstructing it for now."
"Despite there being great shoes around all the time, that golden era seemed to have long faded for me, but this has woken me back up."
Benji B — who spent many years chasing down exclusive and rare Nike releases around the world — concurs, noting the design expertise needed in bringing something new to such classic silhouettes: "To bring the Air Max 90 back to life in that way that made me wanna wear 'em again, and then to touch the AF 1 and AJ 1 and chuck taylor – and bring something new and fresh to the table – on shoes that are revered on a cult like level of purity like those three classics in particular, takes a unique viewpoint," he says. "These aren't some cool-colorway unique Nike iD's. These are reconstructed and remixed versions of shoes that many sneaker heads thought didn't need remixing. To do that well with a taste level an originality ain't easy."
"Despite there being great shoes around all the time, that golden era seemed to have long faded for me, but this has woken me back up," Benji begins, before expanding on what has turned out to be a simple base desire behind his involvement with this collaboration. "When I saw the Presto I felt the 'I need those' desire feeling that I haven't had strongly for a while. I don't generally overdo it these days on buying and collecting shoes — but trust me I am getting 2 x pairs of each."
The Nike x Virgil Abloh "Off Campus" in London starts on September 14 and ends on September 17.