Noah Unveils Hurricane Relief T-Shirt
All proceeds will be donated to Direct Relief.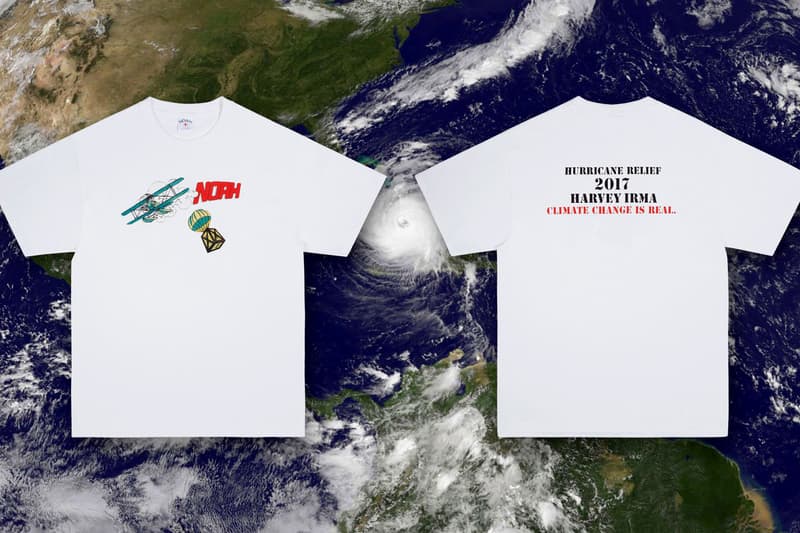 Noah's new T-shirt says it all, "Climate Change is Real" and the New York-based streetwear label is doing something for a good cause in support of the recent natural disasters that have affected so many. As Noah explains:
We've had thirteen named storms this season so far, above the average, with time to spare for the most in a season ever. Of those thirteen storms, seven have been hurricanes. It's the first season on record that has had two hurricanes at Category 4 or higher to strike the United States mainland. Hurricane Harvey broke the record for the most rainfall, Hurricane Irma broke a record for sustained wind speeds, and for the first time ever recorded we saw two storms, Hurricanes Irma and Jose, reaching 150+ mph winds in the Atlantic at the same time. It is not only the growing strength of these storms that are causing so much damage but their increased frequency as well.
Climate change has caused political divide in America but it's hard to ignore the facts, especially when they're coming straight from our government. Noah, in its quest to become a brand that highlights today's real issues, has realized the destructive path of these recent hurricanes. Through the release of these T-shirts, Noah is not only informing the public about the realities of climate change but its also looking to provide monetary help to the proper organizations.
All proceeds from this shirt will be donated to Direct Relief with the designation of aiding their hurricane relief efforts in Houston, Puerto Rico, the Caribbean, and other affected areas. Direct Relief is a not-for-profit charity organization that provides humanitarian aid around the world, and they have a long-standing record of providing emergency services after natural disasters. They were some of the first responders to provide crucial aid in the wake of Hurricane Katrina in New Orleans, as well as supporting relief efforts in the tri-state area after Hurricane Sandy.
Please stay tuned as we get more information on the release of the tee but make sure to visit Noah to read the full story on their own Hurrican relief efforts.