"Netflix Is a Joke" Billboards Mysteriously Pop-Up in LA and New York
Who done it?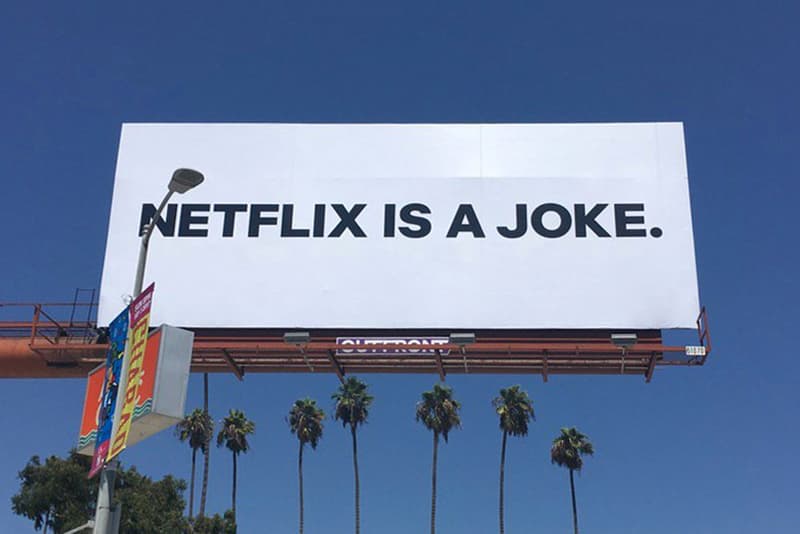 Around the cities of New York and Los Angeles, mysterious billboards poking fun at streaming giant Netflix have been appearing. With nothing more than large black font that reads "Netflix Is a Joke" on a monochromatic backdrop, many people have been left confused by what it means. Could it be a slam from rivalries Hulu or Amazon?
Turns out it was a stunt put on by Netflix itself, though earlier the company's official Twitter account posted a picture of the mysterious billboards with a number of question marks in the caption. According to recent reports, the billboards were in fact put on by Netflix as a viral ploy to increase exposure for its bevy of comedy content featuring A-list comedians Chris Rock, Dave Chappelle, Amy Schumer, Louis C.K., Sarah Silverman, Tracy Morgan, and a new special from Jerry Seinfeld.
The "Netflix Is a Joke" campaign is expected to expand in the upcoming days with additional video content from the aforementioned comedians.
In other entertainment-related news, check out the best films and TV shows for September.
"Netflix is a joke" billboards appear in New York, Los Angeles https://t.co/Kn1HR862Vz pic.twitter.com/Z2yUH0sQrd

— Variety (@Variety) September 5, 2017
— Netflix US (@netflix) September 6, 2017